Cheese Master Michael Landis stops by for a lesson on Gouda and Cheddar.
GOUDA
Marieke 6 Month Raw Milk Gouda
Marieke Foenegreek Raw Milk Gouda
Jeffs' Select Gouda
St Mary's Gouda
CHEDDAR
Fiscalini Raw Milk Bandaged Wrapped Cheddar
Vermont Farmstead Governor's Raw Milk Cheddar
Vermont Farmstead Alehouse Cheddar
Beehive Creamery Barely Buzzed
Beehive Creamery Promontory
ALPINE
Emmi Le Gruyere
Appenzeller
Tete de Moine
Scharfe Maxx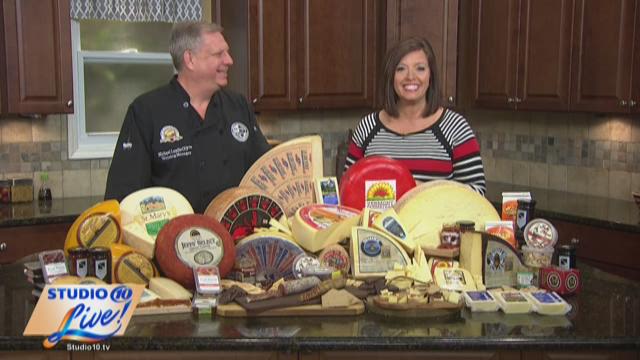 GOUDA
Gouda has been made in Holland since 400 AD and almost all of the Gouda imported into the United States is made with Pasteurized milk.  Many of the American Artisan cheesemakers are using traditional methods including using raw cow's milk.  The combination of the two really brings these cheeses to a truly new level.  Rich, buttery and full of sweet flavors that you expect from a traditional Gouda.
Marieke 6 Month Raw Milk Gouda
Marieke® is our signature cheese made with an authentic Old World Gouda recipe. The equipment, cultures, herbs and spices are all imported from Holland. The rBGH free cow's milk couldn't be fresher being piped directly from the first milking of the day directly into the processing vat. The curd is hand packed into 18 pound forms before going under the press. It is then brined for 60 hours. For the first 14 days the cheese is turned (flipped over) daily to ensure that the butterfat is evenly distributed throughout the cheese. The wooden planks are also cleaned daily and turned to prevent molds. During this time, the breathable coating is hand painted on the cheese. After the initial daily turning is complete the cheese is turned twice weekly for as long as it is in our facility. The Gouda is available in 13 flavors.
Marieke Foenegreek Raw Milk Gouda
Award-winning cheesemaker, Marieke Penterman, celebrates her Dutch heritage with this exclusive collection of flavored Goudas. She and her team handcraft each wheel using herbs and seeds gathered in the Netherlands. Premium, raw, cow's milk from her family farm provides each wheel of cheese with the exceptional flavor and texture you've grown to expect from Holland's Family Cheese. Sweet and nutty with flavor notes reminiscent of maple syrup.
Jeffs' Select Gouda
Jeffs' Select is the result of a collaborative effort between Jirik and long-time friend Wisconsin Master Cheesemaker Jeff Wideman.  It is Wideman who makes the cheese, which is then sent to Faribault for aging.  Unlike typical Goudas aged in cold temperatures, this American original is aged in the warm and humid environment of the caves.  The result is a full-bodied flavor with a classic European nuttiness and a hint of caramel.  Its annatto-rubbed rind gives it its vibrant orange color.
St Mary's Grass Fed Gouda
As one of Faribault Dairy's signature cheeses, St. Mary's Grass Fed Gouda features a rich and creamy flavor that is sure to satisfy. The unique nutty, buttery texture comes from the grass fed cows that have a better quality ratio of fats (omega 3:6) than cows raised on conventional diets.
CHEDDAR
From Vermont to California, the next level of cheddars are being produced in a traditional and non-traditional way.  Creating some very rich, buttery and tangy cheddars.
Fiscalini Raw Milk Bandaged Wrapped Cheddar
Award winning cheesemaker Jorge Mariano Gonzalez handcrafts and inspects every 60 pound wheel of Fiscalini Farms' bandage-wrapped raw-milk cheddar. It is quite rare for an English-style farmhouse cheddar like this to be produced in the U.S. All natural ingredients are used in the cheesemaking process. Made from Fiscalini's own milk and aged for 30 months on the property, this cheese was voted "Best Farmhouse Cheese" at the 2002 American Cheese Society Awards in Washington D.C. It is a wonderful example of the success of the artisan cheese movement in the U.S. today. Rich, buttery and sharp, Fiscalini Farmstead Cheddar is a world-class cheese.
Vermont Farmstead Governor's Raw Milk Cheddar
We use a peg-mill, specially made in the UK, which tears the curd vs. cutting for a drier, flakier texture   reminiscent of Montgomery cheddar.  This is the only one of its kind used for regular cheese production in the US.  Our Governor's Cheddar is raw milk and farmstead (meaning from the cows right here at the farm). Raw milk provides depth of cheddar flavor and lets the sweet honeyed notes of the milk really shine through in the finish. As Governor's Cheddar ages, Tyrosine crystals form naturally and indicate age and depth of flavor.
Vermont Farmstead Alehouse Cheddar
Alehouse Cheddar (pasteurized) uses 2 kinds of Harpoon® beer, their IPA and Dark.  Curds are soaked in the beer during the make process.  Kegs literally wheeled into the cheese room and hosed onto the curd. The cheese is cheddar forward but the hoppiness of the beer comes through in the finish along.
Beehive Creamery Barely Buzzed
Unique espresso and lavender hand-rubbed cheese with subtle notes of butterscotch and caramel. Made from the milk of Jersey cows; this is a full-bodied cheese with a smooth, creamy texture. Barely Buzzed is our most popular cheese and is considered by many to be a great American original. Our unique espresso blend is then mixed with French Superior lavender buds and freshly ground onsite. The mixture is diluted with oil to suspend the dry ingredients in the rub. Rubbing the cheese produces notes of butterscotch and caramel near the rind, which find their way to the center of the cheese.
Barely Buzzed is aged in our humidity controlled facility and then moved to two different temperatures during the aging process to develop texture and flavor.
Beehive Creamery Promontory
As the patriarch of the Beehive family of cheeses, Promontory is an Irish-style cheese with buttery, full-bodied texture and snappy, citrus-like fruity notes. Promontory, as well as all Beehive cheeses, is made from the milk of Jersey cows from Ogden's Wadeland South Dairy. Wadeland's Jersey cows enjoy 350 acres near the salty marshes, ponds and mudflats of the mineral-loaded soil of the Great Salt Lake. The same nutrient-rich soil that feeds thousands of migrating birds, feeds the lush alfalfa that the cows love to eat.
ALPINE
Classic Alpine cheeses reflect the alpage where the animals graze during the summer months.  These unique cheese reflect centuries of cheese making.
Gruyere
Gruyere was first made in the twelfth century, and is made from raw, unskimmed cow's milk.  In the old days the word Gruyere designated any hard or semi-hard cheese made in the Alps.  Nowadays, the name only applies to the cheeses manufactured in the little town of Gruyere, Switzerland.  Today it is still made according to traditional methods. 
Appenzeller
One of Switzerland's oldest cheeses, Appenzeller dates back to the time of Charlemagne.  Tax records stretching as far back as the 14th century discuss the cheese, as well as its producers. Modern Appenzeller cheese is manufactured by 75 highly secretive dairies, all of which use slightly different production techniques.
As the name suggests, it originated in the Appenzel region.  The dry, flat, pale yellow to orange rind derives its color from being washed in a secret concoction of spices, white wine and salt. Appenzeller's aroma hints at spicy, fermenting fruit.  The cheese is firm and dense, yet retains certain suppleness.  A few peanut sized holes are scattered throughout the yellow interior. At first the taste is buttery, with fruity overtones.  As it matures, the flavor becomes fuller and is reminiscent of hot toast and yeast extract.  The aging period is about three months.
Tete de Moine
Tete de Moine, Bellelay cheese is a semi-hard cheese with a silky body which easily melts in your mouth. It is not cut, but pared into the shape of delicate rosettes. The paring technique increases the amount of air coming into contact with the surface of the cheese, altering the structure of its body and allowing the full flavor of Tete de Moine, Bellelay cheese to develop. This gives the cheese an even more delicious taste.
Scharfe Maxx Cave Aged
A cheese that takes it so far to the flavor max that it necessitates not one but two Xs. Loosely translated as "very sharp", Scharfe Maxx is all about extremes: extreme funk, extreme flavor, and extreme creaminess. Crafted at Studer Dairy near the Swiss-German border, this cheesy knockout hits first with its smell –sweet barnyard air—and swings second with its flavor—sautéed onions, beefy pungency, and a nutty bite. Fashioned from raw cow's milk with a special surprise-- a splash of wholly unnecessary but absolutely appreciated heavy cream-- we age in our underground caves for six weeks until firm, rich and delectably buttery—perfect for a silky-yet-punchy fondue. A Swiss with sass; add a brown ale to mellow its unmistakable funk.