TAMPA, Fla. — The Gasparilla Parade of Pirates route stretches along one of the more iconic places in America: Tampa's Bayshore Boulevard.
That's no exaggeration! It's considered the "Boulevard of Dreams," known for its famous balustrades paralleling one of the longest continuous sidewalks in the U.S. But for a couple of Saturdays in January — especially when adults have their day — Bayshore Boulevard becomes a haven for swashbucklers.
You'll want to see here everything you need to know about the Children's Gasparilla Parade set for Saturday, Jan. 21, including a map of the route on Bayshore Boulevard from Bay to Bay Boulevard to Edison Avenue.
If the main Gasparilla Parade of Pirates is what you're eyeing, we have the details:
The 4.5-mile parade kicks off at 2 p.m. Saturday, Jan. 28, at Bay to Bay and Bayshore boulevards. Hundreds of floats and their pirate occupants then travel north — up Bayshore Boulevard to Borein Street, turning east on Borein and then north to Ashley Drive.
It ends at Cass Street and Ashley Drive.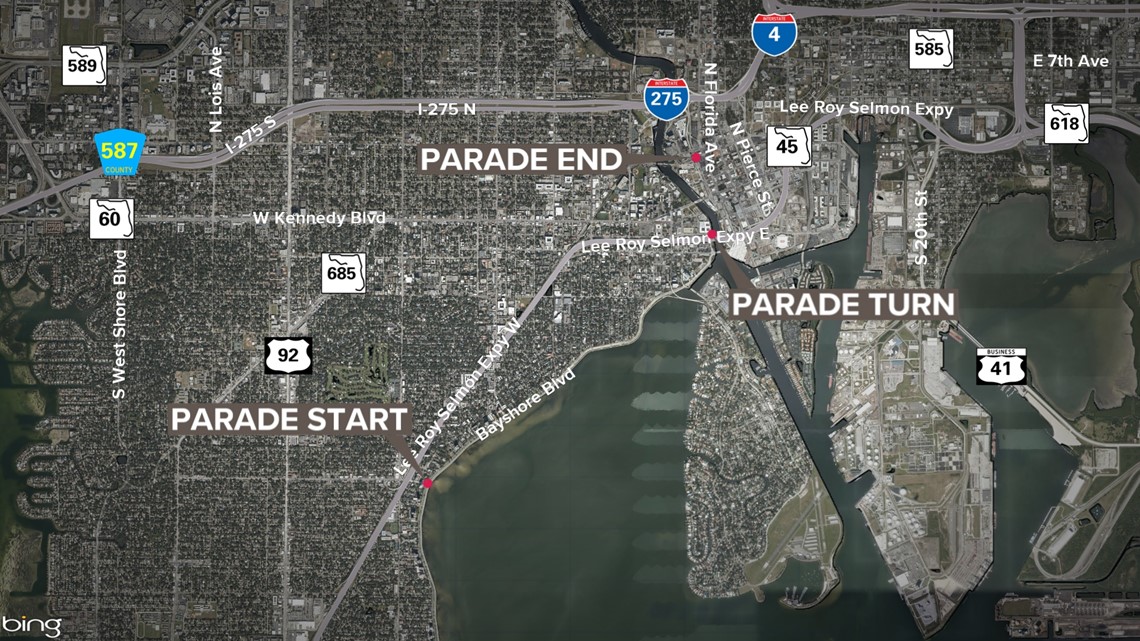 You're bound to find a good spot to watch the floats and festivities anywhere along Bayshore Boulevard and into the downtown area. If you'd like to sit, tickets are available online starting at $70 for adults and children over 2 years of age for an assigned bleacher seat in any three areas of the parade — beginning, ending and in the marina section.
Children 2 years old and under who do not have a ticket must remain in an adult's lap.
"Providing the event is not sold out of seating, 'day of event tickets' will increase per ticket!" the event page says.
Organizers note that banners and signs are prohibited at the parade unless officially licensed and approved.