TAMPA, Fla. — Starting from early hours of Saturday morning, people were lacing up their shoes and getting ready for the event they've waited for all year.
After being virtual last year, Miles for Moffitt kicked off both in-person and virtually for the 2021 race.
Road closures began at 6 a.m. allowing people to warm up and prepare for the first race that started at 8 a.m.
Packets were picked up in the Race Village located at Amalie Arena's Ford Thunder Alley which is also where the race results will be available later Saturday after the race ends.
Moffitt reports more than 7,000 people showed up to the event, ready to participate in the different races.
As of now, $1,111,027 has been raised towards cancer research, which is the main goal for this annual event.
Here's a breakdown of how the races went:
Miles for Moffitt 10K Race
The 10K race started at exactly 8:10 a.m. with a large group of runners pushing forward past the starting line. The winner of the race crossed the finish line at 8:45 a.m.
Miles for Moffitt 5K Race
At 8:30 a.m., another group of runners started their 5K run, following not too far behind the first group of runners. The winner of the race took their last stride across the finish line at 8:47 a.m.
Miles for Moffitt 1K Race
A group of runners and walkers started their journey of the 1K race at exactly 9 a.m. and returned back across the finish line with smiles and enthusiasm.
Miles for Moffitt Kids Dash
Kids, ages 8 and younger, all successfully crossed the start and finish line after having a mini dance party to prepare themselves for the 100-yard dash.
For one of the runners at Miles for Moffitt, it's a full-circle moment in more than one way. Dr. Blaise Mooney is a cancer survivor. In 2012, he was diagnosed with squamous cell carcinoma, a type of throat cancer.
"It's sort of your worst nightmare," Mooney said."It was very aggressive and quickly spread into my neck and jaw. Things were not looking good."
Mooney was and still is a doctor at Moffitt, specializing in radiology. He is the director of the Breast Imaging Fellowship Program at Moffitt. Following his cancer diagnosis, Mooney went from being a doctor at Moffitt to a patient.
"These doctors at Moffitt rebuilt me and got me back to work," Mooney said.
He had radiation, chemo, then a big surgery to remove the cancer. He had his jaw and throat rebuilt. Mooney describes the staff at Moffitt as a family. And at the race, he ran alongside his patients, his peers, as well as the doctors and nurses who helped treat him.
"They really saved my life," he said. "As bad as it may be to have cancer, it may have been one of the best things to happen to me."
Now when he's telling his own patients about chemo and radiation, he says it's a firsthand account.
To wrap up the event, there was a tribute ceremony for cancer survivors followed by the award winner announcements.
Watch the ceremony and announcements down below:
Here are some photos of the event:
Miles for Moffitt: Race day in full gear as participants start to break a sweat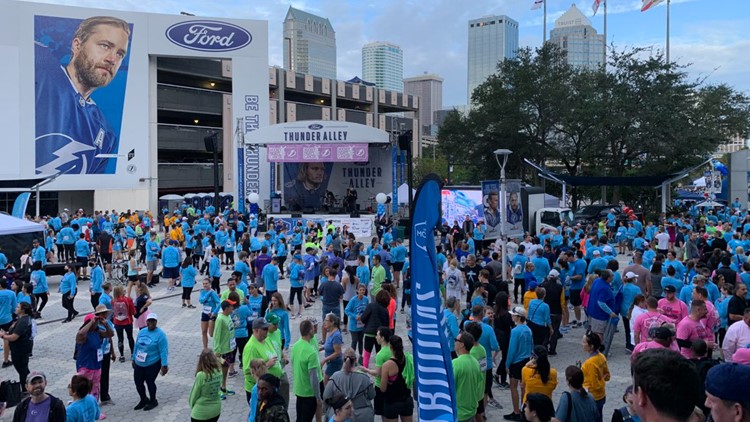 The whole stream of the Miles for Moffitt event was shared on 10 Tampa Bay's Facebook and can be found here.