NORTH PORT, Fla. — Eileen Warn has been working with her hands for a long time. For 26 years, she taught sign language.
Now, her fingers are hard at work on a new, impactful project.
"If you can reuse something, make it into something someone else can use, I mean, isn't that the way it should be?" she said as she worked "plarn" in her fingers.
Plarn, as she calls it, is a combination of two words: plastic and yarn. For a few months now, Eileen has been taking used plastic grocery bags and snipping and weaving them into mats. They will be given to the homeless in her community.
"I'm in awe when I see the finished product," said her husband Harold, who spent over 37 years in the grocery store business.
The mats are woven from colorful bags from stores like Publix and Winn Dixie. Eileen has even gotten bright yellow bags sent down to their North Port home from New Jersey – a state where she lived for decades.
Her daughter taught her how to reuse the bags, which are commonly tossed in the trash. Eileen will send the mats to her daughter's church outreach in Naples once she has finished a few more.
"Sometimes I think we forget that they are out there," she said of the homeless. "I want to make a difference in my community. I was an educator. I have time on my hands."
Time on them and a crochet needle in them. The impact on her community requires a lot of bags. The mats are 6-feet long once they are completed and made of 700 plastic bags. They roll up so they can be easily carried.
So far, Eileen has made one full mat, is nearly done with another and has started on a third.
"I feel like I'm reusing, recycling and renewing," she said.
Plastic bags become mats for the homeless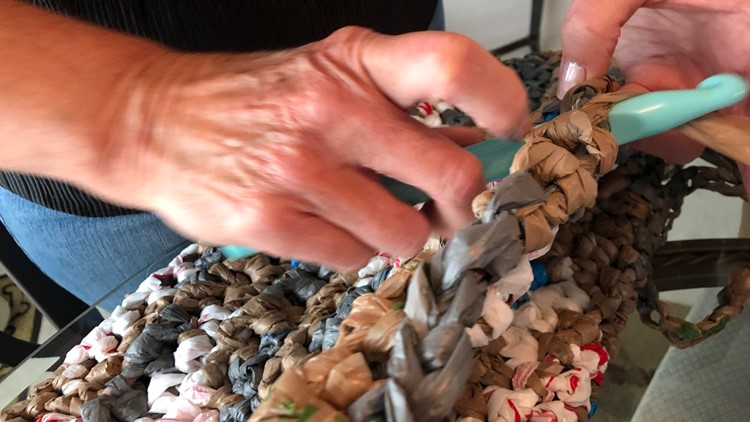 What other people are reading right now: