TAMPA, Fla. — Brandi Nurnberger doesn't hide the fact that her fingers get tired of braiding.
"Yes," she said with a laugh. "I can braid t-shirts but I can't braid hair."
For about a month, she has been weaving together strips of t-shirts into wearable art for Evelyn Taylor's small business, Recover T.
"These have been really popular," Taylor said, pointing to a row of colorful bracelets she sells on Etsy for $10. "It's hard to keep them in stock."
Taylor started Recover T four years ago. The business name is a play on words. Taylor takes t-shirts and turns them into inspirational bracelets which she sells on Etsy and at local Tampa area markets. Recover T has sold hundreds of pieces of jewelry online.
The idea began when Taylor was "broke and needed gifts for people". It grew into so much more.
"It turned into a therapeutic flexing of my creativity," she said.
"I have always been a creative person but had numbed that with drinking."
Drinking became her life. Even recalling the memories of lonely nights and difficult moments, the pain returned to her eyes.
"I had, you know, at the end of the day, basically locked myself in a room and just blocked the windows with the comforter and was drinking and I was just scrolling through my phone and trying to find somebody to call just to talk to because I was sad and I was lonely and I was depressed and I was drinking, just drinking myself into a oblivion," she said.
"I was alone. I just remember that thinking, 'There's just so much loneliness' and I didn't have the capacity in me to be a friend. I didn't know how to be a friend. I did not have relationships and I had hundreds of contacts in my phone but nobody to actually call."
Her family told her not to call until she got clean. It was a rock-bottom morning that finally changed her fortunes.
"I called my dad that morning and I was just ready to be done. I basically got scared sober," said Taylor. "I was like, 'I am going to die if I keep doing this'. I'm lucky to be alive and lucky to be sitting here."
Taylor, who married in August, has gone without a drink for more than five years. She proudly touts her sobriety date – April 7, 2014 – and has taken Recover T from a start-up business to a mentoring opportunity for other young women in the area facing addiction issues of their own.
"I actually just picked up six months. Six months clean," said Peyton Horner, who has been working with Taylor at Recover T for about four months.
Nurnberger was put in charge or creating the braids for one of Taylor's most popular items – wrapped bracelets with decorative charms with inspirational quotes. She sells them for $38 on Etsy. The cheapest item in her store is $3.
"I was in a residential program for an eating disorder and I'm now in a halfway house," said Nurnberger.
"It's still a struggle. I know I wouldn't be here today without Recover T and Evelyn."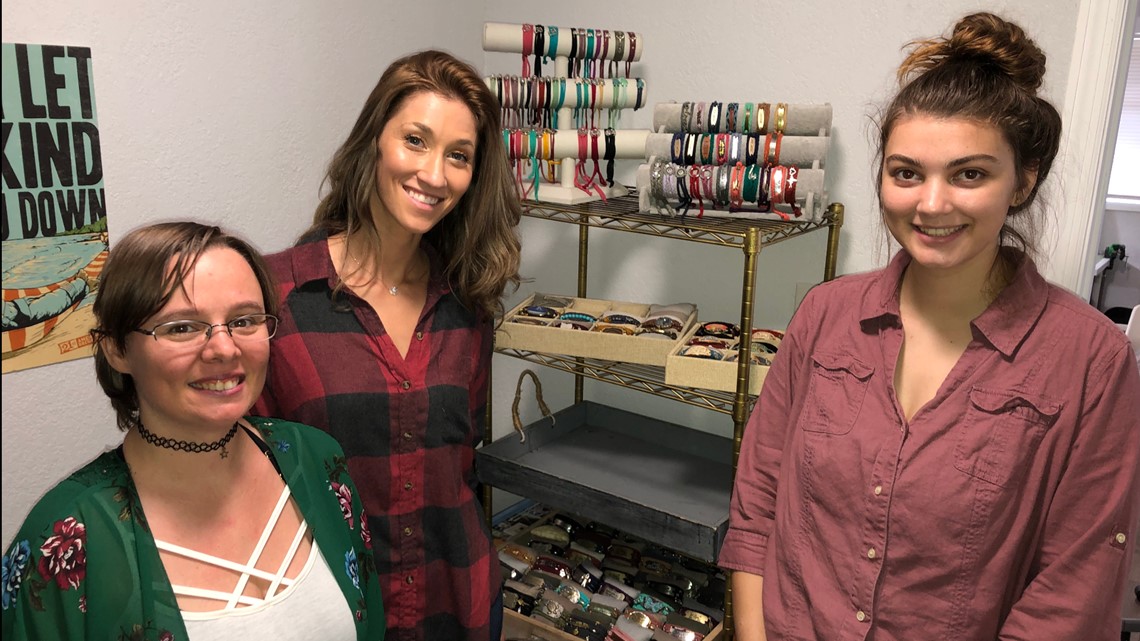 Taylor's office is nestled back in the mother-in-law sweet of her newly-purchased home. She keeps her inventory on racks there. Colorful bracelets are stacked by the dozens. Orders have been piling up for Christmas. The workload is as heavy as ever.
Every item that is shipped out has a 'Made With Love' tag.
"It's true," said Taylor. "If my story can help people, why not share?"
It's a story that is part therapy, part recovery. Taylor has turned into a trusted source for so many women who have come to work with her at Recover T, which she started on her bedroom floor.
Even she is stunned at the turnaround she's experienced in five years.
"I didn't realize I was actually intelligent until I got sober," said Taylor, who has a degree in textiles and fashion from Ohio State. She's currently a Utica College student studying to get a nursing degree.
"I started using pills when I was in high school," said Horner, who eventually got hooked on crystal meth and heroin. "I think (Recover T) is growing and it's exciting to think about the women who will come here after me, you know?"
You can watch more stories from Bobby Lewis' On the Road series here:
What other people are reading right now: