ST. PETERSBURG, Fla. — The line for pizza starts forming before the car door even opens. Hungry homeless men and women gather each Sunday night in downtown St. Petersburg for a generous meal.
"Food is a wonderful gathering tool," said Ross Morrison, one of the many volunteers who spend their Sunday evenings serving food for the outreach group 'We Serve St. Pete.'
For the last few years, upwards of 50 pizzas arrive piping hot from the other side of the Bay. Westshore Pizza, 16 miles from the St. Vincent de Paul Cares parking lot, the site of each week's meal, the 400 slices of pizza ship for free each week.
It's just the company's way of giving back.
"It was an easy decision," said Westshore owner, Bob Vasaturo. "It makes you appreciate what you have."
In the early days of We Serve St. Pete, volunteers would chip in a few bucks and buy cheaper $5 pizzas from a nearby Little Caesars. Even at just a few bucks per pie, the money added up. The number of homeless who show up to eat on Sundays can easily top 150.
"It's hard sometimes to keep up with, but we find a way," said Kelly McCabe, a long-time We Serve St. Pete volunteer.
When Vasaturo heard about the financial strain being placed on We Serve St. Pete volunteers, who were just trying to do the right thing, he stepped up with free food.
In the back of the original Westshore Pizza location, a chef named Enzo furiously flattens dough with his fingers, ladles sauce and sprinkles cheese.
Sundays are busy nights to begin with at the restaurant. Adding an additional 50 pizzas is a lot of work.
Work, he says, is worth it.
Pizza donations keep homeless fed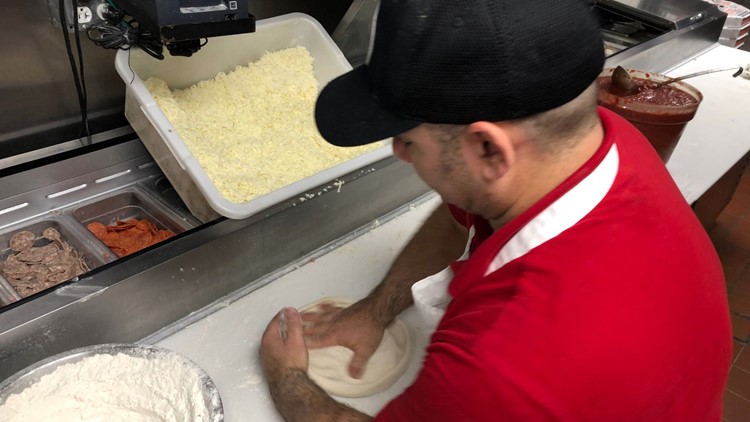 "It's the world's favorite food, right?" said the veteran chef. "It's hard work but, like I said, it's all for a good cause."
It takes about ten minutes to create and cook each pizza. The boxes are delivered across the Gandy Bridge and down 5th Avenue North by a We Serve St. Pete volunteer. By 7:45, every slice is consumed.
It's become a feel-good experience for all involved.
"It's a good feeling," said Vasaturo. "You wish you could do it every day."