TAMPA, Fla. — The clean concrete walls of Tampa Preparatory School look a lot different from Jordan Peloubet's home village.
"I grew up in Arusha, Tanzania. We were poor," he said.
Cement floors were considered a luxury. He remembers how it was commonplace to walk a couple of miles to get fresh water. He remembers a harder life.
"We didn't come home to air conditioning to play Xbox," said the 17-year-old sophomore. "We didn't have air conditioning."
What Peloubet had was soccer. The sport flourished in his home village despite not having proper equipment. Kids kicked around a sphere made of compacted plastic bags held together by strips of cloth. The field was grassless. The goal was a set of crooked tree branches poking up from the dry earth.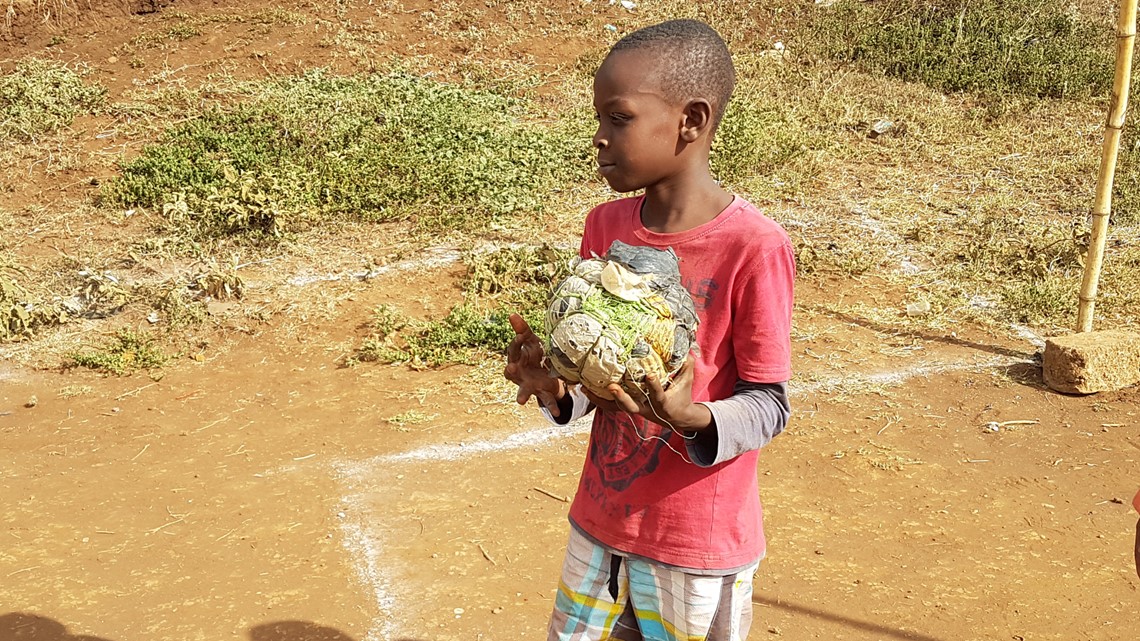 He credits the passion he now has for the sport to his humble introduction to the game.
Flash-forward to now, and Peloubet is a star player for the Tampa Prep Terrapins. He even scored five goals in one game last season. He began playing varsity soccer as a freshman and his talent stood out immediately.
"He's a great player," said his coach, Doug Smith. "He's a leader and can light it up on the field."
His skill is outpaced by his passion to give back through soccer.
In 2006, Susan Peloubet and her husband, Drew, visited Tanzania for a missions trip through Young Life. It led them to Arusha, where they were trailed by a small boy with an infectious smile.
"We knew that God placed this child in our hands, in our lives and that we had a door opened that we just had to walk through," said Drew. "He had this smile that just lit up."
Jordan stood out in the crowd. He bonded with the Peloubets' son, David. After a short trip to Africa, the plane ride home was filled with concerned thoughts for the little child without cement floors.
"There was something different about this child," said Susan. "At that point, our youngest son was 16. There was just no way we were going to adopt a 4-year-old. Surprise!"
It took eight years to finalize the adoption. Before Jordan was able to move to Tampa, the Peloubets paid for him to attend boarding school in Tanzania, where he learned English.
"I was very fortunate to be that one kid they made a connection with and didn't want to lose," said the teenager. "They entered my life and our love grew."
The family credits a strong faith in God as a fuel for their relationship.
"All glory to God," Jordan said as he juggled a soccer ball at the school field.
Now thousands of miles removed from that former life, Jordan can't leave the Arusha village behind.
"He did the math and I think it's 250 years-worth of allowance," joked Drew as Susan laughed hysterically. "This is what he wants to do and I know it's what he's going to do."
Jordan wants to build a proper soccer field for the children back in Arusha. He's teamed up with the organization Love Futbol to draw up plans for how to build one. It will cost $115,000.
He's already collected $17,000 towards his goal. He's even secured a $25,000 match from an anonymous donor.
He won't stop until Arusha has a proper field to call its own.
"It will be a dream come true, not only for me but for them," said Jordan with a smile on his face. "I want to leave a part of me on that field. It will definitely happen; it's just a matter of when."
What other people are reading right now: