PALM HARBOR, Fla. — For people living with memory loss disorders like Alzheimer's, something as simple as going out to eat can be an overwhelming experience.
The program was started by Dennis Dulniak in January 2020 in honor of his wife Nancy, who passed away after a battle with early-onset Alzheimer's. His mission to spread kindness and compassion around the disease quickly caught on with local restaurant owners.
O'Keefe's Tavern in Clearwater was the first restaurant in the Tampa Bay area to introduce the program last month. And this past Valentine's Day, it debuted at Sonny's BBQ in Palm Harbor.
Dementia-Friendly Dining simply involves training servers on how to best interact with people living with memory-loss disorders and then creating a calm and inclusive space in the restaurant for them.
"It was so easy for us. We're already here serving tables every day, so why not add this?" said Tara Boyle, the director of operations for the franchise group for Sonny's BBQ.
Boyle said as soon as she heard about the program, she "just wanted to be a part of it."
"It's such a small thing we can do to make such a huge impact," she added.
Sonny's BBQ in Palm Harbor now has a sign with the Dementia-Friendly Dining logo right on the hostess stand. When a family member or caregiver walks in, they can point or signal to the logo to let the hostess know they have a loved one with dementia.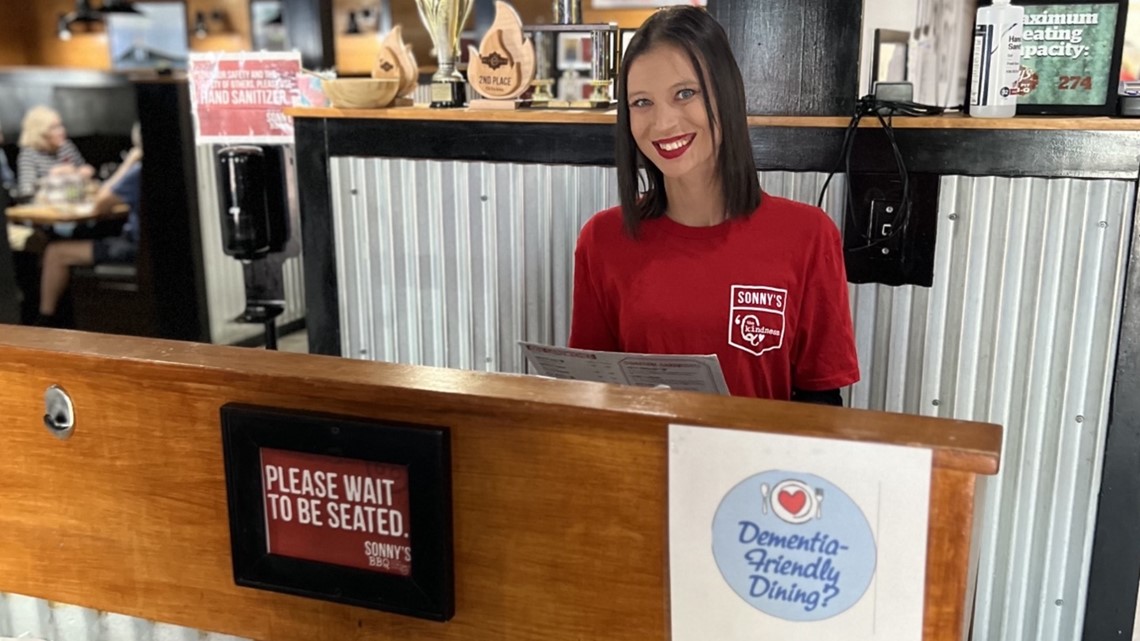 From there, the group will be accommodated with a trained server in a calm area of the restaurant that best fits their needs. Servers even have a card in their books with the most important Dementia-Friendly Dining reminders.

"Just to be able to make their life a little easier, or take a little bit of stress off because they know, 'When I go sit with Brian at Sonny's, he knows my dad and he's gonna know how to take care of him and how to make my experience better,' That can just change somebody's whole day," Boyle said.
In addition to the Palm Harbor location, Dementia-Friendly Dining will be rolling out at Sonny's BBQ locations in Sarasota, Bradenton, Largo and New Port Richey locations in the coming months.