DUNEDIN, Fla. — In a world of challenges, sometimes the hardest hurdles for some are the simple acts the rest of us take for granted.
Joe Kals, 55, has never liked staying still, but he's spent more than half his life forced to sit.
In 1982, Kals, who is from France, became a paraplegic following a motorcycle crash. He says he spent several years afterward in denial that he'd ever walk again.
"By dreaming something not possible I missed my life," Kals told 10News.
Until Kals decided he had missed enough.
"I'm not made to live sitting in a wheelchair," he said."I don't want to speak for everybody but me—after 35 years—I can say I need to have my body free."
With the help of crutches and leg braces, Kals began to train to stand upright, an often painful and exhausting process, he said.
Kals found the freedom he'd been looking for when he set out on a seven-month walk across his home country of France.
"In my conscious, I don't feel my legs, I don't have my legs," he said. "So when I land on my two feet, I'm always thinking, 'I am my legs, I am my legs.'"
To top that feat, he went up. Kals became the first paraplegic to ever climb to the top of Eiffel Tower in Paris.
But now he's back in the U.S., living in Dunedin, where he is preparing for his biggest challenge yet.
"I want to prepare crossing the U.S.," he said of what he expects would be a two-year journey on foot from New York to Los Angeles.
Kals says he hopes to take water from the Atlantic Ocean and carry it with him to California, where he can dump it into the Pacific Ocean to symbolize "making the impossible, possible." In doing so, he wants to raise awareness and for money for spinal cord injury research.
"Society has to understand the reality of a spinal cord injury to push more research," Kals said. "We have to be able to fix the spinal cord immediately after the accident."
It's estimated that as of 2015, as many as 337,000 people with diagnosed spinal cord injuries were living in the United States alone, with roughly 12,500 new cases arising each year, according to the National Spinal Cord Injury Statistical Center at UAB.
Kals says he's trying to live by something he learned from his experience during his journey across France.
"Just living in the present moment," Kals said. "You don't have to think about the past and you don't think to the future, just be what are you doing."
Kals says he's come to realize it's not about the destination, but the journey to get there.
"I want to give a sense to my life, I want to give a sense to this," he said, as he pointed to his wheelchair.
Kals says before he sets out to cross the U.S., he's starting off small.
On Saturday, he crossed the finish line at the Gasparilla Classic 5K in Tampa. Eventually, Kals wants to walk from Clearwater Beach to Orlando.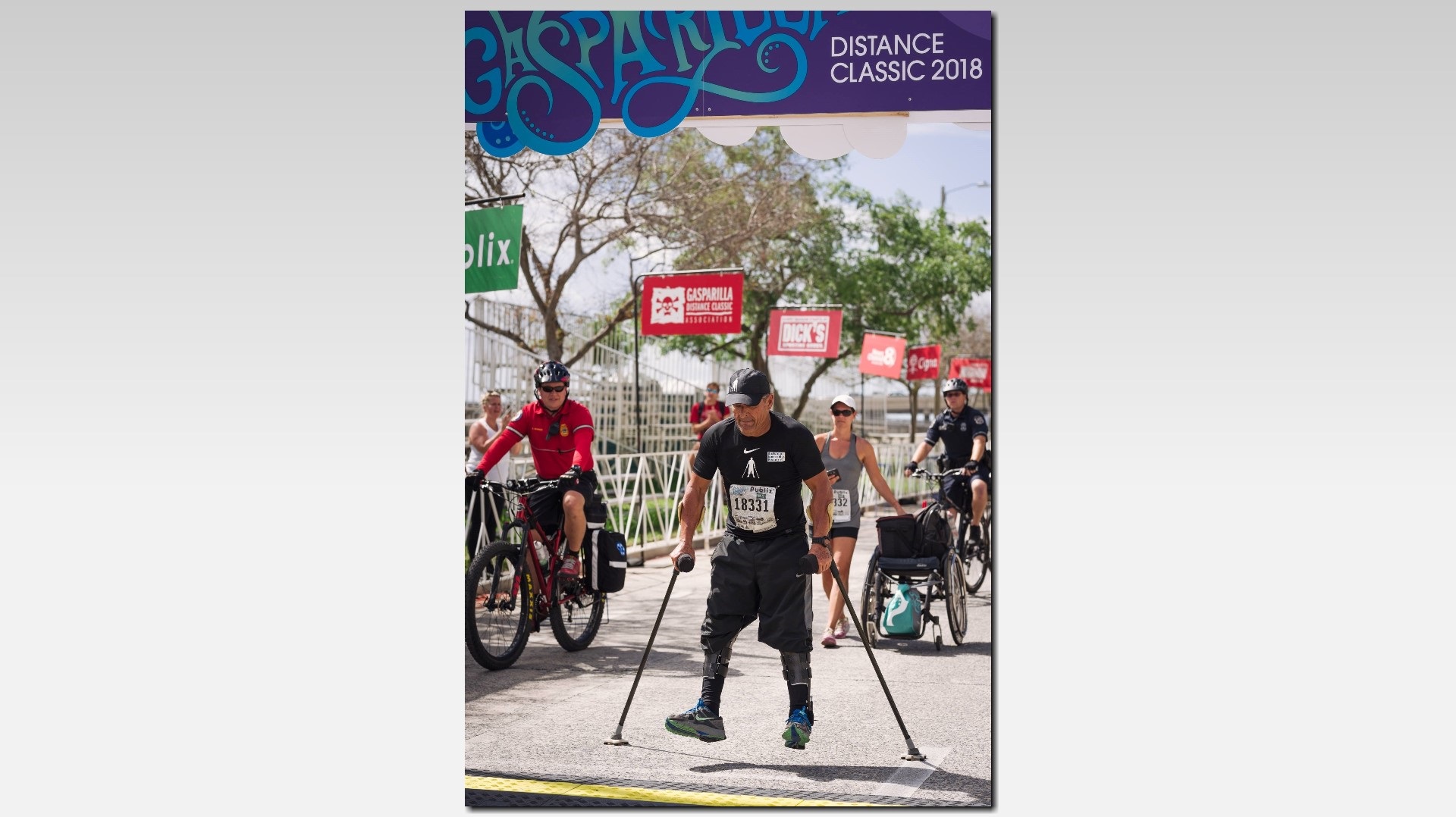 But Kals says he desperately needs support and donations to make all of this a reality. If you're interested in helping, click here. You can follow his journey on Facebook here.