What's more headache-inducing than coming home after a long international flight, only to have to wait in a seemingly endless line at customs?
A MileCards.com study released Monday revealed the best and worst airports for customs wait times.
Some airports appear to be far more efficient than others at getting passengers through those lines. If you live in Phoenix, Charlotte or Minneapolis, you have the shortest lines at the U.S. Customs and Border Protection passport checkpoint.
And which airports had the longest lines? Try Orlando and the San Francisco Bay Area. Meanwhile, among airports of all sizes, Sacramento was worst, with an average wait time of over 32 minutes.
Among major airports that process over 3 million international passengers annually, Phoenix Sky Harbor was the fastest, processing arriving travelers in just 7.4 minutes, on average.
Charlotte Douglas International Airport was second, with an average airport wait time of 8.95 minutes, followed by Minneapolis-St. Paul International airport with an average wait of just over 10 minutes.
Across all airports, West Palm Beach International Airport and Chicago Midway International Airport had the only two customs lines shorter than the one found in Phoenix. At West Palm Beach, the average airport wait time was 5.12 minutes, while the average wait time at Chicago Midway was only 5.74 minutes.
And, as mentioned above, Sacramento had the worst wait times overall, at 32 minutes on average.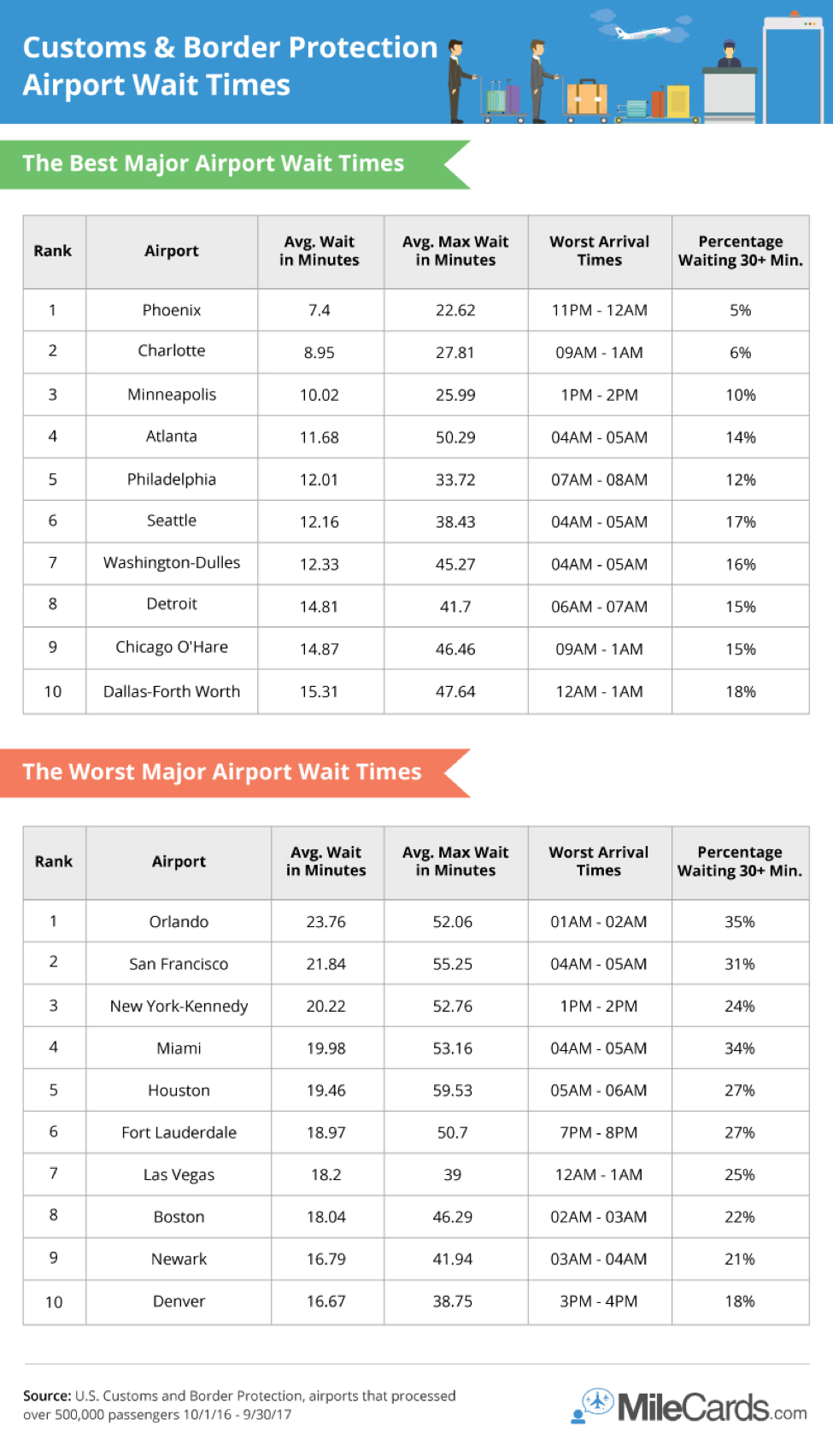 San Francisco and Orlando: Get ready for a long wait
The worst metros for arrivals were San Francisco and Orlando, with all of their airports appearing on the worst overall airport wait times list. The Bay Area's three airports – San Francisco International, Mineta San Jose International and Oakland International – each ranked in the top ten for worst airport wait times, with a combined average wait of at least 22 minutes, with maximum wait times taking an hour or more.

Thanks in part to the theme parks that bring millions to Orlando, the city's airports offered some of the longest customs airport wait times in the survey. Looking at all airports, Orlando-Sanford International was the second worst overall, with an average airport wait time of 29.61 minutes. At Orlando International Airport, the average customs wait was only six minutes better at 23.76 minutes.
The airports that are getting better are seeing big improvements, while those with the longest lines continue to grow. Orange County John Wayne International was the most improved, with wait times dropping 63 percent compared with the prior year.
Minneapolis-St. Paul and Chicago Midway also saw average wait times decrease over 60 percent year over year, while Both of Orlando's airports saw their average wait time grow by over 50 percent. The worst average wait time increase was observed in San Jose: compared with last year, customs clearing times increased by 117 percent in summer months.
How can you avoid the long lines to clear customs?
The experts at MileCards.com suggest planning your international trip during the fall and winter months, and avoid the late summer.
According to their research, the shortest average lines were found in February, March, November and December, while the longest lines were found in August, July, September and May. You should also consider joining an international trusted travel program, like Global Entry, to skip the lines and process your passport at a kiosk.
To determine the annual rankings, MileCards.com evaluated data provided by Customs and Border Protection from airports that processed at least 500,000 passengers between Oct. 1, 2016 and Sept. 30, 2017.
MagnifyMoney is a price comparison and financial education website, founded by former bankers who use their knowledge of how the system works to help you save money.