Change can be a double-edged sword for any community, driving growth in jobs, income and economic activity while pushing out those residents who prove unable to keep pace.
To find out which areas in the U.S. have changed the most over the last decade, MagnifyMoney analyzed key indicators of change in 50 of the largest metros in the U.S..
The study looked at nine elements of local change, including commute times, employment growth, income, house prices, crime rates, and new building permits and assigned each metro a "Change Score" on a scale of 0 to 100. You can see a full methodology at the end of this post.
Change can go either way, spurring economic growth and other positive impacts on communities while also signaling declines in others. For example, where the study found increases in commute times and the cost of rent, they also found job and income growth.
Here are the places that have changed the most over the last 10 years.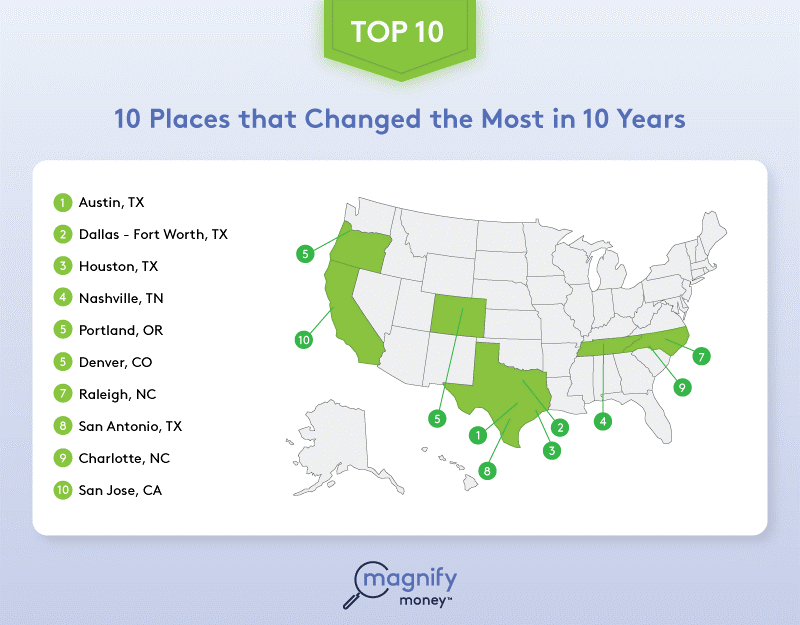 1. Austin, Texas
Change Score: 90.4
Austin has seen significant change in both directions over the last decade. While the metro area experienced the fastest rate of job growth in the nation (up 40% since 2006), and a significant portion of its residents recently moved there — 60% of residents report moving into their residence in 2010 or after. The downside for new residents has been a surge in housing prices, which rose 54% since 2006, the greatest increase of all 50 metropolitan areas analyzed.
2. Dallas-Fort Worth
Change Score: 89.7
Dallas didn't have the greatest change in any of the nine categories MagnifyMoney looked at, but it ranks high because it's in the top 10 for five categories. One significant change for Dallas-Fort Worth was a marked decline in its crime rate, which fell 43% from 2006 to 2016.

3. Houston
Change score: 86.2
Houston is the third Texas metro to make the top 3, boosted by major growth in its housing market. It ranked No. 2 for house price appreciation, at 38% from 2006, and No. 3 for building permit expansion. However, it showed a disappointing change in its crime rate change. While most metros saw crime rate declines of 30 to 40%, the crime fell by just 27% in Houston over the 10-year period.

4. Nashville, Tenn.
Change score: 84.8
Nashville ranked no. 4 for employment growth (up 24%) and also building permit expansion. In all, 53% of Nashville residents reported moving since 2010, and median nominal income was up 26% from 2006. However, the rise in median rent prices far outpaced median income growth, up 38% since 2006, according to the findings.

5. Tie: Portland, Ore., and Denver
Change Score: 83.9
Portland saw the most significant changes in income, rent and commute times. Portland's median rent of $1,158 a month was up 52% from 2006, while median income was up 31%. Meanwhile, commute times were up 12% on average.
As for Denver, rising housing costs have outpaced big job growth. It ranked No. 2 among all 50 metros studied for rent increases, which were up 60%. It ranked No. 3 for house price increases of 35% in 10 years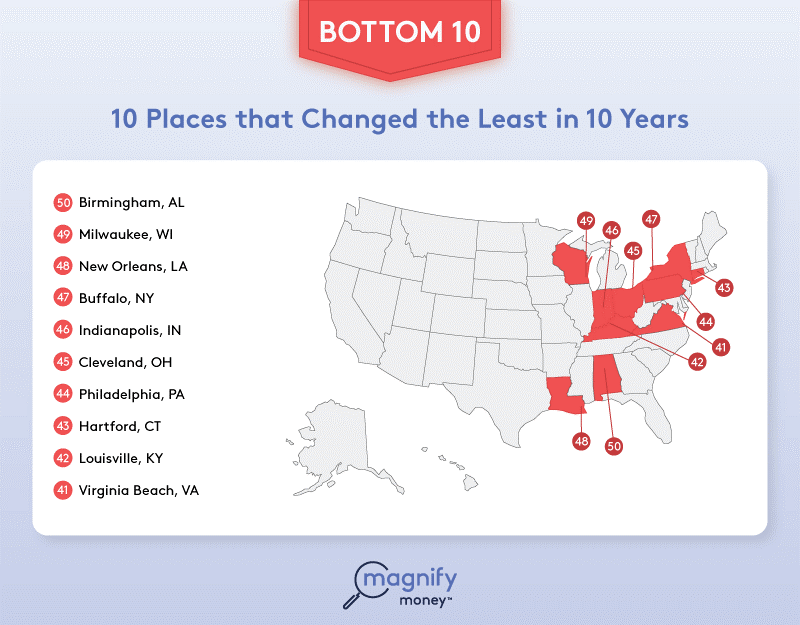 Places that changed the least

50. Birmingham, Ala.
Change Score: 61.1
Birmingham was at the bottom of the pack for all nine metrics analyzed. The metro area has seen lackluster employment growth (3% in the 10 years between 2006 and 2016) and house prices were down 2% from their 2006 level. Commute times were also basically identical to levels seen in 2006..

49. Milwaukee
Change Score: 61.7
Milwaukee also lagged in employment growth, at 4% in 10 years, but it's one of the few areas where rent growth hasn't significantly outpaced income growth, with median rent up 19% in 10 years (while incomes rose 15% over the same period).

48. New Orleans
Change Score: 63.4
While New Orleans is third from the bottom in terms of change, in the wake of Hurricane Katrina in 2005, it made big progress in one key metric: employment. The rate of people employed was up 30% since 2006, giving this city a No. 3 ranking among the 50 largest metros for growth. Where it lags is in metrics where too much change is a negative: rent growth and commute-time growth. Median rent in the New Orleans area is up 17% in 10 years, ranking No. 48 out of 50, while commute times are up just 1%, ranking No. 47.
Methodology
MagnifyMoney examined factors to assess change, including:
● Commute times — the percentage change in average commute times reported for each metro area in the U.S. Census American Community Survey, released in September 2017 and covering 2006-2016.
● Building permits — The number of residential building permits issued, 2007-2016, as a percentage of the 2006 base of households, using data from the Department of Housing and Urban Development.
● Median age — The change in median age of residents, 2006-2016, via the American Community Survey.
● Employment — The percentage change in people employed from 2006-2016, via the American Community Survey.
● Income — The percentage change in nominal median household income, 2006-2016, via the American Community Survey.
● House prices — The percentage change in the nominal house price index, 2006-2016, via the Federal Housing Finance Agency.
● Rent — The percentage change in median rent from 2006 – 2016, via the American Community Survey.
● Crime rate — The percentage change in the crime rate from 2006-2016, via the Federal Bureau of Investigation Uniform Crime Reporting program.
● Recent moves — The percentage of residents who moved into their current residence in 2010 or later, via the American Community Survey.
MagnifyMoney is a price comparison and financial education website, founded by former bankers who use their knowledge of how the system works to help you save money.