RUSSELLVILLE, Ark. (KTHV) - Russellville has a lot to cheer about this football season. The Cyclones will play for the Class 6A football championship on Saturday against the Greenwood Bulldogs. If they win, it would be their first title since 1933 and winning would be a big deal for the school.
But for cheerleader Sara Tumbleson, she has a lot more to celebrate when she cheers this coming Saturday. Tumbleson can recall the pain she felt just three months ago.
"I mean, I just had really bad headaches, and I couldn't move with them," she recalled. "It hurt to walk and I kind of kept tripping a little bit and my centering was off. I got carsick, which never happens. So we went and got an MRI done, and I had a tumor."
The tumor was discovered on Sara's brain stem in September. It's the white circle you see at the bottom of her MRI. It pushed on her brain stem, and trapped excess fluid in her brain. The diagnosis was, like you might expect, stunning.
"I didn't know what to think. I didn't have any questions, or anything," Tumbleson said.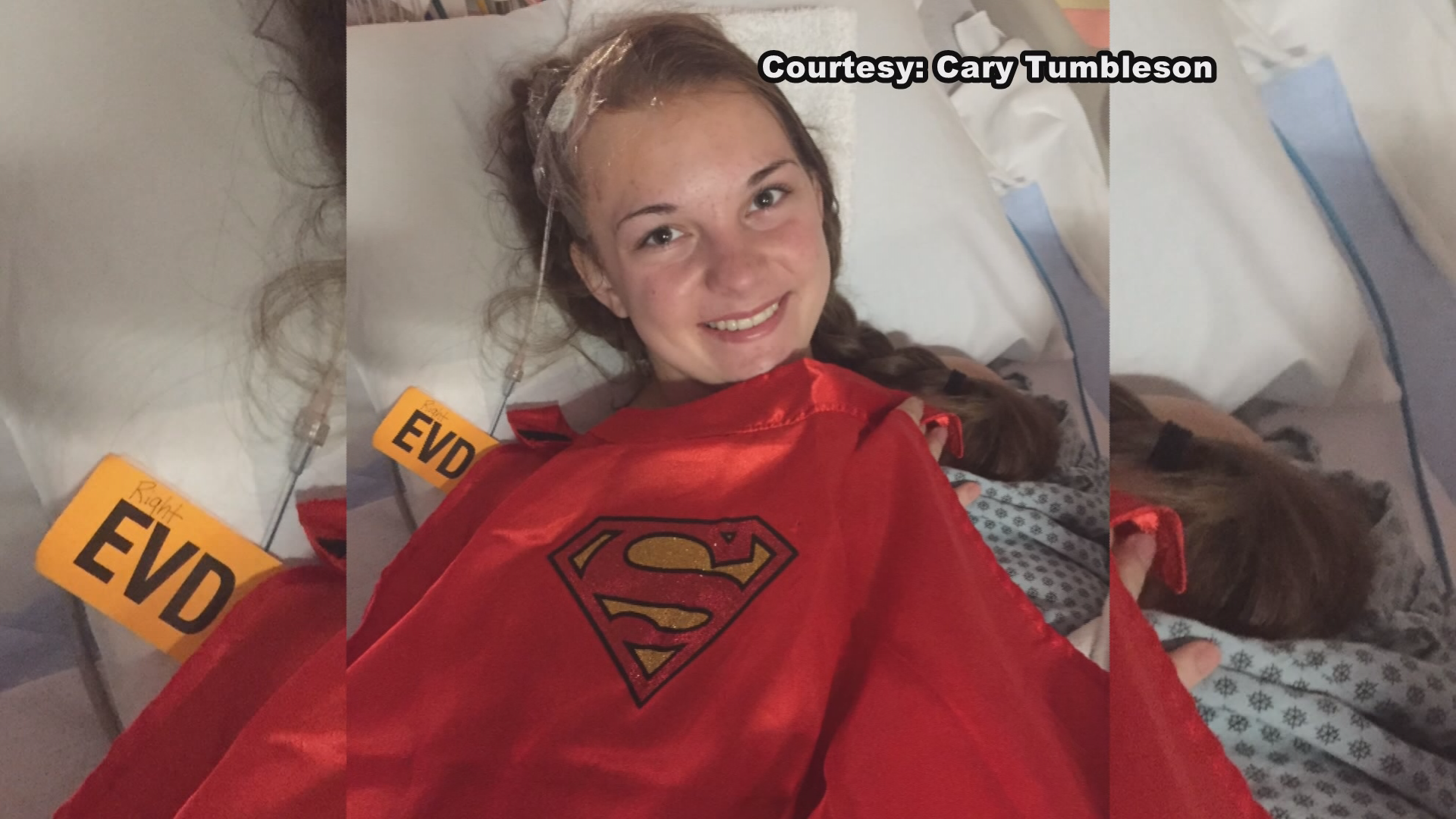 She had surgery to remove the tumor and drain the fluid. She spent more than a week in the hospital in Little Rock, but the Russellville community made sure she felt close to home.
"I got a bunch of support from the community, and friends came to visit, and coaches and teachers," she said. "And my family was there a lot. It went pretty well."
Her family gave her the hashtag #Sarastrong and she used the attitude she developed as a cheerleader to heal.
"I stayed positive through the whole thing and never really had my head down about it. That was the theme of my room, too. We had little superhero capes everywhere. It was just to stay strong through it all," Tumbleson said.
It would take another month before she'd be ready to return to school and cheer again. During that time, the whole school got to see what it means to fight, and to win.
"It was a little bit tough," she said. There was a couple of weeks of physical therapy, just learning how to walk and run again a little bit, and get my balance back together. But I'm back!"
She will be on the sidelines cheering on the Cyclones who will try to defeat Greenwood for the 6A title, at 6:30 Saturday evening.
Her fortitude shows that not all superheroes wear capes, sometimes they wear a cheerleader uniform and shakes their pom-poms.