What began as a connection on a dating site turned into an extended stalking and threatening situation for a Paradise Valley man, according to police.
The Paradise Valley Police Department said Wednesday that 31-year-old Jacqueline Ades of Phoenix texted the victim 65,000 times, oftentimes threatening him.
After contacting police earlier about the stalking, the victim told detectives early last month that he saw Ades in his home via security camera while he was out of the country.
When police arrived, they found her in the bath of the home and arrested her. Officers found a butcher knife in the passenger seat of her car.
Ades failed to appear for her court date on that arrest late last month and continued to send him threatening text messages, including threats that she wanted to wear his body parts and bathe in his blood, police documents show.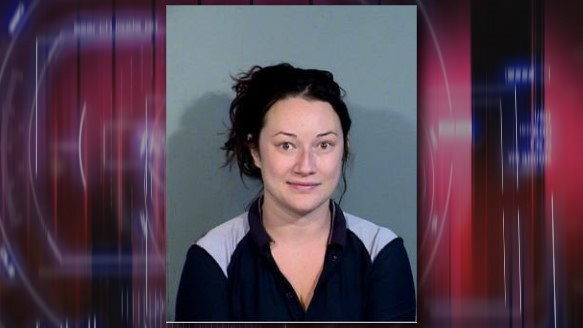 Some of the texts read: "U do whatever u have to do to get here... but don't ever try to leave me... I'll kill you," and "Oh what would I do w ur blood! I'd wanna bathe in it."
On May 4, police found Ades acting irrationally outside a Scottsdale business owned by the victim. She claimed to be his wife and police removed her from the business.
Paradise Valley's Criminal Investigations Unit arrested Ades Tuesday. She was booked into 4th Avenue Jail on threatening, stalking, harassment and failure to appear charges.
When detectives asked her about the threatening text messages, she said that she loved the victim and threatened him because she did not want him to leave.