ST. PETERSBURG, Fla. — Florida school districts could soon have to do more reporting to the state's Department of Education to show they are following a decades-old law on teaching African American history in the classroom.

CS/HB 551 received unanimous support in both chambers of the legislature. The Florida Senate approved the measure on Thursday. It's now heading to Gov. Ron DeSantis for consideration.

The bill will require school districts to provide evidence to the Florida Department of Education on how they are teaching Black history and will require the districts to post their plan on their websites.

The Florida legislature passed Florida statute 1003.42(2)(H) in the mid-90s, which required districts to teach comprehensive lessons on both African and African American history.

However, the Florida Commissioner of Education's African American History Task Force has said there hasn't always been enough in place to make sure districts are following state law.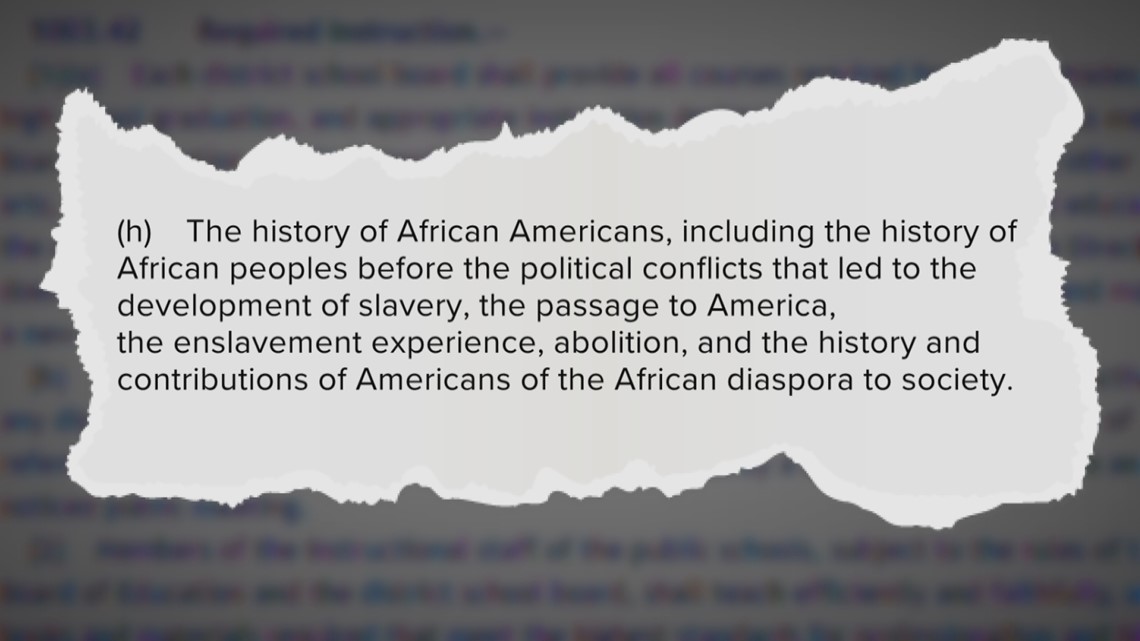 A search through the FLDOE required instruction portal for the 2021-2022 school year showed all Tampa Bay-area districts posted reports and implementation plans for teaching Black history — and there was a lot of variation.
Hillsborough, Pinellas and Polk all offer African American history courses. Citrus, Hardee, Hernando, Highlands and Pasco do not — although Pasco did recently form its own African American History Task Force to improve its offerings and to apply for exemplary status from the state task force.
Other districts say lessons on Black history are embedded in civics and history curriculums.

Still, Kelley-Brown says the required instruction portal needs more oversight.
"It has pretty much — check a box. So, it's nothing — no documented citations or evidence that it's being done. It's just, ask the question, 'Do you do this? Do you do that?' And you can say yes, no."

10 Investigates' Emerald Morrow: "So no accountability."
Bernadette Kelley-Brown: "No accountability."
With the passing of this latest bill, districts will have to list the methods used to teach each grade level, the professional qualifications of their teachers and a description of the instructional materials in their implementation plans.
The new law will also require districts to submit their plans and make changes within 45 days if the plans need revisions.