If you arrived on this page by clicking a push alert on your phone, please scroll down for links to live streams.
As the COVID-19 coronavirus pandemic grips the globe, it can be difficult to find reliably factual information about what's going on here in Florida.
This blog is a resource to address that crucial need. 10News reporters and producers will use it to share the latest headlines, while actively focusing on facts not fear.
The CDC is now suggesting that any Americans, who wish to do so, should wear basic cloth or fabric face coverings when they go out in public.
A Palm Beach County Sheriff's Office sergeant dies from COVID-19
A Broward County Sheriff's Office deputy died from the virus
221 deaths reported in Florida, with 12,350 confirmed cases
Cruise ship companies, working with the Coast Guard, slowly have been allowing passengers to disembark
The 927th Air Refueling Wing at MacDill Air Force Base in Tampa said it's sending its own doctors and nurses to New York and New Jersey to help fight COVID-19. The group included 120 professionals, including doctors, nurses and respiratory specialists within the Air Force.
The group is set to be in New York by Tuesday.
The Florida Department of Health released the latest numbers on the COVID-19 pandemic in the state.
There have been 221 people who have died from the virus and there are 12,350 reported cases.
While Gov. Ron DeSantis' stay-at-home order allows for people to gather at churches while practicing social distancing, many Tampa Bay area congregations opted for smaller or virtual services for Palm Sunday.
At Grace Lutheran, worshippers could come to the church but had to stay 10 feet apart. Some churches worried virtual services would deter people from participating.
A week after the arrest of Pastor Rodney Howard-Browne, The River at Tampa Bay held a Palm Sunday service online.
Sarasota Memorial Hospital reports it is caring for 34 inpatients who have tested positive for COVID-19 coronavirus and has discharged 33 patients.
Since the outbreak began, the hospital has tested more than 760 people, with 635 negative results.
The Florida Department of Health reports 23 new deaths related to COVID-19 coronavirus since its Saturday evening update, bringing the state's total to 218 deaths.
It says there are a total of 12,151 cases statewide -- an increase of 606 since the previous report.
These will be delivered to testing sites statewide.
Gov. Ron DeSantis said Florida tested at least 102,000 people through Saturday morning for COVID-19 coronavirus, making the state the second in the nation for testing.
The Pinellas County Sheriff's Office says one of its detention deputies tested positive for COVID-19. The sheriff's office said the deputy last worked at the jail on March 19, 2020, and the Florida Department of Health identified two days of concern where the deputy could have spread the virus.
A Palm Beach County Sheriff's deputy died after a battle with COVID-19. The sheriff's office said he had underlying health issues.
He was the second law enforcement officer to die from the virus this weekend.
The Florida Department of Health is reporting 11,545 positive cases of COVID-19 in the state and 195 deaths.
A Walmart store in Bradenton is just one of the company's many locations that have implemented new social distancing guidelines to help limit the spread of COVID-19 coronavirus.
People were seen standing in line outside Saturday afternoon as the company wants to limit the number of people inside to no more than about 20-percent capacity.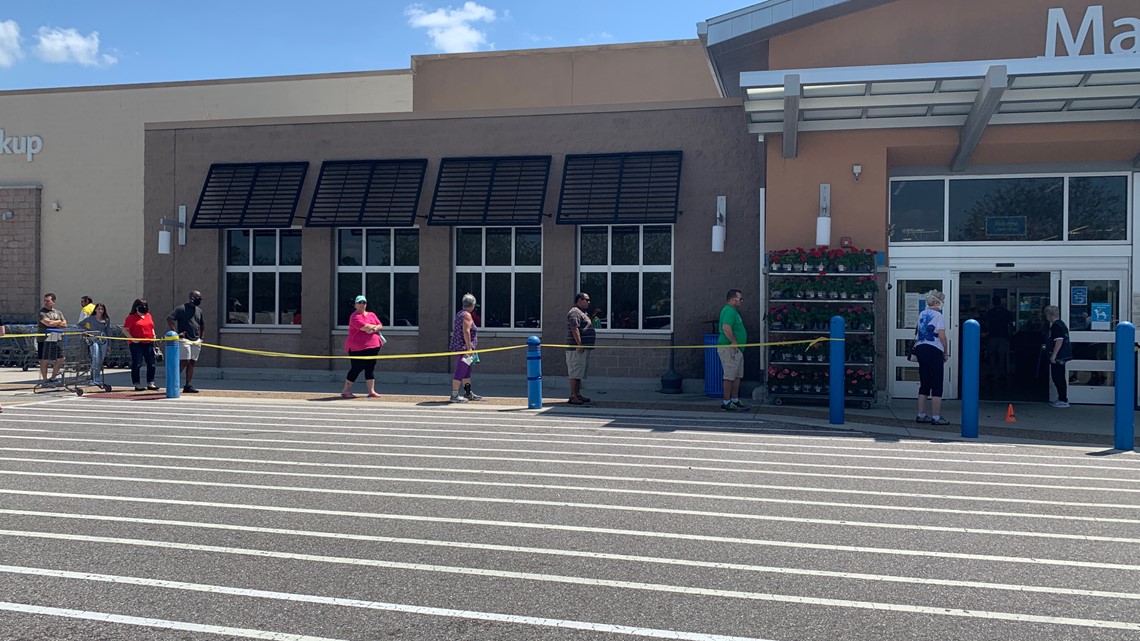 Sarasota Memorial Hospital reports it is caring for 32 COVID-19 coronavirus patients.
Since the outbreak began, five people have died and 31 have been either discharged with follow-up monitoring by the Florida Department of Health.
There are 71 coronavirus test results pending.
A Princess Cruises ship carrying at least 12 people who tested positive for COVID-19 coronavirus is scheduled to allow some of its passengers to disembark at Port Miami.
Those passengers on the Coral Princess cruise who are needing "shoreside medical care" will be allowed to disembark first, the company said. People who are considered "fit to fly" will be allowed to leave starting Sunday, with transfer to Miami International Airport for flights home.
The passengers experiencing respiratory symptoms or are recovering from being sick will stay onboard until cleared by a doctor.
Princess Cruises says there are a total of 1,898 people on board, including 1,020 guests and 878 crew members.
The Florida Department of Health reports 843 new cases of COVID-19 coronavirus since its Friday night update, bringing the total to 11,111 cases statewide.
It also says 191 people have died from the virus, an increase of 21 people since the last update.
More than 1,200 passengers were offloaded from the Holland America ships Zaandam and Rotterdam on Friday after it docked Thursday in Port Everglades, Florida, the Coast Guard said.
The passengers are among the 250,000 people who have been offloaded from more than 120 ships in the past three weeks by the Coast Guard because of the ongoing COVID-19 coronavirus pandemic.
At least eight passengers aboard the Zaandam tested positive for COVID-19. Four passengers died, and around 200 others reported experiencing "flu-like" symptoms.
"The Coast Guard, under guidance from the Centers for Disease Control and Prevention (CDC) and working with Department of Homeland Security partners Customs and Border Protection (CBP) and the Transportation Security Administration (TSA), as well as state and local entities from multiple port jurisdictions, facilitated the safe landing, screening, quarantine and repatriation of these passengers in a manner that has prevented further spread of the COVID-19 virus," a news release stated.
Deputy Shannon Bennett, 39, of the Broward County Sheriff's Office died late Friday from COVID-19 coronavirus, the agency wrote on Twitter.
He was a 12-year veteran of the sheriff's office.
"I ask that you keep Shannon's family members in your prayers, but keep Shannon within your heart. His legacy will be carried on in our performance," Sheriff Gregory Tony wrote.
The Florida Department of Health announced that its online dashboard that displays positive COVID-19 cases in the state will now feature a map that breaks down cases by ZIP code.
The department also released a "COVID-19 Community Action Survey" that it recommends all Floridians take.
Wawa says an employee at one of its Tampa locations tested positive for COVID-19. The store, located at 8458 N. Dale Mabry Highway, said it closed to deep clean and disinfect when it got the information in.
Wawa said the last day the employee worked was March 22, and it is working to notify any associate who might have come in contact with the person who tested positive.