TAMPA, Fla. — It was a five-hour and 45-minute flight for Stewart Payne as he made his way from San Diego to Tampa. Payne says he came looking for answers about what happened to his daughter, Jaida, after she was killed in a car crash along Interstate 75 at the I-4 exit.
"Something just kept telling me that there's something wrong with this accident. Jaida was not a reckless person," Payne said.
Payne says on Jan. 5, his phone rang at 7:30 a.m.
"I could hear my wife screaming, so I run out. It was chaos," Payne said. He says it hasn't stopped the search for answers.
Payne contacted every agency involved in investigating his daughter's accident.
"Red flags just kept going up. We initially thought that the accident happened on an embankment. We didn't know that it happened at a guardrail. No one shared that," Payne said.
Payne says it wasn't until three months later when he started going through the reports from Florida Highway Patrol and the Hillsborough County Medical Examiner that he started to understand.
Payne got a hold of photos taken by a trooper that showed him for the first time what happened the morning of Jan. 5. Jaida's car was unrecognizable. Her headrest in one photo was lying on the ground.
"The guardrail sheared the roof of the car. And none of that detail is in the homicide report," Payne said.
10 Investigates took the photos from the night of the crash and put them side to side with what is there today. In what's installed on the side of the road now, you can see there is a concrete pad with a guardrail and an end cushion.
But on the night of the crash, there's nothing on the concrete pad. It looks to have just been freshly poured.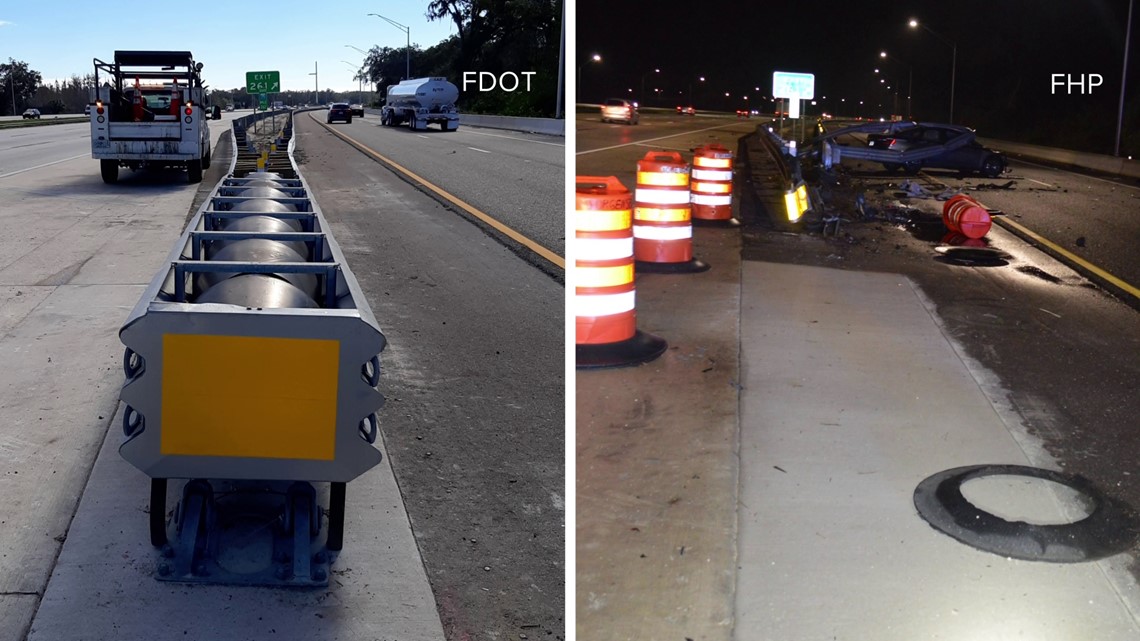 "That's probably what happened there, they were waiting for it to cure before they can install a crash cushion," said Kevin Schrum, a structural engineer with the University of Alabama-Birmingham.
A crash cushion is a device that is used to protect cars and trucks from impacting potentially hazardous objects.
"But in the interim, they needed to install something that could actually do something in the event that someone off the road there. What they did instead was they left a few blunt ends pointed back at the oncoming vehicles, blunt ends are obviously very dangerous," Schrum said.
In photos of the aftermath, you could see construction barrels were out on the road the morning of the crash.
"The orange barrel does nothing, it's just plastic. Your car against hollow empty plastic barrels, it's a non-starter," Schrum said.
We've learned there are measures that can be put in place like sand barrels or a truck-mounted attenuator. In simple terms, it's a crash cushion that is mounted to the rear of a safety truck.
Through a public records request, 10 Investigates scoured through dozens of documents related to the night of the crash and why construction was going on in the first place.
It shows another crash had happened at the same exact spot, a car hitting the guardrail on Dec. 21. A construction crew was repairing the damaged guardrail when they wrote in this email from Dec. 23:
"Our mobile attenuator is parked in this location as we schedule mobilization. Can we extend this to 1/6? The concrete pad will take 72 hours to cure and we will need closures setup to perform some of this work."
Four days later, FDOT approved the request and for the project to be completed on Jan. 6.
Then, the company emails FDOT after Jaida's crash, saying they will leave both attenuator trucks throughout the duration of the project they now have to fix.
Photos from the morning of Jaida's crash do not show a truck attenuator in place.
"When we send crews out on the highways to do this work, we put something up to protect the crews, so they're not injured. They can't just leave a guardrail incomplete, as it appears, in this case, to exists without protecting the drivers from hitting it," Payne said.
He believes more should have been in place to protect Jaida and other drivers from hitting a dangerous guardrail that morning.
Payne doesn't have all the answers to why his daughter's crash happened the way it did, but he will continue to fight for them.
"Right is right. Wrong is wrong. We've got to do something to keep our daughter's memory alive. And if we can stop one death, from these guardrails, that would be a success," Payne said.