LARGO, Florida — Here in Florida, there's nothing like a dip in the pool in the afternoon. It's what a dozen homeowners 10 Investigates talked to were dreaming about, too.
For some, those dreams started during the pandemic. Peter Nemethy says he contacted the company, Platinum Pools and Spas, out of Largo three years ago.
"The total contract was $242,556.50," said Nemethy, who explained it was for a pool and a spa. "We had three equal draws of $72,000. Then, our final was $24,248.50. We had paid that in full, and we still don't have a pool."
He says they have a major problem. He says he has two different holes, one for the pool and one for the spa. He paid hundreds of thousands of dollars for both — and neither is ready to be used.
"We did our part, we paid, and he didn't do his part. And after finding out, we reached out to other open permits that he hadn't finished on swimming pools," Nemethy said.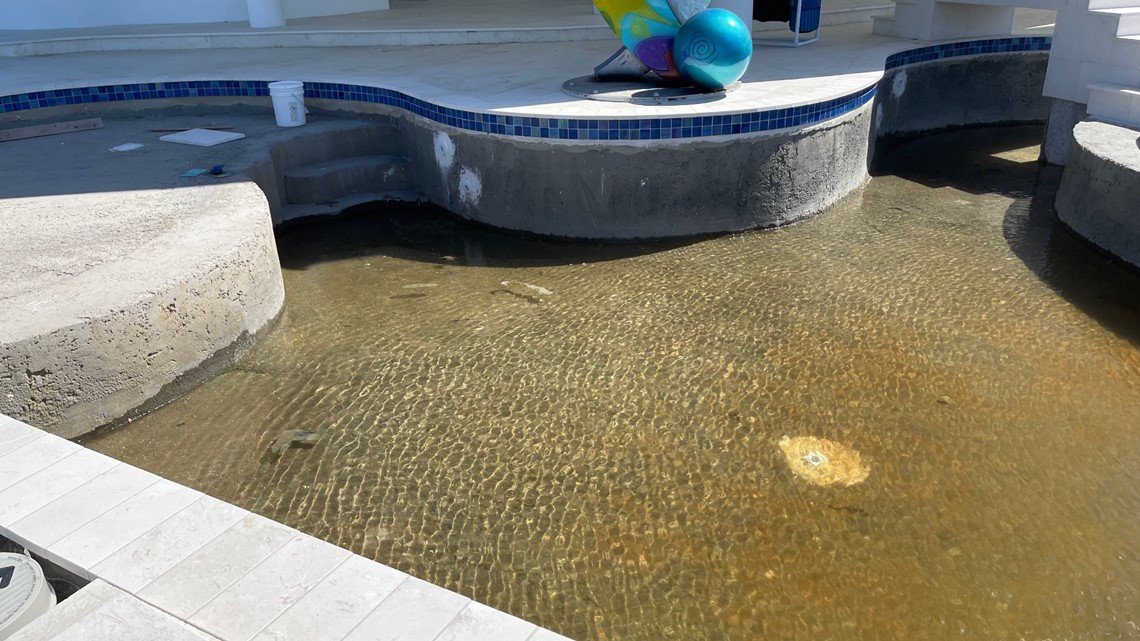 Jessica Wason is one of them.
"When they first started digging, things seemed to be going well. We had a lot of rain because it was going in rainy season. July is a high rain season. And so that delayed the project consistently on the calendar. They would say, 'Oh, we're going to be out there next week.' And then I'd reach out to the team, they'd be like, 'Oh, well, we're rain delayed,'" Wason said.
The Wason's contract was signed back in March 2021 for a pool that would cost $60,000.
"We've paid 90% of this project since September of 2021. And there has not been any additional work since May of 2022," Wason said.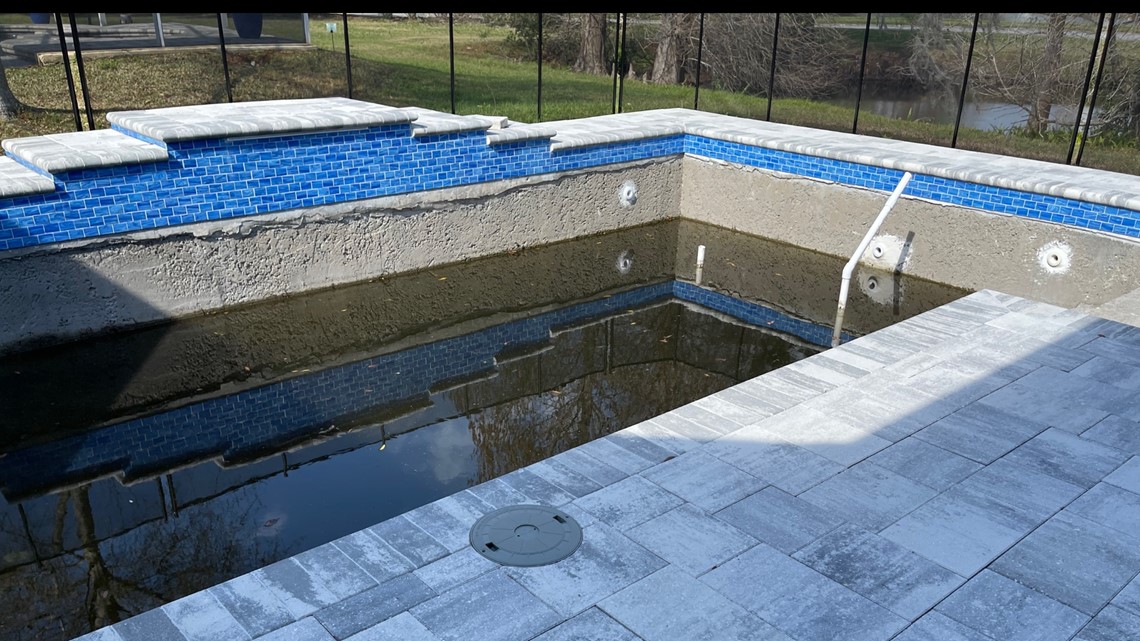 They have an unfinished pool that sometimes fills with rainwater. The Sheldons don't even have that.
"One day, I was just like, let's, I want a pool and he's like, start getting quotes. I didn't think it was like within reach for us, like with given our income or whatever. But we got quotes. And we're like, let's make it happen. So that's what we did. And we got about five quotes from local people here. And Platinum sold us the best. And so we went with them. We went and picked up finishes and signed a contract and the rest is history," Kristen Sheldon said.
The Sheldons signed a contract two years ago as well with Platinum Pools. Tim Sheldon says he talked with Platinum Pools about the progress.
"It started to be an engineering issue; we need the seal. We were waiting on that. Then it became well, there's a licensing issue. 'I don't handle that, the owner Dave does.' So I reached out to Dave," Tim Sheldon said. "And he was telling me that he had a problem with a customer and they were causing multiple headaches for him. But they were switching from working under this other company's license, who is state certified.
"So he's operating under that, but now he's applying for his own state license is what we were told. So that way he could be independent of this. And we're just waiting. There's a little bureaucracy involved and it's okay. Check back again about a week later. How are you guys doing? We're still waiting."
The waiting hasn't stopped
But it's not just these three customers who say they paid for a pool that has yet to be finished. We spoke to 12 people, many sharing their contracts. They all say the contracts they signed with Platinum Pools didn't mean a thing because all they are left with are broken promises and empty wallets.
"It's been emotional. I mean, I never thought we'd go through something like this. This is just stuff you see on TV that happens," Kristen Sheldon said.
The owner of Platinum Pools, David Greiner, says it was a handful of things that delayed projects.
"They were let know how long the timeframe was before they signed up. At one point, we were about 10, 12 months before we could start a job and break ground or possibly finish. We ran through a lot of issues when COVID happened. We've been trying to take care of all those scenarios. Price increases were a ton. And it's just something we've been dealing with and trying to get everybody done," Greiner said.
We looked over contracts for Platinum Pools that were signed by homeowners and couldn't find any projected completion dates. He also showed us notes and communication with some homeowners he says were the ones putting the hold on the projects.
According to Florida statute, if you take a deposit from someone you must pull permits within 30 days. Greiner says the county many times was the one holding the process up.
"If I didn't care about my customers, if I didn't care about my name or my job, I would have taken off a long time ago. But I'm here every day. I'm on job sites every day. I rarely spend time in the office, I have people here in the office that take care of things for us. And, you know, we're still working on it every single day trying to get things back on track," Greiner said.
That could be put on pause after the Pinellas County Licensing Board tells us Platinum Pools shouldn't be doing any work because the license is not properly registered, and they need to show proof of workman's comp insurance.
"We had an issue that we ran into with a couple of customers that bounced checks that caused our payroll to bounce, certain things to bounce, that were paid up for products, for employees as well. It messed up our payroll service and took us a while to get that figured out. It was all paid. We're just waiting for certain things to process and waiting for certain documents that come from that payroll service to send to Pinellas County," Greiner said.
"We haven't taken off anywhere. That's why I was willing to talk to you guys. You know, I wanted someone to come and hear my side because, you know, there's a select few that are out there spreading rumors that aren't true. You know, anybody who understands what's going on, anybody wants to work with us and take what we're saying and just understand, they're getting their jobs done, you know, and without getting the price increases, you know, and it's something that I stand by.
"I want to get my job done on what they contracted for, whether it was a year ago that they were contracted, you know, every customer knew that signed up our timeframe, you know, and the part that could be bad about that is, you know, sometimes they forget about it," Greiner continued.
Nemethy says, "So, he can assume the responsibility. And since he's already been paid, he should finish the pool."
Greiner says regarding Nemethy, there was a new contract that he signed, that showed an increase of $47,527. Greiner could not provide us with a copy of the newly signed contract.
The Sheldons tell us they reported their experience to the Pinellas County Sheriff's Office. We asked the sheriff's office to comment, and a spokesperson sent us this statement: "The case is still open and active and no information will be disclosed."
Some things to keep in mind:
— Under Florida law, if someone takes 10 percent or more of the total cost of a project for a deposit, they're required to apply for any necessary permits within 30 days of that payment and start the work within 90 days of getting those permits.
The BBB says just because they give you a license number, don't stop doing your homework. Make sure you get a copy of the actual license and compare the name on there with the one on the written contract.
— A spokesperson for Achieva Credit Union points out homeowners will spend up to $15,000 a year to make renovations. Tasha Cohen-Glyn agrees with checking everything out.
"It sounds easy, but people probably don't. It's springtime, it's time for renovations, and people want to do things, right? So I think it's important to vet, every person, any vendor that you're dealing with, right, and the way you vet you can look at the Better Business Bureau, that's always away. I know, it sounds old school, but it still works, right? And also, sometimes it might be good to even speak to someone, it may be like a referral," Cohen-Glyn said.
She says to read the reviews, even when it's something that seems small.
"It's worth investing the money and putting it into your home," Cohen-Glyn said.
She says due to the costs of some of the home renovations, some people might opt for a Home Equity Line of Credit or a Home Equity Loan. Regardless of whether you are borrowing money from a bank or credit union or if you have the funds in your account, don't make cash payments. You want to have a paper trail in case there's any dispute.
— Make sure you're either writing a check to the business on the contract or pay with a credit card because your creditor could have added protections should you have problems.
— Be aware of what's called a price escalation clause which might drive up the price of the project:
"As we have increasse in prices over time and there's delays. It allows the contractor to adjust their price reasonably for any increase in costs for materials or labor," BBB of West Florida spokesperson Bryan Oglesby said.
State resources on finding the right contractor:
Here's how to look up contractors by county and see if they're in compliance with the local licensing board and how to make a complaint if you have a problem: