School suicide prevention training is voluntary for Florida teachers: The need to make it mandatory
10 Investigates looks at the increase of suicides among young people and the push to bring more training for suicide prevention into our schools.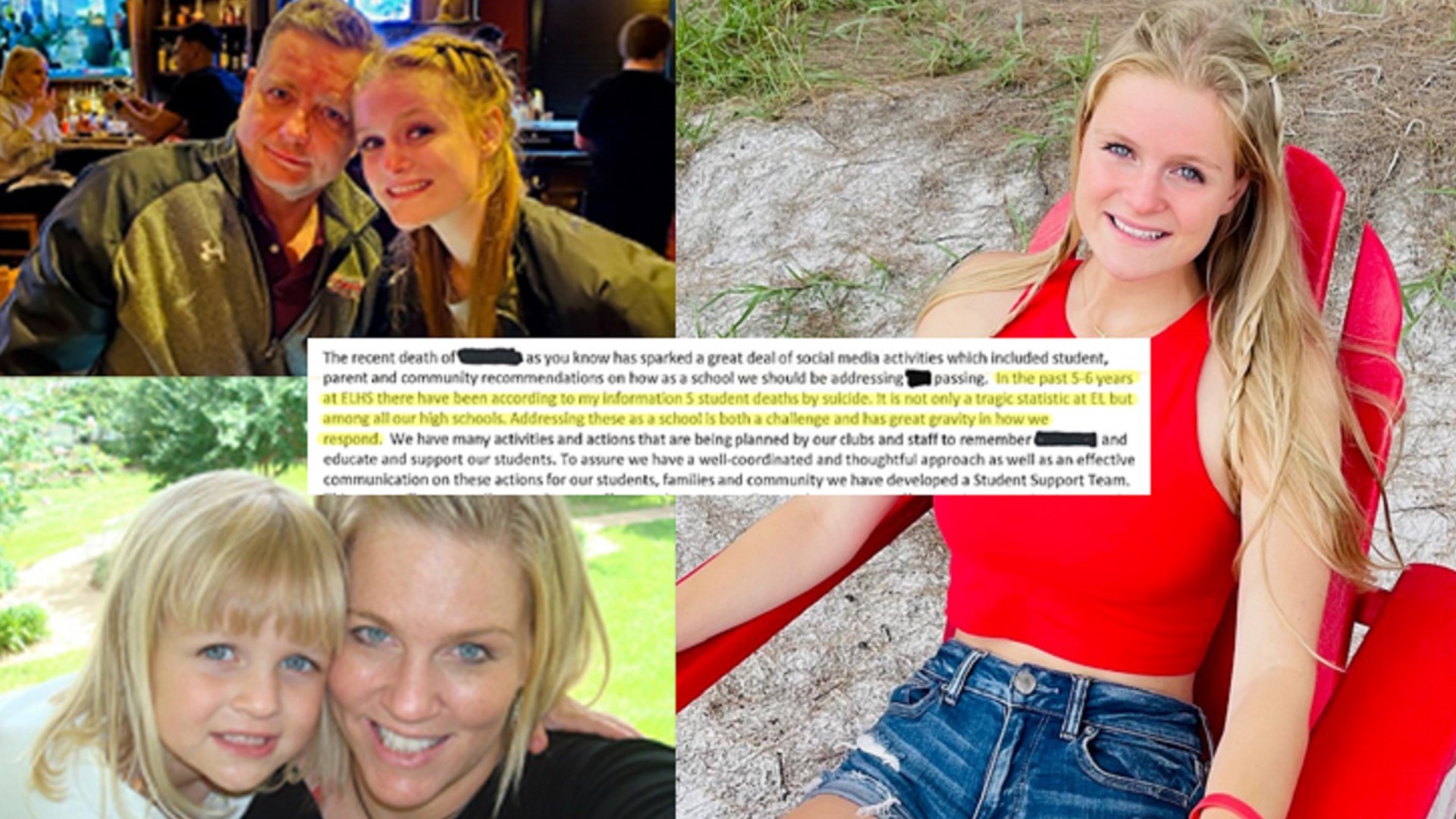 From a little performer to an all-star athlete.
"She had that energy and that energy about her that people just gravitated towards," Hunter Brown said when talking about his 16-year-old daughter, McKenna. "She was the light of our life."
McKenna was one of three children of Hunter and Cheryl Brown.
She was always an athletic girl but became dominant in the world of ice hockey.
"She was on a travel team and had talked about playing at [the University of South Florida]," explained Cheryl, McKenna's mom. "She really and truly, she was fearless."
The teen was also a member of the Fellowship of Christian Athletes. She loved her friends and her family.
"She was very compassionate and loving, outgoing. She was very social. She was very athletic. she just, she loved people, and she loved life," Cheryl said. "She was my best friend."
But just a month shy of her 17th birthday, the Browns' lives would never be the same.
McKenna Brown's death
:
"Bullied to death."
"So, leading up you know, the week before [her death], there has been some girl drama," Cheryl said.
The teen's mom says drama over a boy led to texts and online attacks from a group of girls McKenna called her best friends.
"That really kind of started the slippery slope of negative communication and just kind of a barrage of attacks on McKenna that went into that weekend," Cheryl explained. "McKenna looked at all of the texts and, you know, they tried to cancel her on social media. It was a huge attack on her personally. They were trying to humiliate her and embarrass her."
It ended up being too much for McKenna.
On Aug. 7, 2022, Cheryl walked into McKenna's room to wake her up for Sunday church.
"I saw her on the ground, and she was face down, and I thought she was asleep, but it looked really uncomfortable, but I still assumed she was asleep," the teen's mom said. "So, when I first saw her, I didn't even realize what I was looking at until I went to go touch her and wake her up, and then I turned her over. At that point, we're told she had already been gone for a couple hours."
The Brown family planned a funeral instead of the start of their daughter's senior year at East Lake High School.
16-year-old McKenna Brown
East Lake High School community's reaction
:
Interim principal: Five suicides in 5-6 years at one school.
10 Investigates learned shortly after McKenna's death, those who went to school with her were disappointed with the handling of her suicide.
In emails we obtained through a public records request, one person wrote:
"I really believe the school is creating an environment for the kids that is wrong to grieve someone who took their own life."
"I am so frustrated that suicide is still ignored and viewed as insane. If you haven't realized it yet, suicide is real and is happening right in front of our eyes.
But the most striking one of all came from the interim principal at the time, which read:
"In the past 5-6 years at ELHS there have been according to my information 5 student deaths by suicide."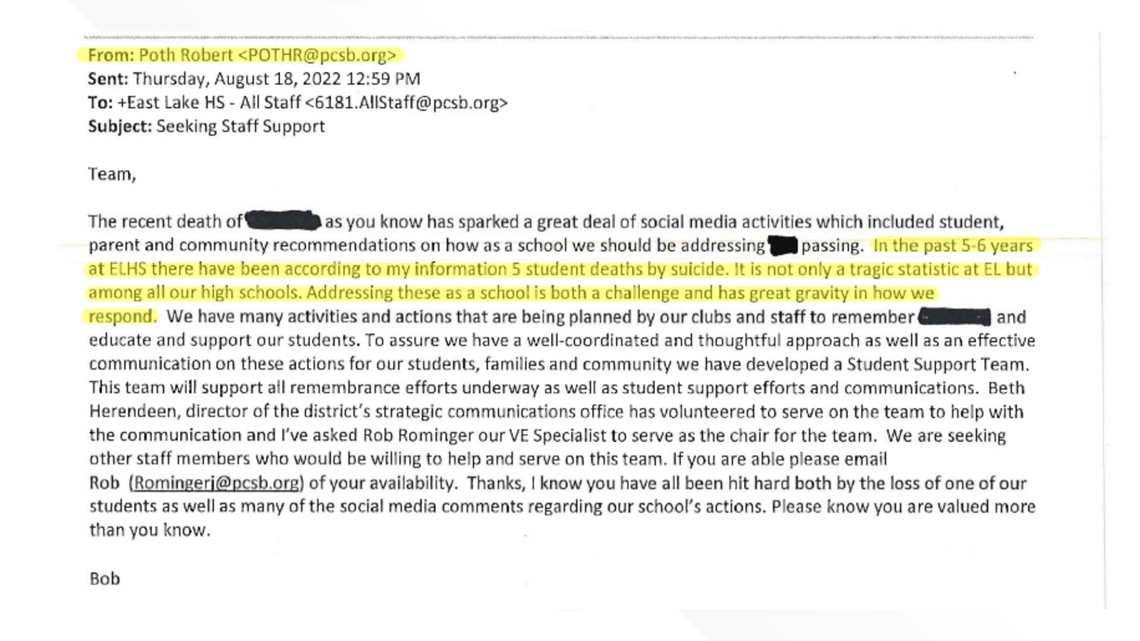 The Brown family says they had no clue that other children at the school had died by suicide before McKenna's death.
"I was shocked, [especially] to learn that two years ago when McKenna was at East Lake High School that they had happened while she was there," Cheryl said. "And instead of...talking about it [and] making it known, they swept it under the rug. That would have been a conversation that we could have had with McKenna, and that's devastating and traumatic to happen as a high school kid."
According to the latest statistics from the Florida Department of Health, suicides among young people were at an all-time high in 2020. The latest data showing there were 146 among those ages 10-19 in 2020 alone.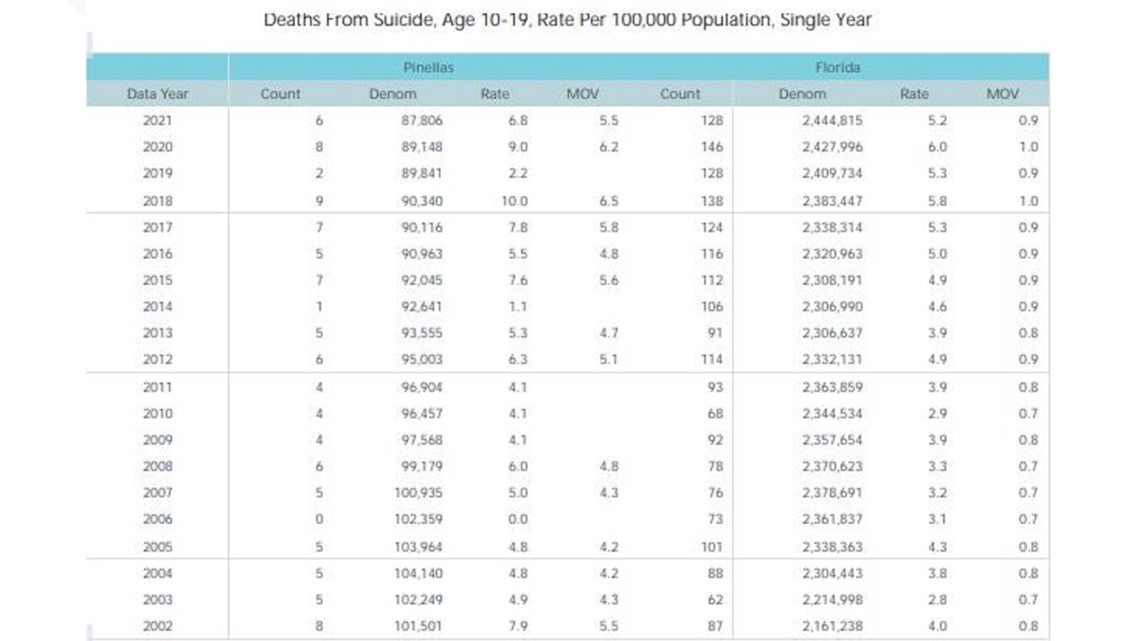 Push for mandatory training
:
"We need to be doing more."
Hannah Hayes lost her father to suicide a few years ago.
"He was a great dad. He was military," Hayes said.
Being impacted by suicide and also a teacher, Hayes says more needs to be done when it comes to suicide prevention in our schools.
"The numbers aren't going down in our schools. We need to be doing more," she said. "When we think about teenagers and their brains aren't fully developed, they don't know how to navigate certain life changes to them. And I just think in general, we must know what to look for."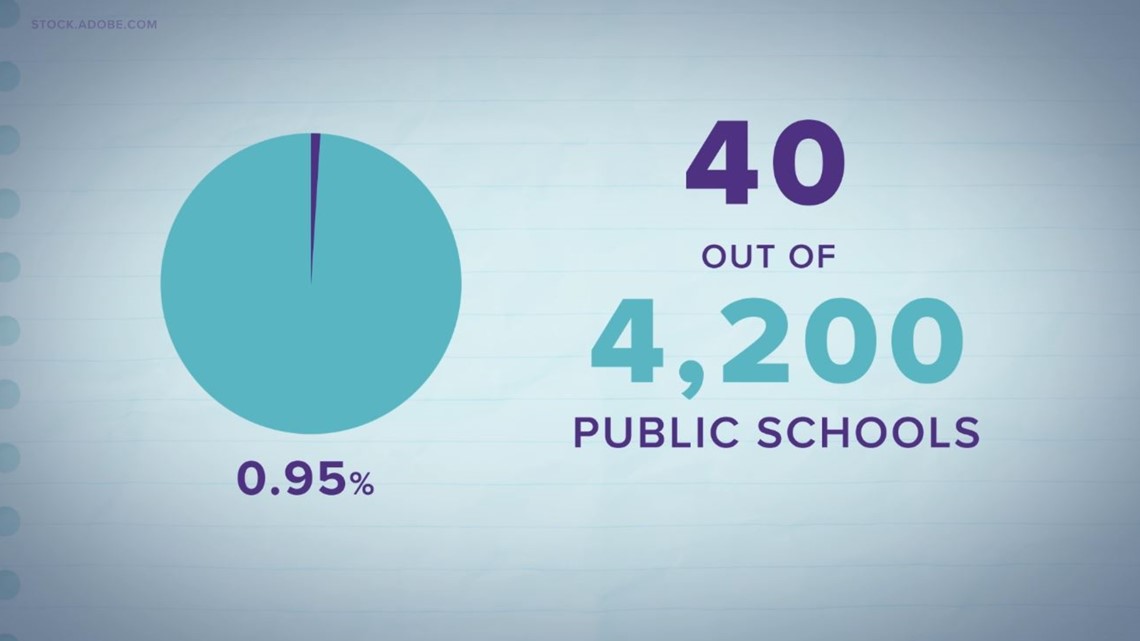 Pinellas County is the only county in the Tampa Bay area with schools that have been certified. East Lake High, McKenna's school, is not one of them.
"I think the training needs to be mandated," Hayes said. "All schools should be certified for suicide prevention."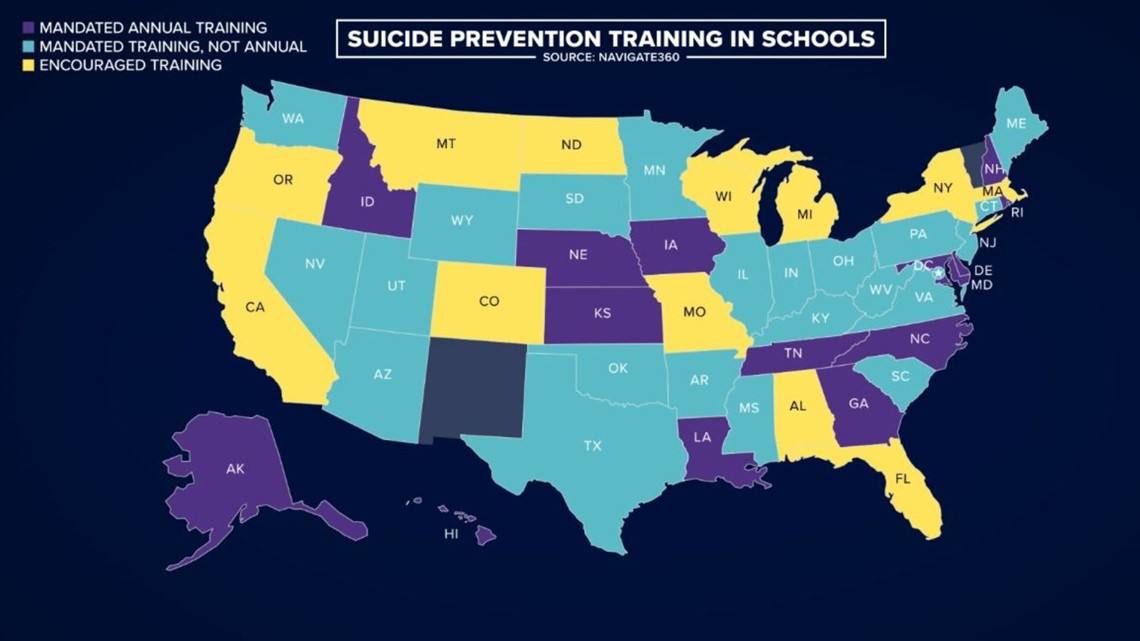 10 Investigates has learned that 14 states have laws in place that make suicide prevention training for their teachers mandatory every single year. Twenty-two states and the District of Columbia make teachers take the training at least once. While 12 states, including Florida, make the training voluntary.
10 Tampa Bay took the findings to Sen. Ed Hooper, R-Clearwater. East Lake High School is in his district.
He says he drives by the school every single day to get to his office, and he didn't realize the number of suicides at the school until we told him.
"I went into legislature in 2016. But I know that in the past three years, we have placed kind of an emphasis on suicide prevention for first responders in our military, which is appropriate and good," Hooper said. "But maybe that focus needs to circle back and include because, in today's school world, bullying is way too prevalent. And...even high school kids don't have that maturity to reach out and ask for help or talk to mom and dad or whomever.
"So based on your input to me and obviously today's interview, I've reached out to the commissioner of education to get a meeting next week to let's talk about this."
Could suicide prevention become mandatory in all schools?
:
DOE: Mental health instruction required in the curriculum.
10 Investigates showed you last year how lawmakers tightened up requirements after we uncovered fewer than half of the employees in Tampa Bay-area school districts had the required training to identify troubled students. That training is mandatory following the shooting at Marjory Stoneman Douglas High School.
When we asked the Department of Education about the Suicide Prevention Certification, the press secretary pointed out, "Pursuant to Rule 6A-1.094124, Florida Administrative Code, school districts must annually provide five hours of mental health instruction each year in grades 6-12, including suicide prevention and the impacts of substance abuse."
That means teachers are required to have this included in the Resiliency Education curriculum.
"It's only getting worse. I mean, it's becoming more prevalent, very sadly,' Hunter and Cheryl Brown said.
The Brown family would like the certification for suicide prevention in schools to become mandatory.
They believe while McKenna may no longer be here, in a way their daughter's helping spirit will still be if more help is brought into schools.
"We will never forget her. She's still helping people," Cheryl said. "We will never forget her. She's unforgettable."
Resources for others
:
988 is the 24/7 Suicide and Crisis Lifeline number.
Suicide is the third leading cause of death for 15 to 24-year-old Americans, according to the group Suicide Awareness Voices of Education (SAVE). Its website is one of several resources for parents.
The organization was one of the first dedicated to the prevention of suicide. Here's a link to what parents should watch for along with risk and protective factors — characteristics that make a person less likely to engage in suicidal behavior.
What can I do to protect my teen or tween from suicide risk?
How can I tell if my child is behaving like a normal teenager – i.e. moody, etc. – or if there might be something wrong?
How can I talk to my teen about mental health and suicide?
If your family does experience loss, here's a book for talking with your kids about suicide loss.
These are some key numbers to have on hand:
The Suicide and Crisis Lifeline reports for every person who dies by suicide annually, 316 people consider suicide but do not end their lives.