TAMPA BAY, Fla. - The Florida Department of Transportation (FDOT) has rolled out a system for processing customers reimbursements for bank overdraft fees incurred because of unpredictable SunPass charges during the now-two-and-a-half-month system disruption.
Instructions on how to complete overdraft reimbursement requests can be found at SunPass.com under Frequently Asked Questions (FAQ). Indications are the reimbursements will 4-5 days to process.
However, FDOT has not provided any indication of any additional compensation for customers who may see their credit adversely impacted by the overdrafts. Nor, has the agency announced any other refund or amnesty plan for the six million SunPass holders who have had limited access to their accounts since the start of June.
The agency is offering refunds for any errors discovered on accounts, which 10Investigates revealed are the responsibility of the account holder to identify. Since the system transition began in June, the number of credits the agency has issued customers has surged from under 100 per business day to approximately 300 per business day. On July 20, FDOT issued 692 refunds to customers.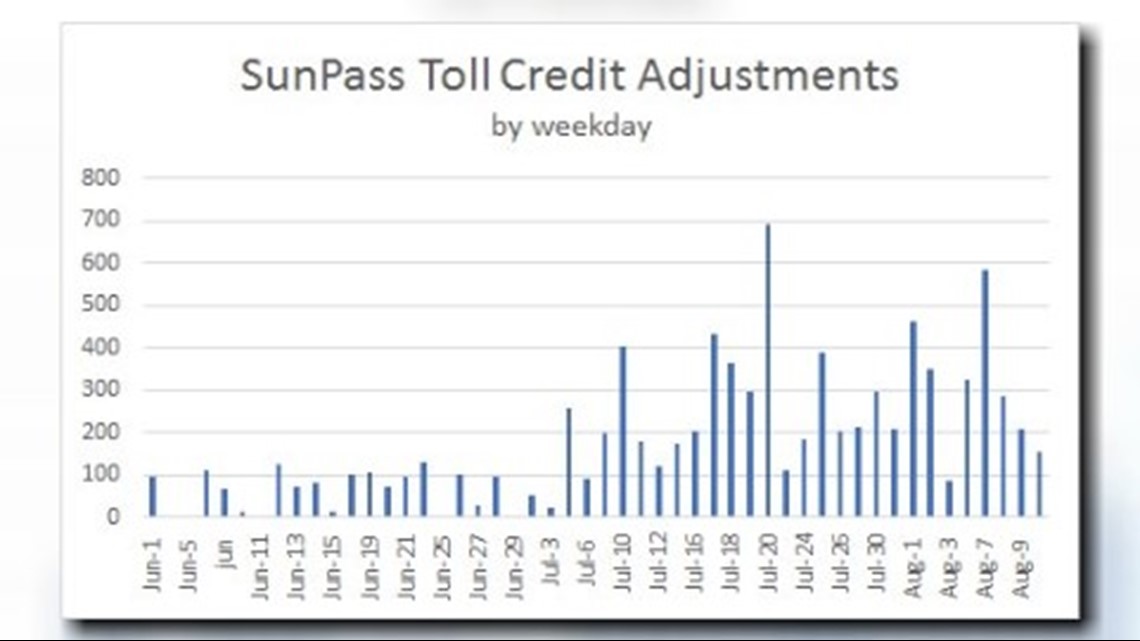 10Investigates has been asking FDOT for two months -- a request that has not even yet been acknowledged by the agency.
Below is a running report card of SunPass issues 10Investigates has been covering:
Issue: Downplaying of problems; FDOT's slow response to questions and records requests.
Concern: Floridians had no idea how bad the SunPass failures were until 10Investigates broke the news on June 19 that the state was unable to process tens of millions of toll transactions. It was another week before the state even acknowledged problems, and it continued to try and downplay the severity of the system disruption.
Response: In the two months since 10Investigates' first report on the failures, FDOT has not gotten much more forthcoming with information. The agency refuses to acknowledge interview requests and has even sent simple records via U.S. mail, seemingly to try and delay their release. The public still has no explanation -- outside of 10Investigates' reporting -- of how 6 million customers were inconvenienced so badly.
Issue: Technology meltdown limited access to SunPass accounts, the SunPass website frequently crashes, and billing was delayed by weeks and months.
Concern: Customers couldn't access receipts to get work reimbursements, got hit with large and unpredictable charges when tolls finally were processed, and the delays mean account errors are very difficult to spot and correct.
Response: FDOT, its partners, and its vendors have been working around-the-clock to fix the computer issues, and they have announced there will be no fines or penalties on customers during the ongoing disruption. The toll backlog was finally cleared Tuesday for many SunPass users, but EPass and toll-by-plate customers are likely still seeing long delays in billing. The state has rolled out its plan to reimburse customers for bank overdraft fees. But account errors -- of which there are multiple indications there are plenty -- are the responsibility of the customer to identify and report before refunds are issued.
Report Card: Improvement noted
Issue: Frustrated customers unable to get problems fixed.
Concern: Some customers have to wait 1-2 hours to speak to representatives while reporting their emails to SunPass go days without a response.
Response: An FDOT spokesperson says extra staff has been dedicated to customer service but has been unable to provide specifics over the course of the last two months. In July, an agency spokesperson touted website improvements and Conduent's reduction of call center wait times, but in August, the website continued to crash and call center wait times exploded as more drivers discovered unexpected and some inexplicable charges on their accounts.
Issue: Contractors and FDOT all had a role in system failures; state not in a rush to sort it out.
Concern: Are contractors incentivized to get problems fixed fast? Will individuals who made big mistakes be disciplined? Will the state learn from mistakes to prevent it from happening again?
Response: Tuesday's announcement that Florida's inspector general would investigate came only after 75 days and four 10Investigates interviews with Gov. Scott. No scope has been announced for the investigation, but the governor's office said it would likely be "broad." Payments were halted to Conduent in late June, but 10Investigates revealed the company is still getting paid on other contracts. The state announced an $800,000 fine to Conduent this week, and it said the company will pay for customers' overdraft reimbursements as well. However, no fines or penalties have been mentioned for corporation Atkins, the general contractor responsible for oversight on the project, or HNTB, the corporation that advised giving the contract to embattled Conduent in the first place.
Issue: Customers who use toll-by-plate or other mail billing have not received bills yet.
Concern: It appears the state has been unable to match all of the transactions to vehicle owners, delaying the posting of some charges. Viewers are also reporting errors in plate identification, landing other drivers' tolls on their accounts.
Response: An FDOT spokesperson says no tolls will be waived and invoices will go out "once quality assurance processes are completed."
►Want to view an interactive timeline of the SunPass maintenance woes? Click or tap here.