CLEARWATER, Fla. — Vietnam veteran Carol Henson took care of the wounded while serving our country as a flight nurse with the Air Force. Today, Carol is the one recovering.
"These are the nails where mom hit her head. They put their lives at risk every day and this is how they get treated," said her daughter, Tammy Bickhardt. She's giving a tour of their apartment unit.
"It's not right. They should be coming come to a safe, healthy environment and they're not."
Henson and her daughter had been living in HUD housing at Rogers Square Apartments, located at the corner of S. Hercules Avenue and Gulf to Bay Boulevard, and had been battling their apartment management since moving in four years ago.
"When we first moved in, we had air conditioning problems and the maintenance guy only put the Freon can in my mom's closet. Almost every single day, that's what he would do," Bickhardt said. "He would not repair what was the problem."
So, Bickhardt paid an air conditioning company $264 to fix it.
"Then we had the carpeting, which was flooded because of the toilet that did not work for two months," she said.
Bickhardt says because of that, the entire apartment smells. But even worse, Bickhardt claims the entire apartment had issues with mold. On top of that, the ceiling needed repairs, there were holes in the wall, there was no fire alarm and the carpet was coming up.
Stained carpets, no fire alarm at Clearwater apartments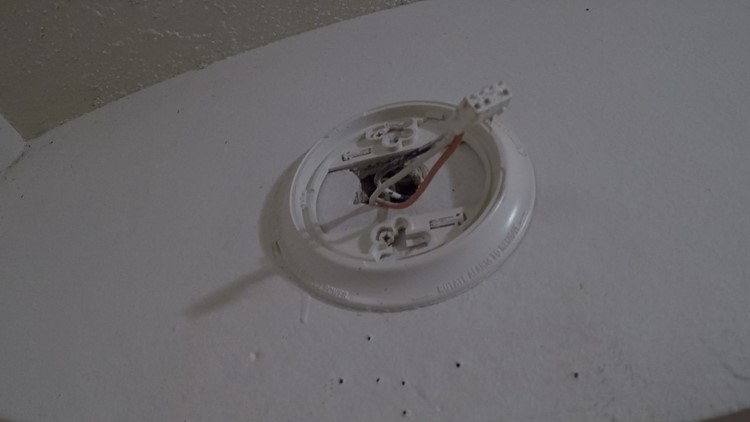 These are daily hazards Bickhardt says were unacceptable. She spoke through tears.
"I'm constantly paying for things in this apartment to keep it running. Every time I save up money, I'm having to put it towards this apartment," Bickhardt said. "If I had the money I would be able to pay for a good pair of shoes without holes in them."
Bickhardt says she complained to management and then to the county.
10Investigates obtained records showing that county inspectors have been out to her unit eight times since 2017 -- four of those times, the unit failed inspection.
In November, inspectors from Pinellas County came out to the family's unit for an unscheduled, "special" visit. At that time, inspectors cited hazards, including the carpet coming up, a broken oven and an AC unit that couldn't be inspected because it wouldn't open.
In December, inspectors came out for a re-inspection, and the unit passed. But, when 10Investigates went to the property in June, we saw exposed sharp metal pieces on the floor and filthy carpet.
Pinellas County officials say regular maintenance of carpets is the responsibility of the tenant but were surprised the exposed flooring was still an issue. Officials also tell us Bickhardt should never have been required to pay for AC issues.
After our interview, Bickhardt and her mom moved to another apartment in a different apartment complex. They still worry about the next tenants who will have to call this place home.
10Investigates reached out to the corporate office for the apartment complex, but we are still waiting for a call back.
Pinellas County HUD officials tell us they currently have six families at Rogers Square Apartments. Because of our report, they will be inspecting all units.
The officials told us they were "appalled" by the carpeting seen in our report. They have reached out to management at Rogers Square Apartments and informed them they will need to immediately reimburse the family for the A/C and pipe repairs.
Pinellas County is also reaching out to its inspection contractor, CGI Federal, for failure on its part of inspecting the unit. Inspections of the other five apartments housing HUD families will be conducted next week.
More: Below is the list of landlords the Pinellas County Housing Authority has "banned" from their housing program. If someone is looking for affordable housing, these places are not eligible through the program. A facility can be put on this list for a variety of infractions.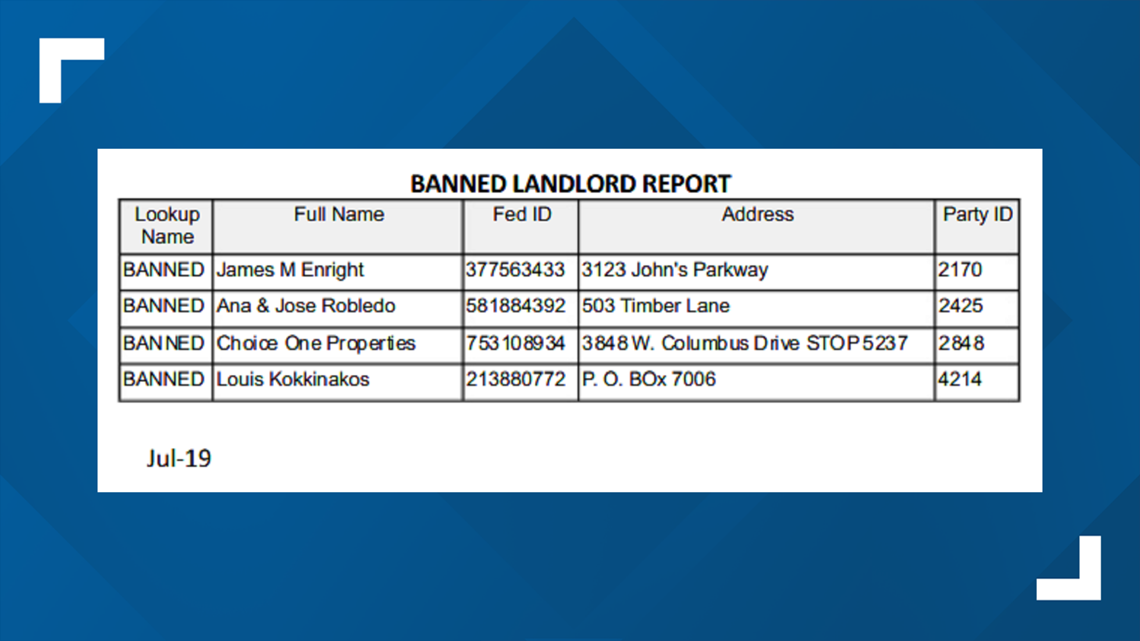 If you are preparing to rent an apartment, the Top 3 things the state of Florida recommends you do before renting are:
Arrange for a walk-through of the premises to identify any problems that should be fixed BEFORE signing a rental agreement.
Take pictures or video or make notes of any questionable conditions and include provisions for repairs in the rental agreement or in a separate written document signed by both parties.
Before you sign, make sure you thoroughly understand the terms of the agreement. If you DON'T understand, DON'T sign the agreement. There is no grace period allowed for canceling a rental agreement, so if you sign, you are bound to its terms.
For more info, go to the Florida Department of Agriculture and Consumer Services website.
Do you have a consumer concern? Want us to look into something for you? If you do, you need to turn to 10!
Simply send an email to Turnto10@wtsp.com and tell us your story!
What other people are reading right now: