PORTLAND, Ore. — It had to be a mistake. The Key Bank app on John Salazar's phone showed his bank account had been drained. His money was gone.
"It was zeroed out," Salazar said.
The bank confirmed the zero balance was accurate. By court order, Salazar's entire bank account had been garnished by a private debt collector.
"One day you have money in your account and the next day you don't," Salazar said. "It is like robbery."
Consumer advocates argue Oregonians need stronger laws to prevent debt collectors from seizing bank accounts, wages and belongings. Without protection from excessive seizure, many Oregonians are being pushed further into a cycle of poverty and debt.
"To have them come in and just take everything from us — it just blows me away," Salazar said.
The 44-year-old lives in a modest, single-story rental home in Happy Valley. He is employed by the state of Oregon as a family caregiver for his disabled brother. Without the funds from his bank account, Salazar struggled to keep up and cover their basic necessities, including food, rent and utilities.
"For us, it's been surviving off of credit cards and burning through whatever bit of cash we have on hand," Salazar explained, whose friends created a fundraiser to help.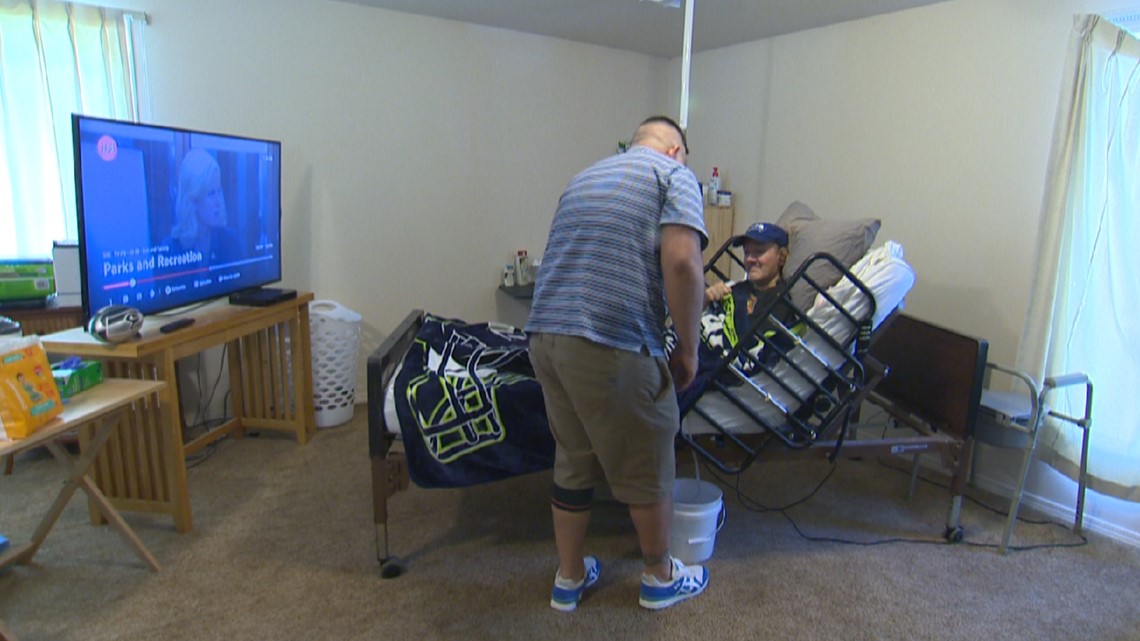 Much to his surprise, Salazar learned a debt collection company, Ray Klein Inc. or Professional Credit Service, had sued him in Multnomah County nearly a decade ago. Salazar claims no one notified him of the November 2012 lawsuit, so he didn't respond. The address listed on court documents is a home in North Portland. Salazar claims he hasn't lived there in years.
"It blindsided me because I thought I was on top of everything. I thought I had checked everything," Salazar said.
According to court records, the debt collector said Salazar owed money for treatment at Providence Portland Medical Center in late 2007 and 2008. Providence claimed it sent 26 billing statements and six financial assistance applications to the home address provided by the patient. The unpaid bills for six emergency room visits originally totaled $4,750 but have since ballooned to more than $14,000 after costs, fees and interests associated with the debt collection.
Salazar tried explaining to Professional Credit Service that he didn't have the money to pay, but a customer service representative seemed unsympathetic.
"They did not care if my brother is sick and this is going to put us on the street," explained Salazar. "They did not care."
In April, Salazar filled out court papers challenging the garnishment. It temporarily froze his bank account, preventing the debt collector from taking any more money. At the same time, it kept Salazar from accessing much needed funds, including his paycheck, which is electronically deposited into the account.
This unexpected financial hardship came out of nowhere, dragged on for weeks and pushed Salazar to the brink.
"This just seems wrong" Salazar explained.
In Oregon, 680,000 people have debt that's been turned over to collections, according to the Urban Institute, a nonprofit research organization. That's 16% of the state's population.
Often, debt collectors sue, resulting in seized wages or garnished bank accounts. On average, more than 100 debt collection-related civil lawsuits are filed against consumers every day in Oregon, according to statewide court data.
Coughlin argued Oregon needs to put more protections in place, allowing families to have a realistic path to recover.
"So, they'll be able to pay off their debts but also be able to pay their rent, buy food and pay their other bills," said Coughlin.
Oregon lawmakers are considering legislation which would help people paying off debt by shielding more of their property, wages and assets from court-ordered garnishment. For example, House Bill 2008 would prevent debt collectors from wiping out someone's entire bank account — like what happened to Salazar. Instead, the first $2,500 would be protected. It can't be seized, so people have enough money to cover their basic needs.
HB 2008 would also help protect wages by placing greater restrictions on the amount debt collectors can garnish from paychecks. The proposed law would also ensure that a working car, tools and equipment can't be seized — protecting the ability to work. It would also provide more protection for people's housing, including seniors. Additionally, HB 2008 targets unlawful debt collection practices.
During an April 27 hearing on HB 2008, a lobbyist representing the financial industry and debt collectors argued the bill could have unintended consequences.
"When the ability to garnish becomes more restricted that does affect availability of credit," Maureen McGee testified on behalf of Oregon Financial Services Association. "Our concern is that overly restricting the ability to collect on overdue debt can push lenders to make only the largest loans, over the longest terms, to the least risky borrowers and that shrinks that availability of credit."
Professional Credit Service, also known as Ray Klein Inc., did not respond to KGW's request for comment, although a few days after our inquiry, the company abruptly dropped the garnishment against Salazar.
A spokesperson for Providence said it asked Professional Credit Service to stop all collection activity and reverse any bank account garnishment. Providence no longer sends delinquent accounts to Professional Credit Service, according to a spokesperson. The hospital system has instructed third-party debt collectors to stop garnishing wages, charging interest, reporting accounts to credit rating agencies and filing lawsuits or liens against its patients.
Providence has been criticized following a New York Times report that described aggressive billing practices targeting patients who should have received free or discounted care.
Oregon's Department of Justice consumer protection division launched an investigation into Providence in October. Washington's Attorney General Bob Ferguson said his office is moving toward trial in a case alleging Providence used unfair and deceptive medical billing practices for low-income patients. Providence has denied those allegations.
"Serving those in need, regardless of ability to pay, is the very heart of who we are at Providence. We take this responsibility incredibly seriously," a Providence spokesperson wrote by email.
On May 19, Salazar sat alone at the defense table in a Multnomah County courtroom for a hearing to challenge the garnishment. Unlike criminal court, low-income defendants sued in civil court don't have the right to court-appointed counsel. He was on his own to navigate the legal system and face off against a lawyer representing Professional Credit Service.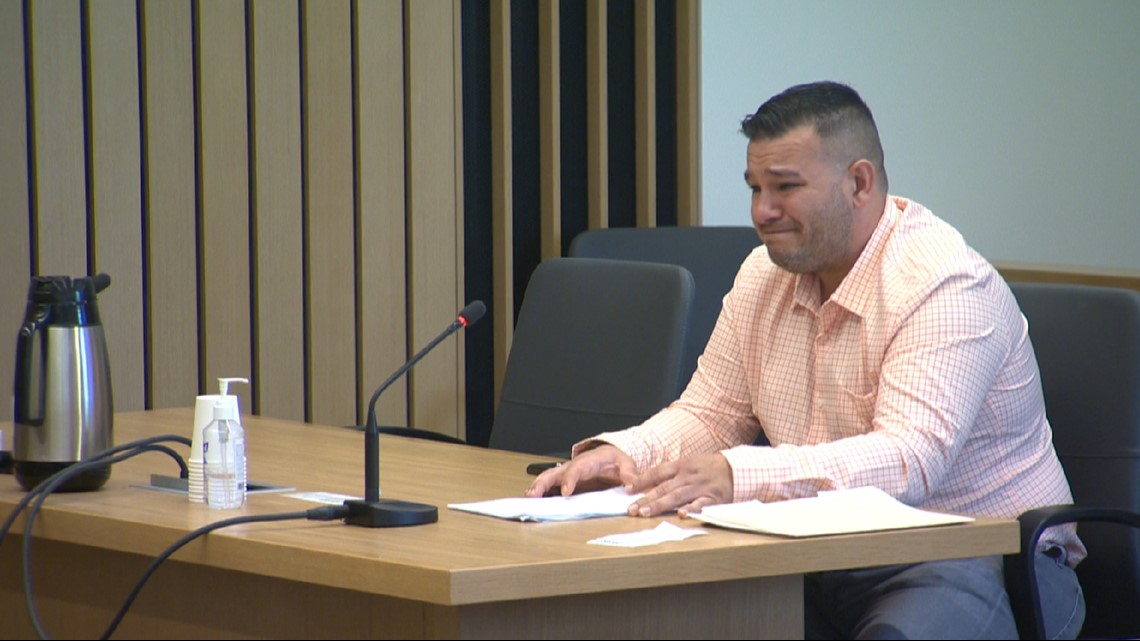 After reviewing the case, Judge Amy Baggio found an error. There was no signature on a document filed February 3 extending the original judgement — set to expire after 10 years. The signature line was signed "**ERROR – LEGAL CLERK**".
Judge Baggio told the debt collector's lawyer Mark Maricle that the garnishment was invalid and Professional Credit Service had created "immediate and serious harm" by wrongly seizing Salazar's bank account.
"It's your paperwork that has caused this," Judge Baggio told the debt collector's lawyer.
The case would be dismissed. There would be no future garnishment. Judge Baggio ordered all of Salazar's money be returned.
"This will happen immediately by order of the court," said Baggio.
Salazar wiped away tears as the judge spoke. He'd gone nearly eight weeks without a paycheck, felt the stress of an unjust system, and had worried about how to pay for basic needs after his entire bank account had been wrongly garnished.
"For it to end like that — it didn't seem real," said Salazar.