FROSTPROOF, Fla. — Longtime snowbirds David and Sandy Andes moved back to Ohio following Sandy's brain cancer diagnosis two years ago.
Upon registering their vehicle back up north, they destroyed their Florida license plate and notified the state, David Andes said. He provided 10News with several pictures of the plate in pieces.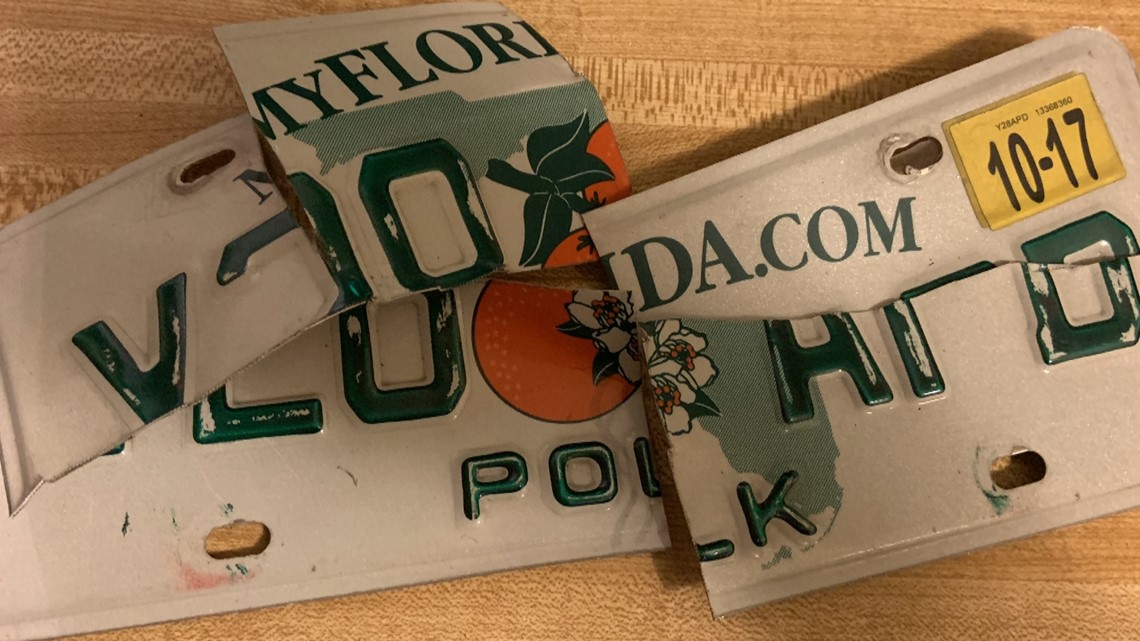 But as Sandy battled for her life, the bills started showing up.
"I didn't think nothing of it," David Andes said. "But then they kept doing it, kept doing it."
SunPass invoices from FDOT were forwarded to their Ohio address. The bills usually totaled no more than five dollars. The only problem: The plate on the bill no longer existed, and the vehicle pictured wasn't even theirs.
Andes said he, or one of his daughters, called on several different occasions to complain, but the bills kept coming.
Andes even claims he was told to report his destroyed plate stolen to get the bills to stop, but he thought better of that.
The ongoing dispute was happening at a time when his wife's health was only getting worse.
"As far as I was concerned my job was to make her day as good as can be," he said. "To have to horse around with this while I was taking care of her… these idiots keep chasing me."
Sandy Andes passed away in March 2018.
One year later, the bills are still coming.
David is now living back in the Frostproof home the couple once shared. But he's no longer able to drive due to his deteriorating eyesight so he doesn't have a car.
However, those bogus bills, he says, keep piling up.
Andes estimates he's received 10 bills in two years, totaling about $50.
But it's not about the money — it never was.
"They should make sure when they read a plate that they're reading it correctly," he said. "How many people are being harassed like this?"
After initially saying the agency had no record of any complaints or issues associated with the Andes' account, FDOT Communications Director Ann Howard told 10News that Florida statute bars the agency from commenting on specific customers.
However, when asked about how the agency documents disputes, Howard said complaints might not necessarily be documented on an account unless a resolution has been reached. She recommends individuals file bill disputes online to ensure documentation.
Howard would only say a customer service representative would be contacting Andes within a week or two, asserting that media coverage does not accelerate a case.
A Florida Highway Safety and Motor Vehicles spokesperson said, generally speaking, a driver who moves and re-registers a vehicle in another state should surrender their Florida plate at a Tax Collector Office or license plate agency. She said they were checking on the status of Andes' plate.
What other people are reading right now: