Editor's Note: This story was originally published on Feb. 10, 2016.
TAMPA, Florida – 10Investigates found a consumer-friendly law, aimed at discouraging drunk driving, isn't having the intended effect since few people know it exists, including property owners and tow truck companies that violate it.
As part of its ongoing series into predatory towing, 10Investigates analyzed hundreds of thousands of private impounds. And no single property in the region's largest city saw more cars towed in 2015 than 533 S. Howard Avenue in the heart of Tampa's bar/nightlife district.
Last year, more than 270 vehicles were towed out of the popular plaza, home to Chipotle, Koto Japanese Steakhouse, and $10 parking spots for drivers visiting any of SoHo's other popular nightspots. Most tows took place between 5 a.m. and 9 a.m., long before the plaza's daytime business picked up.
But 10Investigates' analysis revealed nearly every single tow from that lot in recent years violated a 2008 city of Tampa ordinance that prohibits morning towing from the parking lots of bars or restaurants where alcohol is consumed on-premises.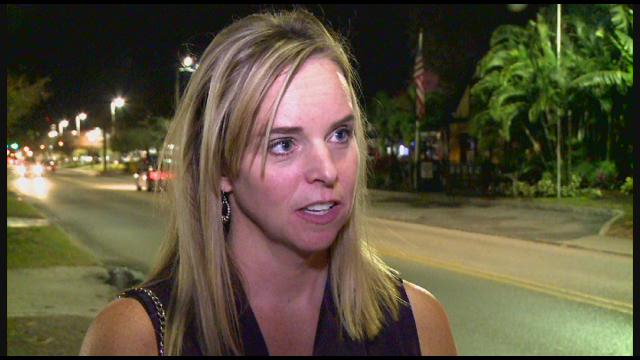 The ordinance is designed to give bar patrons incentive to find another way home if they've had a few drinks, so they can pick their cars up – safely – anytime before noon the next day.
But 10Investigates questioned how much good an incentive could be if the city has no record of it ever being enforced and the public has no idea it exists.
TAMPA'S ANTI-DRUNK-DRIVING LAW
Neither Tampa city staffers, the wrecker operator patrolling 533 S. Howard Ave., nor the county's Public Transportation Commission (PTC) knew about the 2008 city ordinance, which provides overnight protection to the vehicles of patrons consuming alcohol.
It shall be unlawful for a property owner or lessee of a property owner licensed to sell alcoholic beverages for consumption on the licensed premises, or an authorized employee thereof, to cause any vehicle parked on such property to be removed by a wrecker operation, from 9:00 p.m. until noon, unless said property owner, lessee, or authorized employee thereof has signed an order authorizing the removal of a particular vehicle.
It shall be unlawful for a wrecker operation or wrecker driver to tow such vehicle from 9:00 p.m. until noon, unless in receipt of a signed order. Such order may only be signed prior to vehicle removal and must include: vehicle make, model, color, and license plate number; address of vehicle location; date and time or order; date and time of removal; name of person issuing order and their employer; name of the towing service to which such order is issued; name of driver; and address of storage site. copies of orders shall be maintained for a minimum of three (3) years by both the property owner or lessee, and the towing service and shall be available for inspection by the vehicle owner, Hillsborough County, the City of Tampa, or any law enforcement agency.
So while the authorized order gives property owners a way to remove individual problem vehicles if necessary, the ordinance basically prohibits tow trucks from simply patrolling bar and restaurant parking lots overnight.
But with so few people knowing about the protection – and such aggressive towing in South Tampa, where parking is at a premium – several bar and restaurant customers on a recent weeknight told 10Investigates the fear of towing plays a factor into whether they left their car overnight.
For every driver who was wrongly towed overnight from 533 S. Howard Ave, dozens of others drove home after consuming drinks along Howard Ave.
Several councilmembers tell 10Investigates the city should do a better job informing consumers of their rights. And while the ordinance only applies to establishments in Tampa, elected officials in other municipalities have told 10Investigates they are looking into similar protections in their communities.
And the PTC plans on alerting local wrecker companies that they need to leave cars alone if they are parked overnight outside Tampa bars or restaurants that sell alcohol.
"Obviously…there's a problem," said PTC Executive Director Kyle Cockream. "In light of our conversation, I assure you, that we're going to be moving forward doing some proactive stuff specific and unique to this issue."
No property in Tampa had more vehicles towed in 2015 than 533 S. Howard, where a wrecker operator made the rounds most weekend mornings – and some weekdays – at 5 a.m. More often than not, he spots a vehicle left from the night before, snapping a couple of photos and hauling it out in as quick as 30 seconds.
After 10Investigates went undercover, the wrecker company, CTS Towing, apologized and issued a refund for the $57.50 "drop fee" charged to WTSP for claiming its vehicle midway through an impound. CTS also announced it would no longer tow from 533 S. Howard Ave after learning it violated city and PTC rules.
However, the property owners, who make money through a parking agreement with 717 Parking Enterprises at night then have vehicles towed out before their shops open the next day, declined numerous interview requests.
A representative from the property's manager, Cardinal Point Management, would not disclose who owned the lot, but issued a statement that read, "533 Howard Holdings LLC is the owner of 533 S. Howard Ave, Tampa, FL 33606. Ownership has a service agreement with a towing company to patrol the parking lot. It should be noted that Ownership receives zero compensation for the towing of any and all vehicles. Ownership has notified the towing company of your concerns, and the towing company has indicated to Ownership that, to the extent necessary, they will take the appropriate actions to ensure they are compliant with all city ordinances."
1. Check signage. Florida state statute 715.07(2)(a)(5) mandates that signs be "prominently" posted at every entrance to a privately-owned parking lot if it is to be patrolled by a wrecker. Those signs must inform drivers where towed cars get stored and of the phone number to the company so you can retrieve towed-away vehicles. The only exception is for very small parking lots, where signs that read "Reserved Parking for Customers Only Unauthorized Vehicles or Vessels Will be Towed Away At the Owner's Expense" can be posted within the lot.
2. Check with law enforcement. A wrecker company must notify local law enforcement of the impound within 30 minutes of completing the tow. They must report the time of the tow, where the vehicle is being stored, and description of the vehicle. Most tow truck drivers know to do this important step to comply with state law.
3. Don't wait to get your vehicle. If you don't retrieve your vehicle within six hours, the tow truck company can start charging storage fees (i.e. Hillsborough $25/day; Pinellas $20/day; Manatee $25/day). Bring cash, since most tow companies won't accept checks or credit cards. State law requires any site where towed vehicles are stored to be open between 8 a.m. and 6 p.m. on any day it is "open for towing purposes." Tow companies are allowed to charge a surcharge for after-hours pickup. And don't forget your photo ID and proof of vehicle ownership (registration or title) - they won't release your vehicle without those documents.
4. Check your receipt. Most counties cap their towing fees (i.e. Hillsborough $115 plus a $5/mile distance fee; Pinellas $100 plus $3/mile; Manatee $125 plus $4/mile; Sarasota $125 plus mileage). But the state law prohibits wreckers from taking your vehicle - in most cases - more than 10 miles in any county of 500,000 population or more, or more than 15 miles in counties of less than 500,000. Hillsborough, Pinellas, and Polk counties all have more than 500,000 residents. The only exception is if no wrecker company is located within the given radius in a rural area.
5. Contact the wrecker company. Sugar often works better than spice, and many local companies pride themselves in customer service. They may be able to work with you on your dispute.
6. File a complaint. If you suspect you've been towed improperly, file a criminal complaint with your local law enforcement agency. In Hillsborough County, that's the Public Transportation Commission. Report which provision of state statute 715.07 you believe was violated - illegal towing is considered a criminal misdemeanor. And if that isn't enough, you can turn to small claims court, armed with the state statutes in-hand. The state statutes even allow victims of wrongful towing to collect damages and attorney's fees if victorious in court.