PASCO COUNTY, Fla. — Less than a year after the Suncoast Animal League stepped in to help a dog badly burned in an intentional house fire, the nonprofit is helping another dog found covered in accelerant.
Pasco County Animal Services responded to a call about a Shih Tzu found wandering the street Friday and immediately smelled a strange odor coming from his fur.
"Teddy" was having a hard time breathing through the fumes and the techs said they felt like the fumes were in their mouth and throat.
The veterinarian suspected Teddy was covered in some sort of chemical or accelerant. The 6-year-old male dog had to be given a bath, but the staff had to stop once they noticed he was having a negative reaction.
He was shaved to get as much of the chemicals off as possible. Staff noticed his skin was inflamed and his right eye was swollen shut.
The animal service contacted the Suncoast Animal League to help save some time, knowing that every minute of recovery for the pup was crucial.
The nonprofit animal welfare agency learned how best to treat the pup after dealing with Denali, a dog badly burned in an intentionally-set house fire last August.
RELATED: Lutz woman set fire to estranged husband's home, deputies say
Denali recovered after some treatment and was eventually adopted by a foster mother who nursed her back to full health.
RELATED: Dog badly burned in intentional house fire gets adopted
Dr. David Danielson with the Ehrlich Animal Hospital had Teddy treated at his hospital to save time since the hospital was closer.
The little guy underwent a long night of treatment and blood work showed he had a staph infection. He started antibiotics, was bathed in a special shampoo and given topical burn medication.
He was also given a "cocktail" of pain medications and eye ointment since both of his corneas suffered burns.
Teddy showed some signs of improvement over the weekend, but he also had some setbacks.
Danielson and local fire stations agreed with the veterinary staff at Pasco County Animal Services and believed Teddy had been covered with kerosene.
"It's shocking anyone could pour kerosene on a defenseless creature," the Suncoast Animal League wrote in a Facebook post.
The animal league said they were better prepared for the pup's aftercare this time after learning from Denali about the potential "highs and lows." Staff also learned the wounds could suddenly "declare" themselves and everyone remained on high alert.
Denali's owner, Karey Burek, offered to help foster Teddy after he was released from the hospital. The animal league added that "Denali will be there with her own expert advice for Teddy."
As of Tuesday, Teddy was settling in nicely at his new foster home.
PHOTOS: After suffering through her own burns, a dog has stepped in to help another burned pup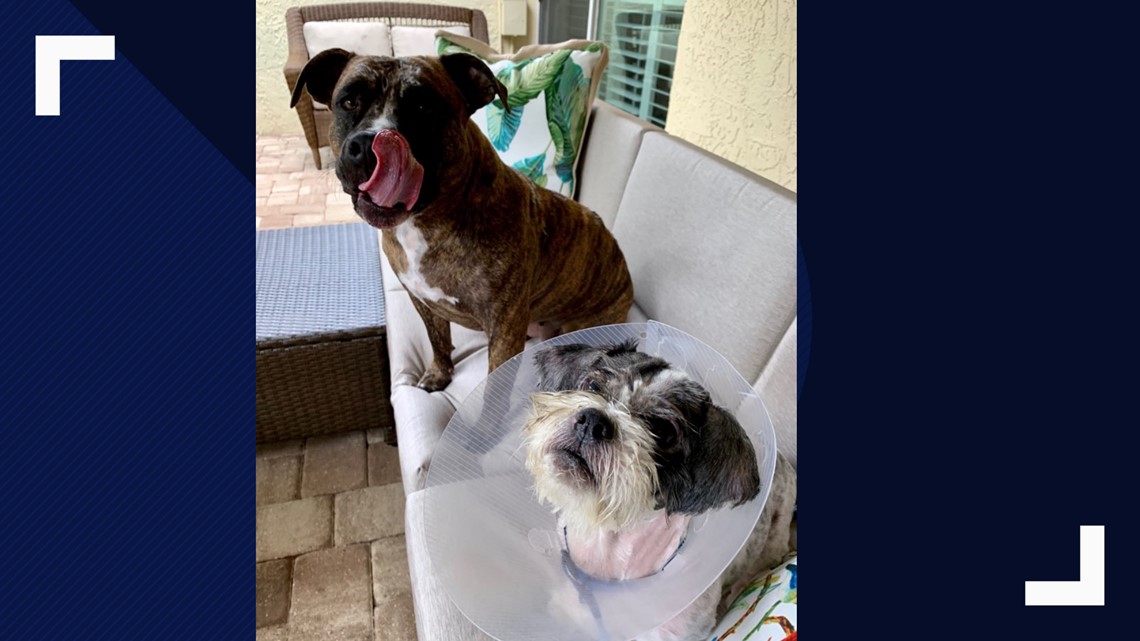 Burek added that he slept through the night and gobbled up his chicken and rice breakfast before taking his meds and eye drops "like a champ."
"After that, he settled in for a mid-morning snooze, all the while Denali was watching over him," Burek told the animal league. She said she allowed him to rest for a few more hours before bringing him to work to keep an eye on him.
Burek told 10News that while she's disheartened to see another dog go through something similar to Denali, she feels proud and honored to help.
"I feel so lucky -- the Suncoast Animal League trusts me to help take care of Teddy," Burek said. "I learned from the ups and downs with Denali, who had an eerily similar situation."
She said she volunteered to foster Teddy because she knew what to expect after caring for Denali. Denali herself has also stepped up to watch over Teddy and Burek said the two have bonded and become buddies.
"She's always right there with him and next to him when he's sleeping and watching over him," Burek said.
What other people are reading right now:
►Have a news tip? Email desk@wtsp.com, or visit our Facebook page or Twitter feed.