TAMPA, Fla. — A family says it's a miracle their loved one is alive and credits his Apple Watch with getting him the help he desperately needed after a serious crash in Riverview.
Charles Lamberti was headed home to Apollo Beach two weeks ago when he was hit head-on by a driver his family says was drunk.
"I could never imagine or wish anyone going through this," he said. "I can't remember the last two weeks of my life. It's terrible."
The man who's used to being mobile, a working contractor and helping everyone has been in the hospital since the crash.
"To see him like that was just heartbreaking," his daughter, Priscilla Keith, said. "I remember when I walked into the hospital the first day he wasn't even awake. I couldn't believe that was my daddy."
She does daily checks on her dad and tries to see him in person at Tampa General Hospital every day. Keith was the first to find out he had gotten in a serious crash.
"It's crazy because normally at 10:40 at night I'd be going to sleep or asleep already," she explained. "I was getting ready to kind of go to sleep and I got a text from his phone. Immediately I was like 'Papi are you okay.'"
She never got a response back. The text was alarming, but that emergency alert likely saved his life.
"It said 'SOS Charles Lamberti called emergency services from this approximate location after Apple Watch detected a crash. You're receiving this message because you're listed as one of his emergency contacts,'" Keith explained.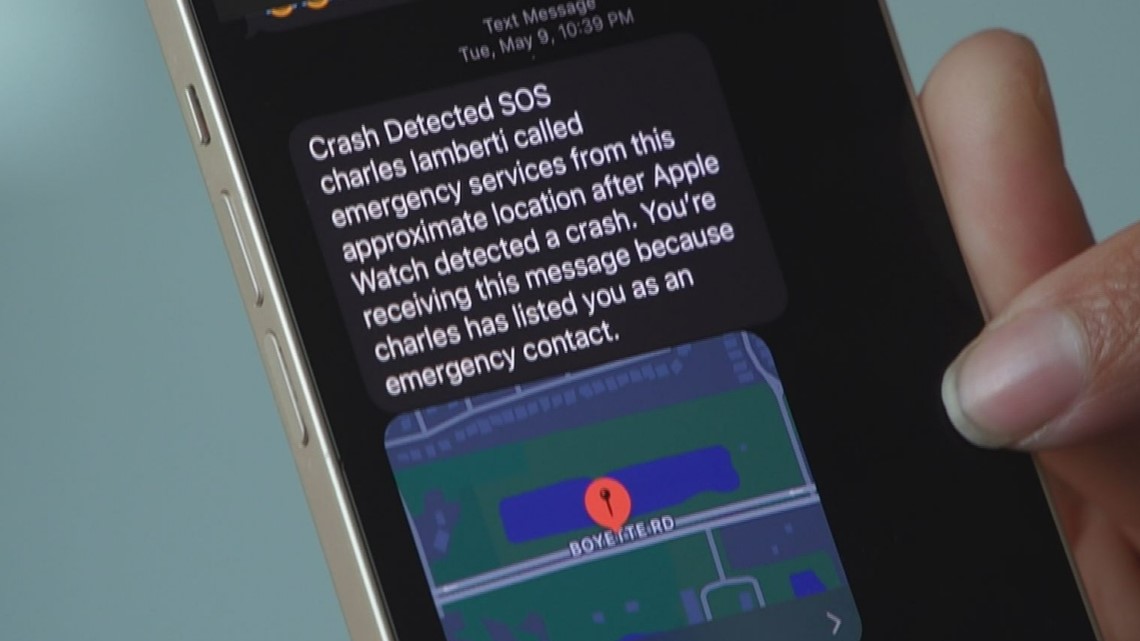 Hillsborough County deputies found him on Boyette Road in Riverview at the exact location his daughter received in the text. He had to be cut out of his truck and airlifted to the hospital.
"It came from the opposite direction, the person that he was hit by and you know we just know that he was a drunk driver. My dad's work van is totaled," Keith said.
Now Lamberti is left immobile with a broken left arm and leg. He had to undergo three surgeries and a skin graft to get him to where he is now.
"I never thought I was going to be a victim of a drunk driver," Lamberti said. "You know, you hear about it all the time. I never thought it would happen to me. Especially because I'm such an alert driver. As far as the way it was explained to me, I had no time to react at all."
Priscilla was able to show her dad his crushed Apple Watch for the first time. He couldn't believe how it looked after the impact.
"Wow, that was definitely a bad impact for that to just shatter on my wrist" Lamberti said.
The emergency alert he set up a week before the crash got help to him when he needed it most.
10 Tampa Bay looked into the feature that was set up on his Apple Watch. It's called Emergency SOS and anyone can set it up so you can quickly and easily call for help and alert your emergency contacts from your Apple Watch.
"When she told me I instantly though of the day I set it up. I ended up putting our information in there like, 'Wow, this is pretty cool. I wonder if it actually works.' Now I know it does work," Lamberti said.
Now, rehab, FaceTime conversations, hospital visits and his family's love will keep him strong on his long road to recovery.
The family is fundraising to help with the medical bills Lamberti will need to pay and the time he'll be out of work. If you'd like to help you can here.