HERNANDO COUNTY, Fla. — Some changes could be coming for one of Florida's most beautiful natural attractions.
The Florida Fish and Wildlife Conservation Commission (FWC) will hold a meeting to discuss new rules to protect the Weeki Wachee River, but right now there's a divide between the state and Hernando County on how to handle it.
The end goal of both commissions is the same, they want to protect Weeki Wachee and its natural beauty from further human-caused damage, but here's the difference:
Hernando County officials proposed a ban on anchoring, mooring and beaching along this large stretch of the river in the red box.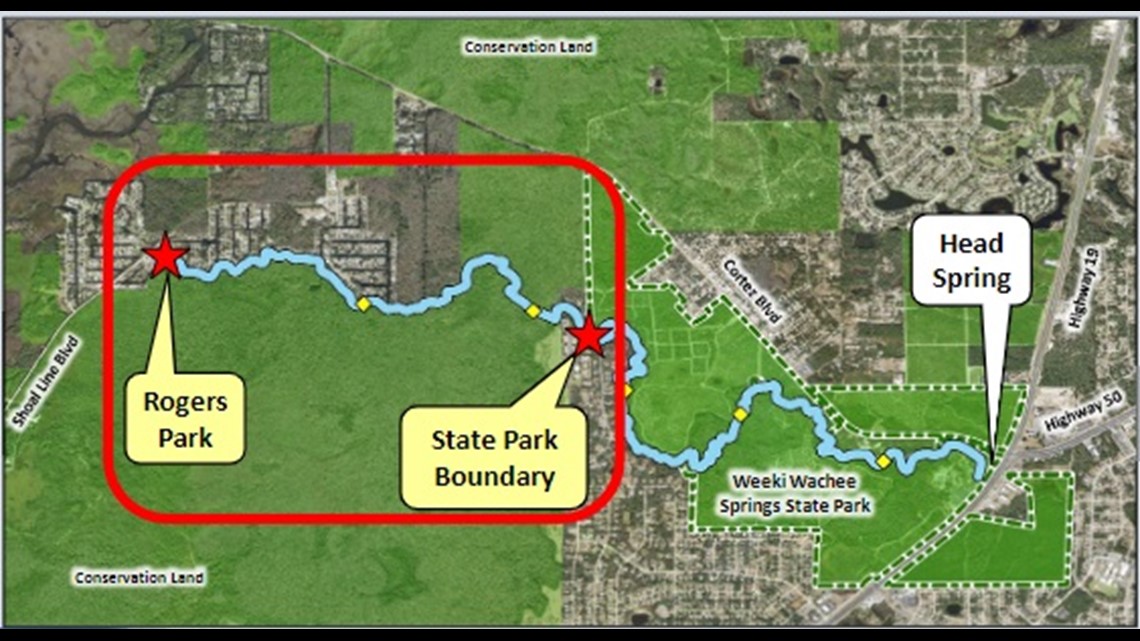 Later, FWC sent back their own proposal that would only ban those actions in just certain parts of the river, those 20 orange points you see in the photo. This plan will be presented at FWC's meeting Thursday morning.

The reason they want "Spring Protection Zones" is because the popular hangout and recreation spot brings in big crowds and every day dozens of kayakers and boaters stop for a swim, tie up their watercraft and end up climbing the river banks, trampling vegetation.
Hernando County leaders are frustrated by the state proposal they think doesn't go far enough.
"How do you even enforce this, unless that's the goal, so you don't have to enforce anything, people are going to moor and then they're going to walk to the spot over there," Hernando County Board of Commissioners Chairman John Allocco said at a recent meeting.
This discussion comes as a channel restoration project is underway at Rogers Park in Weeki Wachee. Crews are dredging and removing sediments to re-establish river depths.
The FWC Commission meeting kicks off at 8:30 a.m. Thursday. People from Hernando County are expected to speak.
FWC could move forward with the proposal, but will not reach a final decision until a second meeting later this year.