PLANT CITY, Fla. — The Florida Strawberry Festival may be six months away, but work is already underway to make sure next year's event is sweeter than ever.
On Wednesday, festival organizers announced the highly-anticipated theme for the 2024 Florida Strawberry Festival — and it seems like it may have been inspired by all the recent talk of UFOs and otherwordly beings.
The theme for the 89th Annual Florida Strawberry Festival is "Out of This World!"
Each year, the festival's unique theme offers guests a glimpse into what to expect during the 11-day spring festival and allows vendors to get creative with their floats, displays and new food offerings.
"The sky's the limit," Florida Strawberry Festival President Kyle Robinson said. "Our board of directors, staff and maintenance crew have been hard at work this summer planning and preparing an 'out of this world' experience for all our guests. We look forward to welcoming visitors from far and wide to BerryFest24!"
This year's artwork features the familiar strawberry mascot sporting futuristic sunglasses with a peace sign on one hand and a strawberry shortcake in the other. Of course, there's also an astronaut and a couple of UFOs in the background.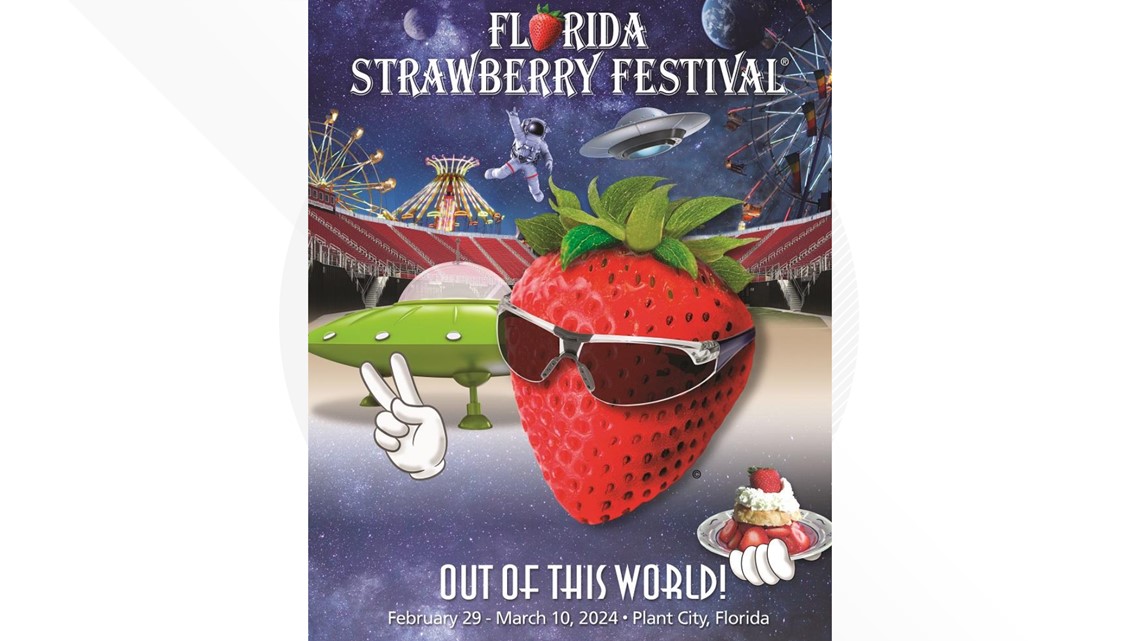 "The Festival's atmosphere is like no other," Robinson added. "Seeing families gather, volunteers serving and the Plant City community coming together year after year is extraordinary. There's no place on Earth quite like the Florida Strawberry Festival!"
Each year, the Florida Strawberry Festival welcomes more than 600,000 people to Plant City for 11 days of sweet treats, rides and live entertainment in celebration of the strawberry harvest.
The 2024 Florida Strawberry Festival is set for Feb. 29-March 10.