RIVERVIEW, Fla. -- You might have passed it a dozen times and never noticed it, but a road in Riverview has a name on it that's considered by many to be racially offensive.
So, on Wednesday, the Hillsborough County commissioners voted to change the road name.
A decision which had a little controversy and a lot of history.
"It is what it is. Times are changing. People's feelings change," said Robert Purmort, who owns the only house on his street.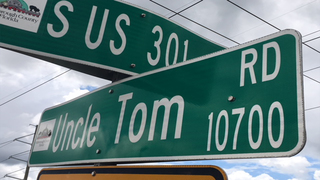 The issue surrounds the name of Purmort's street, which happens to be called Uncle Tom Road. The name "Uncle Tom" is a racially-offensive term from the days of slavery, referring to black people eager to please their white oppressors.
"It was just a road. And then somebody said, nope, that's racist," Purmort said.
Recently, Hillsborough County came to Purmort asking if he'd be OK with them changing the road's name.
County Commissioner Les Miller had received an anonymous photo of the road sign, and figured, much like Rebel Flags and Confederate statues in the area, a road sign with the name Uncle Tom needed to go.
"Times have changed," said Miller, "And people are much more sensitive to those things than back in the 1900s, that they said didn't make a difference.
"It makes a difference. And it's hurtful, it's painful, it's discriminatory."
People who shop and live nearby had mixed reaction to the idea of renaming the road.
"It's just part of history. And we learn from it," said Dennis Sexton, who's lived nearby for 20 years.
But Sexton's wife, Susan disagreed. "I think it's offensive," she said. "And I think it probably offends a lot of people."
Purmort told County officials the name change was fine with him, but he wanted the new name to be simple. He also wanted it to accurately reflect the street's history, which was not steeped in racism.
Uncle Tom Road was actually named for a man by the name of Thomas Murphy, whose relatives called him Uncle Tom.
Back in the 1960s, Murphy deeded Uncle Tom Road and nearby Murphy Road to Hillsborough County for one dollar.
"By keeping it simple and to the family's wishes, I think that's the best for everybody," Purmort said.
So, after a few back and forth suggestions, they reached a compromise, voting to change Uncle Tom Road to just Tom Road.
That, along with nearby Murphy Road, still reflect the family name.
"And there was no bickering, no arguing. Nothing," said Miller. "They understood. And I understood their concerns. And we worked it out."
Officials didn't say when the road signs would be switched out, but Commissioner Miller says he expected it to happen soon.
"Now, I'm going to live on Tom Road," Purmort said. "And that's cool, that's fine with me."
►Make it easy to keep up-to-date with more stories like this. Download the 10 News app now.
Have a news tip? Email tips@wtsp.com, visit our Facebook page or Twitter feed.