TAMPA, Fla. — A large crowd of demonstrators came face-to-face with law enforcement Saturday evening, with some people throwing bottles and lighting fireworks in the intersection.
Aerial images from Sky10 showed law enforcement holding a line to move people out of the intersection.
According to police, a crowd moved into the intersection and began looting a Mobil station, setting off fireworks and throwing rocks and bottles at surrounding officers on bicycles.
One group of people threw rocks at a vacant Hillsborough County Sheriff's Office cruiser, breaking its windows, police said. At that point, the Tampa Police Department Crowd Management Group was activated.
Tampa police said one officer was hit by a firework but was not injured.
A couple of police cars earlier were surrounded by protestors. Some threw plastic bottles at the cars and officers nearby before police let off what appeared to be smoke grenades to disperse the crowd.
Demonstrators were seen moving down 30th Street toward the police department substation, where officers blocked its entrance with several cars.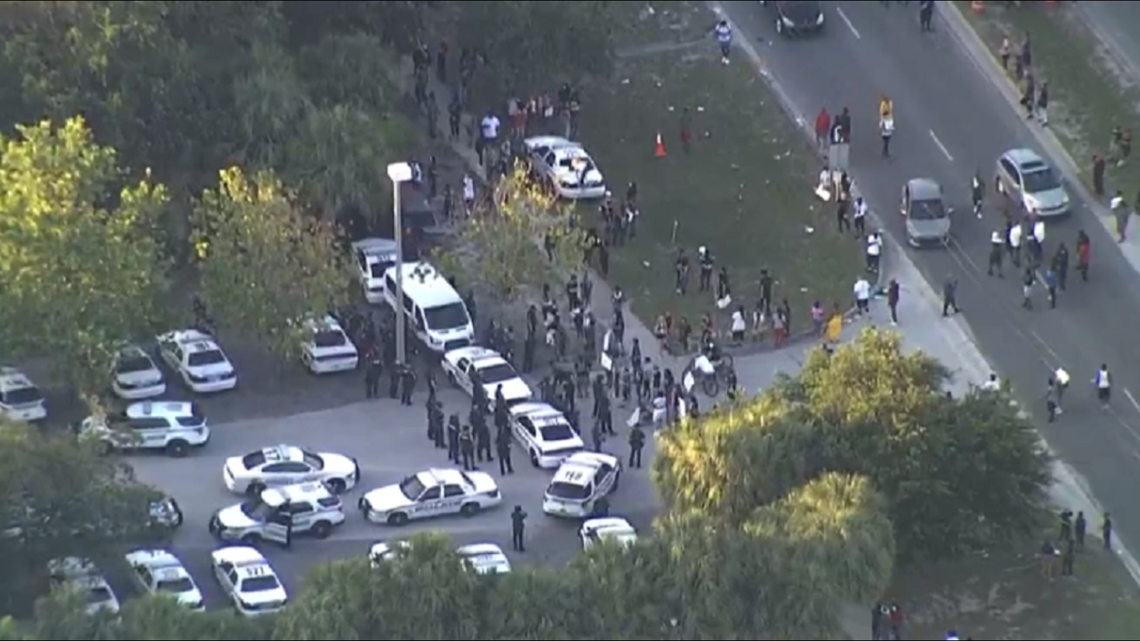 Police said the back windshield of a marked police cruiser was shattered.
"While we understand the anger and frustration people in the community have for
events that took place halfway across the country, we will not condone the
actions of those who seek to injure others or damage property," Chief Brian
Dugan said. "We will work to ensure the safety of those who protest, but they
should not confuse that with being an opportunity to break the law."
As the evening went on, groups of people were seen breaking into phone and jewelry stores on Fowler Avenue, which is north of Busch Boulevard near the University of South Florida.
The scene contrasts with earlier peaceful protests in the Tampa Bay area following the death of George Floyd in Minneapolis. Many people assembled in front of the Tampa Police Museum in the downtown area, later continuing to protest in Curtis Hixon Park.
People chanted, in part, "no peace, no justice," and, "I can't breathe," referencing what Floyd pleaded to officers while he was on the ground and the officer's knee was pressed upon his neck.
Floyd died while in police custody Monday after officer Derek Chauvin was seen on video kneeling on Floyd's neck as he pleaded, "I can't breathe." Chauvin was charged with third-degree murder and second-degree manslaughter in Floyd's death.
What other people are reading right now: