TAMPA, Fla. — Friends, family and the Tampa Bay community said goodbye to Tampa Police Department Officer Jesse Madsen on Tuesday at Idlewild Baptist Church in Lutz.
Ahead of the funeral, Tampa Police Chief Brian Dugan said a few words about Officer Madsen.
"We'll get through this. I want to thank the community for their support," Dugan said. "It's incredible the support that the police department and the Madsen family have received."
Funeral service
The service began with Pastor Ken Whitten honoring Madsen's fellow fallen law enforcement officers Master Corporal Brian LaVigne and Deputy Michael Magli. He spoke on the impact the Tampa Bay community is feeling from the loss of three heroes in the line-of-duty in a matter of just three months.
Tampa Mayor Jane Castor spoke about the sacrifice that law enforcement officers make in choosing their career, and how Master Patrol Officer Jesse Madsen embodied the bravery of the position.
"Jesse understood his role as a protector," Castor said.
Jesse's father Bruce Madsen then shared heartfelt stories and photos of Officer Madsen growing up. He said that he hopes his son's sudden passing can serve as an inspiration to appreciate what you have in life and try to be the best you can be.
"What sort of husband or wife will you be in the days ahead? What sort of father or mother will you be?" Madsen's father asked. "You will be a better one than you were yesterday."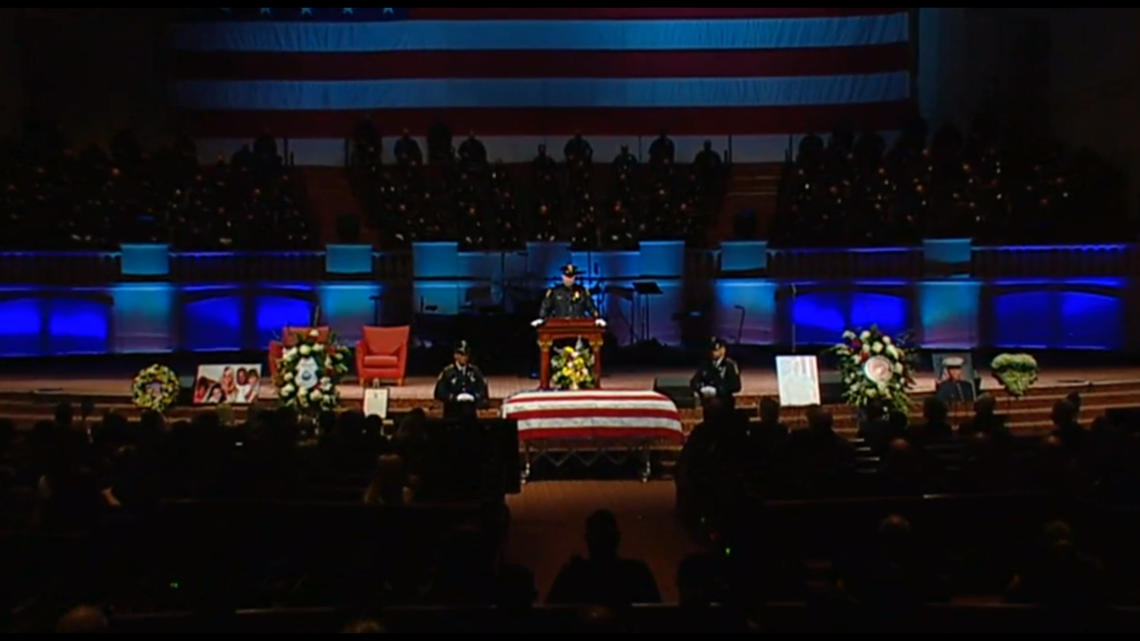 Several of Madsen's colleagues took to the stage to share how they considered Jesse family, even if they weren't related by blood.
"He was the most selfless man I can honestly say I've come in contact in my walk on this earth," Madsen's friend David Goodwald said.
"Jesse was a professional warrior and he was a guardian," Corporal Terry Sims said.
The fallen officer's wife Danyelle fought back tears as she spoke on what an incredible father Jesse was to their three children Carter, Kellan and Kenley.
"He was our everything. He was our Jesse," Danyelle said.
Tampa Police Chief Brian Dugan said that Officer Madsen's heroism deserves to be recognized with the highest honor possible. The police department will retire Madsen's badge number and present his family with the gold cross.
Full honor ceremony
Following the service, law enforcement officers lined up for a full honor ceremony, including a missing man flyover, a riderless horse and a ceremonial last call.
Procession and burial
A procession took Officer Jesse Madsen to his final resting place at the Florida National Cemetery in Bushnell. He will receive full military honors during the private burial.
Officer Madsen died Tuesday, March 9, when he veered his cruiser into a wrong-way driver on I-275, Tampa Police Chief Brian Dugan said. Dugan said the 45-year-old officer died trying to protect others.
Madsen had been with the Tampa Police Department for 16 years. Dugan said he was a decorated police officer and a seven-time recipient of police life-saving awards. He received an eighth live-saving award for the incident that took his life. His family can now posthumously add Police Purple Shield and Medal of Honor recipient to his honors.
He dedicated his life to the safety and service of others, Dugan added, first as a United States Marine combat veteran, then as a police officer in Lyndhurst and Shaker Heights, Ohio.
Boat procession
Sixteen local and state law enforcement boats joined together for a water procession in Officer Madsen's honor. It also honored Sergeant Brian LaVigne of the Hillsborough County Sheriff's Office and Deputy Michael Magli of the Pinellas County Sheriff's Office – both of whom were killed in the line of duty this year. That will happen Tuesday night, after Madsen's private burial.
The procession of those boats began at the Platt Street Bridge in Tampa. The emergency boats had their blue lights activated on the way to Armature Works. When they arrived, three boats – one representing each fallen officer - led the procession's return back to the Tampa Convention Center.
How to help
Officer Madsen leaves behind a wife and three kids.
If you want to help Officer Madsen's family, a donation fund has been set up by Rise Tampa. Find out how to donate here.