PALM HARBOR, Fla. -- Three teenagers who the sheriff called "prolific offenders" are dead after leading deputies on a chase after their stolen vehicles.
Six teens had been "running in tandem" since stealing a Ford Explorer and a Chrysler Sebring on Aug. 3 from a Clearwater car lot, said Pinellas County Sheriff Bob Gualtieri, who called the situation a "game" they played -- steal cars, drive at high speed overnight and do it again the next day.
It came to a deadly end around 4:30 a.m. Sunday, Aug. 6, near U.S. 19 and Tampa Road. Three teens were killed and another was hurt.
The teens killed are identified as 16-year-old Keontae Brown, 16-year-old Dejarae Thomas and 14-year-old Jimmie Goshey.
Photos: 3 teens dead after Pinellas Co. crash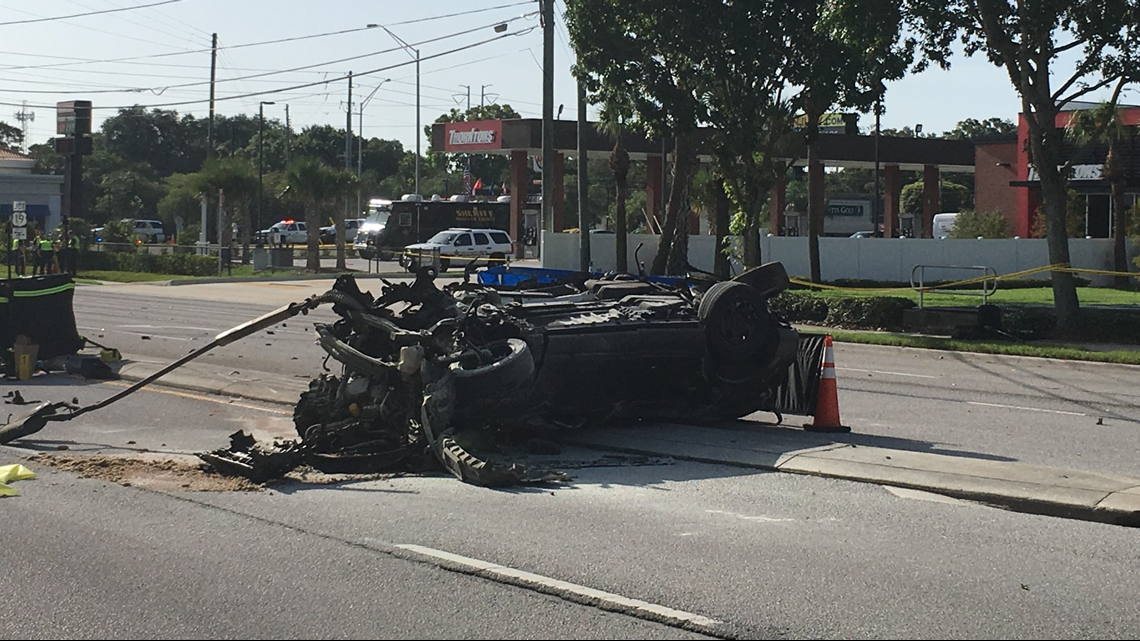 A deputy caught sight of the Explorer around 1 a.m. on SR 580 at Belcher Road as it was on a hot list of stolen vehicles, Gualtieri said. The deputy began pursuit but lost sight.
Hours later, another deputy saw the Explorer with the stolen Sebring together in the East Lake Woodlands community in Oldsmar. Because of the history of burglaries in this neighborhood, deputies set up a perimeter and lockdown of the area and a helicopter was sent up to begin a search.
They were unable to locate the vehicle.
Around 4:30 a.m., a deputy spotted the vehicles heading westbound on Tampa Road playing "cat and mouse," said Gualtieri, describing the vehicles as they would speed up and slow down. One was clocked at going in excess of 100 mph, the sheriff said.
The Explorer likely ran a red light and hit a car, said Gualtieri, which was driven by 29-year-old Ricky Melendez. He is suffering from minor injuries and is expected to be OK.
The Explorer then went airborne, hit a billboard and several other cars and fixed objects on the road. It spun out, rolled and burst into flames before coming to a complete stop.
Three teens were killed, while another was seriously hurt as they were thrown from the SUV and taken to an area hospital. One of the males still was wearing gloves connected to the burglaries, Gualtieri said.
The Sebring was found on Sunset Point Road in Clearwater a short time later. Two males were arrested: 18-year-old Kamal Campbell and another 16-year-old. Both are being charged with one count of grand theft auto and one count of resisting arrest without violence.
The teens have "extremely lengthy" criminal histories, with some released from jail a few days ago, Gualtieri said.
Anyone with information about recent burglaries in the North Clearwater, East Lake, Safety Harbor and Palm Harbor areas that could be connected to the teens involved in the crash is asked to call the sheriff's office at 727-582-6200.
The investigation into the scene continues. Stay with 10News for further developments.
►Make it easy to keep up-to-date with more stories like this. Download the 10 News app now.
Have a news tip? Email desk@wtsp.com,visit our Facebook page or Twitter feed.