PINELLAS COUNTY, Fla. — If you drive near the Sunshine Skyway bridge, you can probably spot them: People perched on horses riding right in the bay.
"It's something that most people don't ever get the opportunity to do," said Kim Kult, manager with 'C Ponies.'
"It's not just you go to Disney World and have a good day, this is something very unique."
But some environmentalists argue this popular attraction is becoming a problem they're hoping to see reigned in.
The Tampa Bay Regional Planning Council has issued a letter to both the Pinellas County Commission and Florida Department of Environmental Protection in support of banning recreational horseback riding in the waters of Tampa Bay, north of the Sunshine Skyway.
"It's troublesome to folks who've been around the region and who've worked so hard for over 30 years to improve water quality in Tampa Bay," said Sean Sullivan, executive director of the Tampa Bay Regional Planning Council.
Tampa Bay is classified as an aquatic preserve, one of 41 and the largest in the state, according to Sullivan, meaning it receives extra protections.
Sullivan says the problem is two-fold.
From the aerial images, Sullivan says the damage being done to sea grass in the area is visible and concerning. The sea grass is an important water filter and fish food, he says.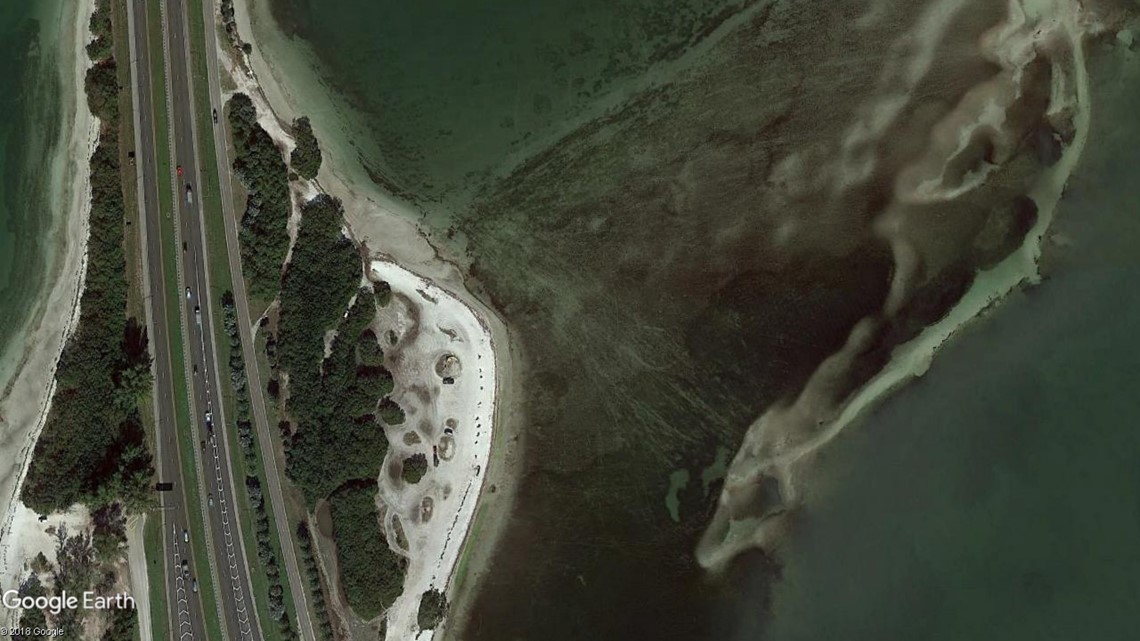 "You can see the paths, very distinguished paths, right through sea grass beds," Sullivan said. "To the average horseback rider, you may not realize you're damaging a sea grass bed but damaged sea grass beds will lead to poor water quality."
Beyond the sea grass, Sullivan argues there's a problem with horse poop.
"That can certainly add to the potential of an algae bloom," he said. "We all remember what we went through last year along the shores of the Gulf in this region and we would like to avoid that."
Kult disputes any sea grass damage has been caused by the horses, arguing they do their best to avoid those areas. She says they also try to pick up as many horse droppings on shore as possible.
"We even have a pool skimmer we use at the beach," she said.
Admittedly, though, what's left in the water usually floats away.
"But I don't feel that horse urine and manure is any different than aquatic life, like Manatees for example," Kult said.
With just two horseback riding businesses in this part of the bay, Kult says she feels they're being targeted.
'C Ponies' does offer tours in Palma Sola Bay in Bradenton, too. But Kult says business would take a big hit if they couldn't also do them near the Skyway. She estimates they'd have to let go several employees and worries what might happen to their nearly two dozen rescue horses.
For now, it hasn't been decided yet how the county will move forward on this issue.
She's hopeful the naysayers won't put them out to pasture.
What other people are reading right now: