LARGO, Fla. — WARNING: An image used within the story below may be disturbing for some readers. Audience discretion is advised.
Pinellas County Sheriff Bob Gualtieri says a sergeant with the Department of Detention and Corrections is behind bars after attacking and bloodying up an inmate.
According to the sheriff, on Nov. 18, 41-year-old Terrell Johnson was taken to the Pinellas County Jail after being arrested by St. Pete police. While jail staff conducted a health screening in the early hours of Nov. 19, Gualtieri says Johnson became irate and refused to cooperate, causing authorities to place him in a single-person cell.
That's when Gualtieri says Johnson began kicking on his cell door, which caught the attention of Sgt. Patrick Knight and another corrections officer. When the two members of law enforcement approached Johnson's cell, Gualtieri says Knight asked for the door to be opened.
According to Gualtieri, Johnson had his arms cuffed behind his back, and "without provocation," Knight shoved him to the ground, causing his head to slam against a cement bunk. Knight would then grab Johnson by his hair, pin him to the wall, slap him with an open hand and punch him across the face. The sheriff says Knight grabbed Johnson's hair so tight that he ripped a clump out, and that the strikes caused a laceration over his left eye.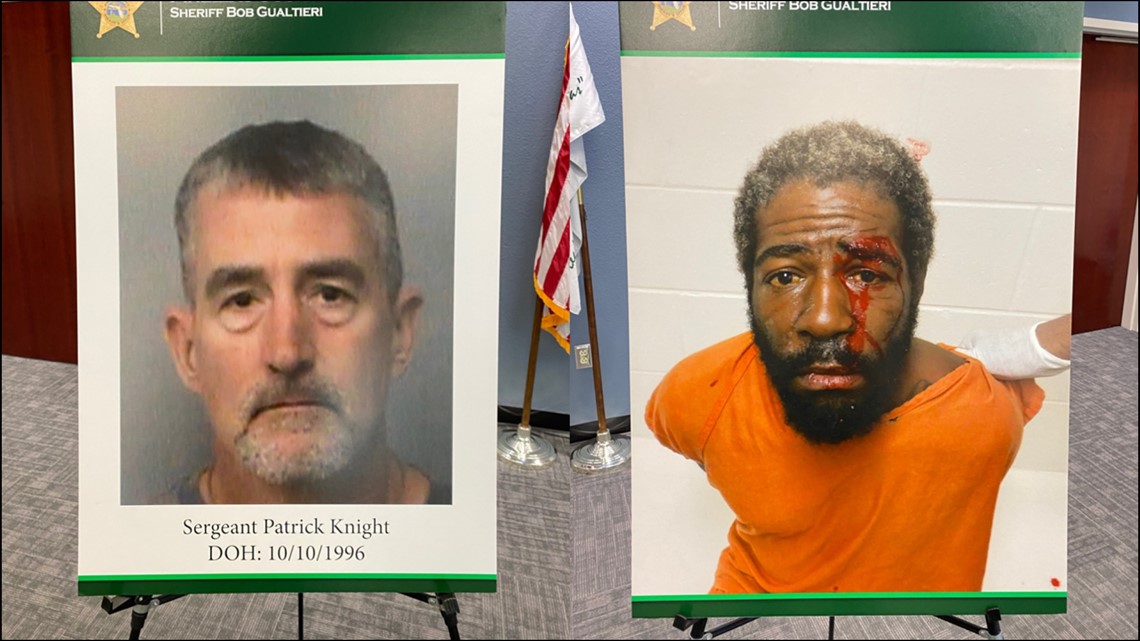 "It almost makes you speechless," Gualtieri says. "This is so terrible. It's so wrong. It's so everything we don't stand for and what we don't do."
The sheriff says when Knight filed an incident report, he said Johnson was kicking him, which caused him to shove him to the ground. However, Gualtieri says an investigation revealed that Knight had lied about being provoked and that he left out the fact he had struck the Johnson.
Gualtieri adds that the corrections officer who accompanied Knight also came forward to tell authorities what the sergeant had done.
Gualtieri says the agency's policy changed last year to encourage deputies to either stop incidents with excessive force or report them right away.
"Certainly what I want to see is somebody stop it, to begin with, and then come forward much faster and not have to think about what the right thing to do is," Gualtieri said.
Community leaders now say they want to see a complete overhaul within the department.
"The first thing that stuck out to me is, not only did he lie on the incident report, but the corporal that was with him initially lied, as well. You have two individuals who are in leadership positions who have with intentionality lied on an incident report. That in itself speaks to what's taking place," Esther Mathews, the President of the NAACP's St. Petersburg branch said.
"This is not new, this is something honestly, I feel like the sheriff should go back and review all of the incident reports that they've done, and ensure that they were accurate," Mathews said.
Knight would resign on Nov. 22, according to Gualtieri. He was arrested Monday morning.
"You take somebody that's been here for 25 years, that doesn't have any problems in his past, is a supervisor," Gualtieri says. "It sets us back."
Knight is being charged with one count of battery and official misconduct. Johnson did not suffer any "serious" injuries, the sheriff says.
Watch the full news conference below:
> 10 Investigates recently published an investigation about excessive force cases involving law enforcement. You can read it here.