ST. PETERSBURG, Fla. — A frustrated Police Chief Anthony Holloway says he still can't explain why one of his officers reached for his Taser while trying to arrest a man in a wheelchair last summer rather than trying to de-escalate the situation.
The actions Officer Matthew Cavinder did that day — seen on video and reported by his supervisor, the chief said — were enough for him to lose his job. Cavinder, who's been with the St. Petersburg Police Department since March 2020, was terminated after an internal review convened by Holloway found that he violated department policy and procedures.
"This will not and cannot be tolerated at here at St. Petersburg Police Department and as long as I'm the chief here, it will not be tolerated," Holloway said.
Cavinder and his partner responded to a call on June 20, 2021, about a trespassing panhandler at a Chevron gas station located at 4890 22nd Ave. S. The officers found 64-year-old Timothy Grant, who was wanted on five outstanding warrants, including for failing to appear at a court hearing.
Cavinder was seen on body camera video explaining to Grant why they were making an arrest and tried to handcuff him. The video showed Grant continuing to ask why he was being arrested. But instead of the officer using both of his hands, he went right for his Taser, Holloway said, adding Grant was tased four times.
The Taser was used without its prongs, meaning the device was up against Grant's body and still able to send an electrical shock through the body.
Holloway said after the arrest, Cavinder wrote a report and claimed that Grant was resisting with violence.
"You all saw that tape. Mr. Grant was not resisting with violence," Holloway countered. The chief said that Grant still faces a charge of resisting arrest but without violence.
"We train officers every year. Everybody in this police department has been trained on de-escalation, there was no de-escalation. He went right to his Taser," Holloway said. "No. They should have thought about their tactics — you have two officers there. If we can't control a subject like that, we have a problem."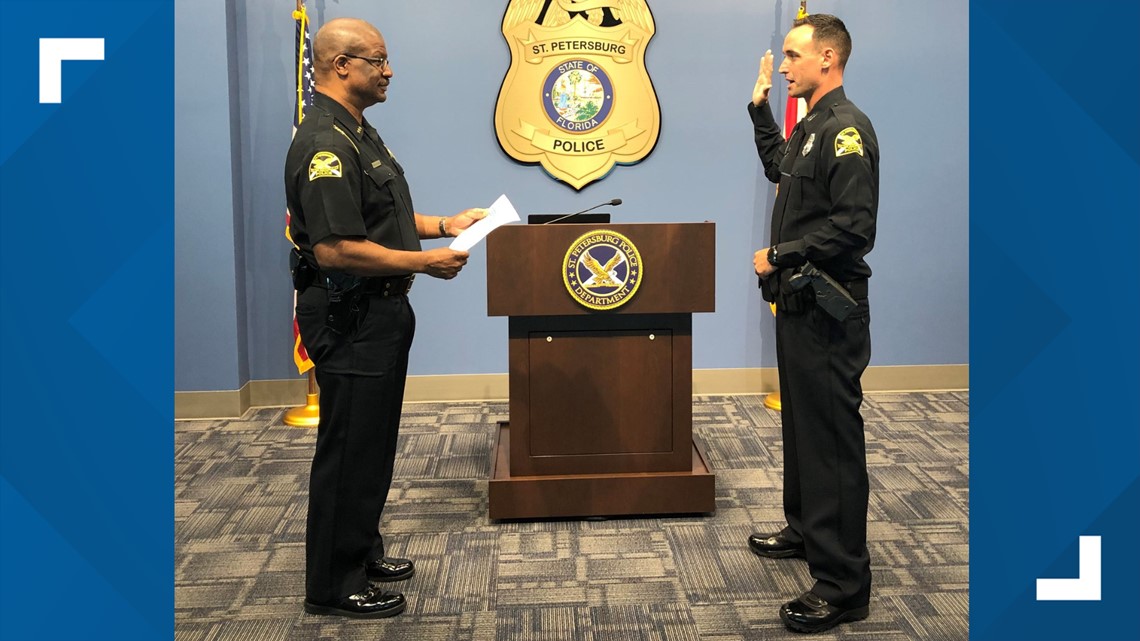 Holloway credited the body camera video for helping those part of the review process to see what happened that day. He said Grant didn't complain about his handling and neither did anyone at the gas station — it was the officer's supervisor.
"I want to commend my supervisor for seeing something wrong and taking care of it," Holloway said.
A report next will be sent to the Florida Department of Law Enforcement's Criminal Justice Standards and Training Commission to determine whether Cavinder will keep his state certification, police said in an earlier news release.