Tampa Bay reacts to Supreme Court decision to overturn Roe v. Wade
Protests and celebrations popped up throughout the area.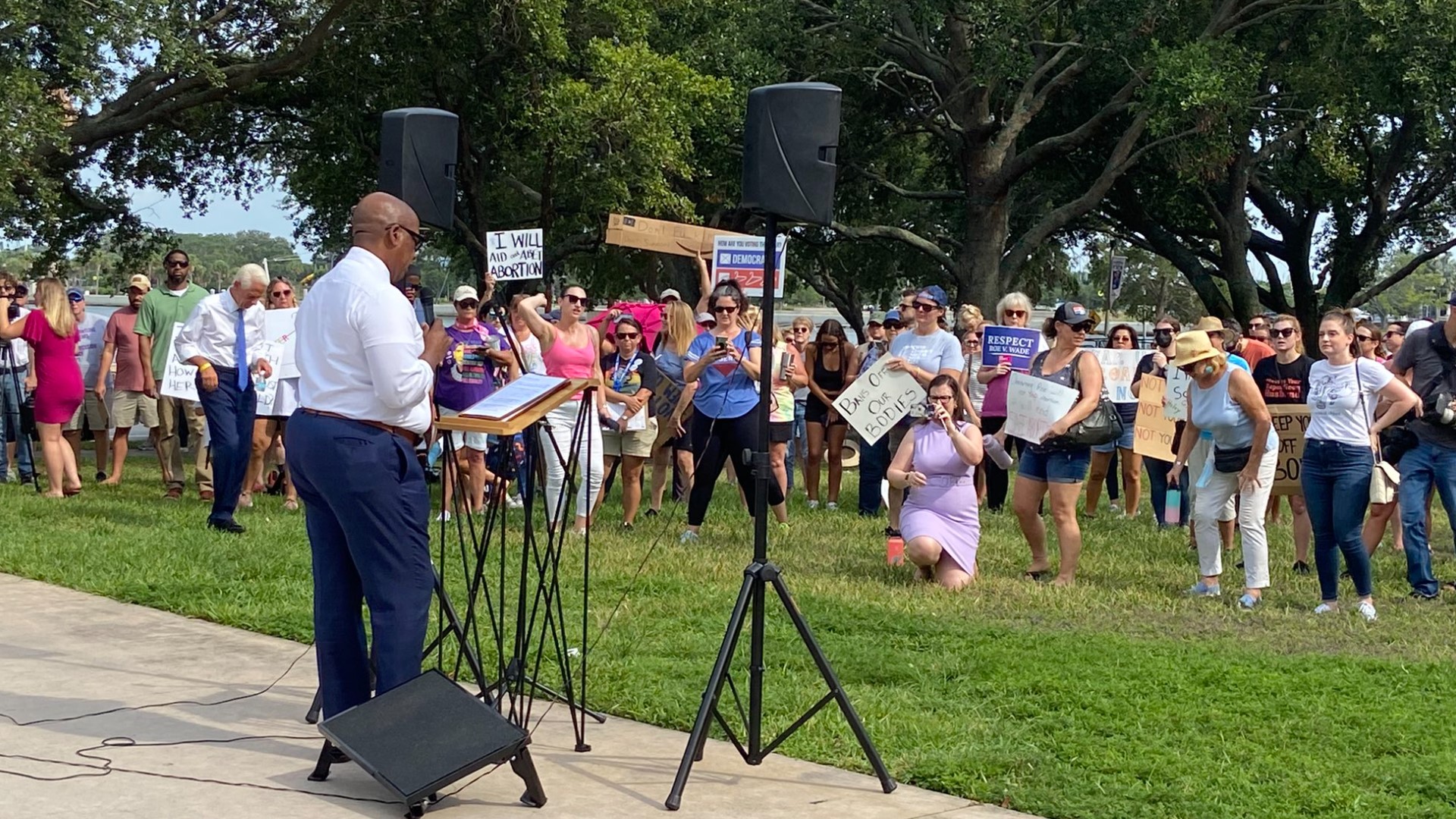 In Dobbs v. Jackson Women's Health Organization, the court ruled 6-3 to back Mississippi's 15-week abortion ban. The decision paves the way for state lawmakers across the country to create stricter abortion restrictions or outright bans in their states.
In 13 states, so-called "trigger laws" had already been designed for this moment — ready to ban abortions immediately or shortly after the decision. "Trigger laws" aside, roughly half the states are expected to either ban or severely limit abortions as a result of this ruling.
Florida doesn't have a "trigger law," but it is a state that will draw attention.
In Florida, a 15-week abortion ban was already scheduled to take effect in July. However, Friday's decision by the nation's highest court may lead Florida lawmakers to push for more restrictions in a future legislative session.
While polls have shown a majority of Floridians believe abortion should be legal in all or most cases, the state is still deeply divided on the subject. That divide was evident during demonstrations Friday around the Tampa Bay region.
People expressed both outrage and joy over the Supreme Court ruling.
At North Straub Park in St. Pete, both pro- and anti-abortion demonstrators gathered to react to the ruling.
"This court has failed us," Planned Parenthood Tampa regional organizer Elizabeth Baker said in opposition to the Supreme Court ruling. "We must have the freedom and the power to control our bodies and our lives. It is a fundamental human right."
A pro-abortion demonstrator said she was protesting the Supreme Court's ruling because of a friend's experience.
"I almost lost somebody who was pregnant and they needed an abortion, not because they weren't ready but because they had a tumor and the pregnancy was feeding the tumor," Cheyenne Cheila said.
On the other hand, anti-abortion demonstrators said Friday's ruling shocked them.
"I was stunned and at the same time just incredibly excited," Scott Mahurin said, "I never really thought the day would come."
Mahurin is part of the St. Petersburg group, Florida Preborn Rescue.
"We're trying to protect the most vulnerable among us, which are the preborn babies of our nation," he added.
Prosecutor takes stance
:
Hillsborough County State Attorney Andrew Warren issued a joint statement with prosecutors nationwide, declining to go after people "who seek, provide, or support abortions."
The prosecutors who signed on to the letter from the organization Fair and Just Prosecution say while they all don't agree on abortion, "we stand together in our firm belief that prosecutors have a responsibility to refrain from using limited criminal legal system resources to criminalize personal medical decisions."
It's to this end that their offices' resources will not be used to, in their words, "criminalize reproductive health decisions."
Warren appears to be the only prosecutor in the state of Florida who signed on to the letter. His office covers all of Hillsborough County, including the city of Tampa.
Read the letter in full below:
What's next in Florida?
:
Florida has already taken steps to limit abortions. In April, Gov. Ron DeSantis signed a bill restricting most abortions after 15 weeks unless the pregnant person's life is endangered. It does not have exceptions for rape, incest or human trafficking. That law takes effect July 1.
Other abortion restrictions already exist in Florida. Most abortions are already banned after 24 weeks of gestation.
Following a seven-year legal battle, a Florida judge recently approved a 24-hour waiting period for abortions that are within the parameters outlined in state law.
In Florida, minors must receive parental consent before they can undergo abortion procedures. And anyone seeking an abortion is expected to receive counseling beforehand.
Ultrasounds must be done before abortions in Florida, and pregnant women must be given the chance to view the images.
Health plans made available through the Affordable Care Act can only be used for abortions if the mother's life is in danger or in situations of rape or incest. The same is true for any public funding.
Some fear the Supreme Court decision could lead Florida's conservative legislature to begin adding more restrictions in the coming years.
The Guttmacher Institute, which describes itself as committed to advancing "sexual and reproductive health and rights," reports that Florida is one of 26 states likely to ban abortion without Roe. Florida's political composition and its most recent abortion limit law — one of the most restrictive in the nation — are factors that could point to more restrictions ahead.
This would not only affect people in Florida seeking an abortion but also people from surrounding southern states with more limited abortion access who will likely flock to Florida for the procedure with Roe v. Wade overturned.
Some Florida lawmakers have pushed for a "heartbeat" abortion law similar to the one in Texas.
"I think as pregnant mothers contemplate their options, one would expect adoption would be chosen with greater frequency if abortion is illegal in their state of residence, and if travel to another state, where abortion may not be illegal is economically or logistically difficult," Tate explained earlier this week.
Adoption agencies are preparing for this possibility, she said. A large part of this is increasing adoption education for pregnant people.
"There are a lot of misconceptions about adoption," Tate said. "Folks don't know the many many options that there are."
Many adoption agencies have been working over the last few months to raise money to boost their visibility and to fortify their services in anticipation of Roe v. Wade being overturned, she said. They're anticipating an increased demand for their services.
Tate doesn't see the increased demand being a concern.
"There has long been a high number of adoptive parents who are waiting," she said.
However, adoption isn't a substitute for abortion, Tate said. It's just another option that a pregnant mother can explore as they face a crisis or unwanted pregnancy.
How common is abortion in Florida?
:
Florida has the third-highest abortion rate in the United States, according to the CDC's 2019 data, the most recent figures available.
The vast majority of Florida's 2021 abortions were "elective." In total, 59,257 were listed as such.
The second most common reason a woman had an abortion in Florida was for social or economic reasons. AHCA says 16,983 abortions were performed on those grounds. Of those, 15,687 were done in the first trimester with the remaining 1,296 happening in the second trimester.
As mentioned earlier, Florida's upcoming 15-week abortion restriction legislation does not include exceptions for rape or incest.
For context, of the 79,817 Florida abortions in 2021:
8 involved incest
118 involved women who were raped
In the incest cases, 5 abortions were performed in the first trimester with the remaining 3 done in the second trimester. In the cases of rape, 104 of the abortions happened in the first trimester with 14 of them happening in the second trimester.
President Biden speaks
:
President Joe Biden said Friday that "it's a sad day for the court and the country."
"Now with Roe gone, let's be very clear, the health and life of women across this nation are now at risk," he said from the White House.
He added that "the court has done what it's never done before — expressly taking away a constitution right that is so fundamental to so many Americans," he said.
The White House has been preparing for this moment since a draft of the decision leaked in May. Officials have been huddling with state leaders, advocates, health care professionals and others to prepare for a future without Roe v. Wade.
Now Biden's plans will be tested in terms of politics and policy. Biden said his administration would defend a woman's right to cross state lines to seek an abortion.
Florida lawmakers react
:
Leaders on both sides of the aisle have provided statements regarding the decision. You can read some of them below.
Republican Gov. Ron DeSantis
"The prayers of millions have been answered. For nearly fifty years, the U.S. Supreme Court has prohibited virtually any meaningful pro-life protection, but this was not grounded in the text, history or structure of the Constitution. By properly interpreting the Constitution, the Dobbs majority has restored the people's role in our republic and a sense of hope that every life counts.
"Florida will continue to defend its recently-enacted pro-life reforms against state court challenges, will work to expand pro-life protections, and will stand for life by promoting adoption, foster care and child welfare."
Charlie Crist, U.S. Representative and Democratic candidate for governor
"My heart is heavy for women across our country and in the Sunshine State who, with this decision, are losing their federal protections for the freedom to make their own reproductive decisions.
"Under Ron DeSantis, freedom for Florida's women has been under attack. And with today's decision, the fate of reproductive freedom in our state is now squarely in the hands of the governor and state legislature. For Florida's women and for all Floridians, this November's election is the most consequential in modern history.

"I'm running for governor to protect Roe v. Wade. On day one of the Crist Administration, I will sign an Executive Order to protect a woman's right to choose. Fighting every day for the women of our state will be a cornerstone of my administration. It's time to get organized, get energized, get voters registered, and turn out the vote to protect women's freedom."
Nikki Fried, Florida Commissioner of Agriculture and Consumer Services and Democratic candidate for governor
"This is a tragic day for women in America. The freedom to make our own choices about our lives, our bodies, and our healthcare is fundamental to our humanity. It's absolutely devastating to have those rights taken away. It's not an exaggeration to say that women and girls will die as a result of this decision.
"Women will now be forced to stay with abusive partners, to carry dangerous and unviable pregnancies to term, to be refused life-saving medical care, to seek out unsafe and illegal ways to have an abortion, to bear children conceived through rape and incest, and to endure a host of other indignities too varied and disturbing to describe. It will have a catastrophic effect on women's economic prospects and participation in the workforce. It has and will be disastrous for our mental health. It's cruel and inhumane, and it's the result of Republicans' years-long war on women and our rights.
"In Florida, for now, we still have a provision in our state constitution that protects abortion rights – although that is in question as well. I promise that we will fight with everything we have to keep that from being overturned."
U.S. Sen. Marco Rubio, R-Florida
"Today's decision by the Supreme Court to allow states to regulate abortion was right constitutionally and morally.
"For nearly half a century, a nation founded on God-given rights denied those rights to its most vulnerable citizens and more than 63 million Americans never got the chance to pursue their dreams.
"But we must not only continue to take steps to protect the unborn, we must also do more to support mothers and their babies. I will soon introduce a bill to ensure we do everything we can to give every child the opportunity to fully access the promise of America."
U.S. Sen. Rick Scott, R-Florida
"The importance of today's decision by the Supreme Court cannot be overstated. For nearly 50 years, our country endured flawed legal reasoning that invented an implied constitutional right to abortion while stripping authority from lawmakers according to the will of the people. Today, the Court correctly interpreted the Constitution, defended human dignity and the foundational principle of federalism, and rightly declared that there is no constitutional right to end the life of an unborn child.
"I firmly believe that life begins at conception and that every child deserves to be welcomed into this world with open and loving arms. Abortion ends a life. It is abhorrent and has no place in our society. While we celebrate the Court's latest ruling, the fight to protect the sanctity of life is not over. Lawmakers and the pro-life movement have the responsibility to make adoption more accessible and affordable, and do everything in our power to meet the needs of struggling women and their families so they can choose life. We cannot stop fighting until every life, born and unborn, is valued."
Florida Senate President Wilton Simpson, R-Trilby
"As an adopted child myself, I am grateful for this decision. The court is finally righting a grievous wrong.
"It's hard to believe we live in a country that has permitted the murder of 63 million innocent children over the last 50 years. Every abortion kills a human being made in the image and likeness of God who deserves the chance to grow up in a loving family.
"I particularly like that the Court mentions, in outlining views of pro-life Americans, 'a woman who puts her newborn up for adoption today has little reason to fear that the baby will not find a suitable home.' That is certainly the case here in Florida. Florida is a state that values life. I have been proud to support pro-life, pro-family policies that not only protect innocent, unborn babies, but also support children, parents, and other caring adults willing to raise a child who is not their own."
Manny Diaz, Florida Democratic Party Chair
"Today's decision by five Republican-appointed Justices severely restricts the freedom of millions of women to make deeply personal health care decisions and instead impose government interference in health care decisions between women, their doctors, family, and God.
"Florida Republicans Marco Rubio and Ron DeSantis are focused on banning abortion and basic freedoms when they should be trying to improve our economy, ensure that every American can find a good paying job, and make health care more affordable. They support draconian bans on reproductive health care without exceptions when a woman's life is in danger or for victims of rape and incest. Today's decision gives them the power to compel their dangerous political agenda at every level, including a possible ban on the use of contraceptives.
"Democrats believe in the freedom of women to make their own personal health decisions and are committed to fighting government interference in health care decisions between women and their doctors. Conservative politicians have no right to intervene in some of the most difficult and personal choices women and their families have to make."
U.S. Rep. Cathy Castor, D-Tampa
"Ripping away our rights and freedoms is un-American - and this decision is downright dangerous. For over fifty years, women across America have had the right to make personal health care decisions with their doctors and their families. Today, the Supreme Court and the extremists who built this court majority are compromising the health, safety and economic well being of women and families. Women, families and their doctors – not politicians – should determine the timing of childbirth, make their own personal reproductive health decisions and choose their pathways in life.
"Neighbors across Florida are rightfully worried about what today's decision means for them – Governor DeSantis and Republican legislators already have issued a costly and cruel restrictive abortion ban in the state that is illegal under the right to privacy under our state constitution. Repealing Roe v Wade affects more than just abortion care – it impacts the work and funding of health providers that people in communities across the country depend on. We need to ensure that all people have access to the quality care they need, including birth control, abortion care, prenatal care and parenting support. That's why I cosponsored the Health Care Providers Safety Act, to combat the skyrocketing reports of violence and harassment against abortion care providers and ensure our doctors and medical professionals can operate in safe, secure environments.
"While today's decision will be devastating for Floridians, especially our neighbors of color, I will not rest until we make Roe a law and ensure birth control remains available and affordable. We have voted in the House to do so with passage of the Women's Health Protection Act, and today I am joining countless Americans in the urgent call for U.S. Senators to act with courage on behalf of all Americans to pass the bill. While today is a dark day in our nation's history, our fight for freedom is not over."
FL Rep. Anna Eskamani, D-47
"This is a devastating blow to our collective freedom as women and Americans. And it follows a clear and consistent Republican effort to end the right to abortions. We have never lost a constitutional right, and now must make sure that Republicans at every level of government feel the consequences of stripping away our rights and freedoms."

"Abortion is about freedom, options, self-determination, and a free society. This SCOTUS decision completely strips us of our collective freedoms, taking away our power to control our personal decisions and handing it over to politicians. It will have a ripple effect around the nation with abortion bans already set to go into place and states like Florida planning to be next.

"We cannot forget that this fight goes beyond abortion, this decision is tied to other freedoms we have fought for, including same sex marriage and access to contraception.

"Though this is a major loss for gender equity and a horrific win for extreme conservatism we must remember that here in Florida, abortion is still legal. We must remember that Floridians overwhelmingly want abortion to remain legal, and generations before us have fought tirelessly to gain and protect the rights we have today. We must take these fights with us into the upcoming midterm elections while we continue to support local abortion providers and funds.

"This is not the time to shrink, or surrender. The antidote to despair is action. We are in a fight to make sure everyone has the power to control their own bodies, lives, and futures and despite this decision, cannot give up now."
U.S. Rep. Brian Mast, R-Palm City
"I fought on battlefields to protect the innocent and uphold the Constitution - abortion does neither. Our kids are the most innocent among us—at a year, at birth and before. This decision will protect millions of vulnerable, unborn babies, and that is a reason to celebrate."
Disney reacts
:
Corporations like The Walt Disney Co. are telling employees they will cover travel costs for individuals seeking abortions.
Disney said Friday it would cover the cost of travel for "family planning" and "pregnancy-related decisions" for any employee who cannot access care in their resident state, The Washington Post reported.
The company told The Post that it recognized the impact of the ruling and would remain committed to providing access to quality and affordable care for all employees and their families, regardless of where they reside.
Disney isn't the only corporation making adjustments in employee benefits following the SCOTUS decision. So, what other companies are making adjustments as a result?
Netflix, Paramount, Comcast, Sony, Warner Bros and Meta are a few among other media companies that confirmed they will cover travel costs for abortion-seeking employees.
DICK'S Sporting Goods said Friday it will provide up to $4,000 in travel expense reimbursement to employees who live in states restricting access to abortion.
"We at DICK'S Sporting Goods are prepared to ensure that all of our teammates have consistent and safe access to the benefits we provide, regardless of the state in which they live," Hobart wrote on Linkedin. "We recognize people feel passionately about this topic -- and that there are teammates and athletes who will not agree with this decision. However, we also recognize that decisions involving health and families are deeply personal and made with thoughtful consideration."
Other companies, like Levi Strauss and Co. and Amazon, vowed to protect abortion rights for their employees in May when the draft majority opinion in Dobbs v. Jackson Women's Health Organization was leaked.
Levi Strauss and Co. released a statement on their site.
"Access to reproductive health care, including abortion, has been a critical factor to the workplace gains and contributions women have made over the past 50 years," the statement read. "Further restricting or criminalizing access will jeopardize that progress and disproportionately affect women of color, putting their well-being at risk and impeding diverse hiring pipelines."
Justice Thomas suggests more rulings
:
Thomas, the member of the court most open to jettisoning prior decisions, specifically called on his colleagues to review other precedents, including the court's 2015 decision legalizing same-sex marriage, a 2003 decision striking down laws criminalizing gay sex and a 1965 decision declaring that married couples have a right to use contraception.
Justice Samuel Alito, in the final opinion issued Friday, wrote that Roe and Planned Parenthood v. Casey, the 1992 decision that reaffirmed the right to abortion, were wrong the days they were decided and must be overturned.
Joining Alito were Thomas and Justices Neil Gorsuch, Brett Kavanaugh, Amy Coney Barrett. The latter three justices are Trump appointees.
Four justices would have left Roe and Casey in place.
He emphasized the Due Process Clause "does not secure any substantive rights" and "at most guarantees process". He then took a swing at other cases where due process is applied.
While he wrote that the court "today declines to disturb" these cases, he suggested in future cases that it should reconsider these decisions based on due process precedent.
"Because any substantive due process decision is 'demonstrably erroneous,' we have a duty to 'correct the error' established in those precedents," his opinion said.
President Joe Biden, speaking about the court's decision allowing states to ban abortion immediately, called out Thomas' suggestion.
"He explicitly called to reconsider the right of marriage equality, the right of couples to make their choices on contraception. This is extreme and dangerous path the court is now taking us on," Biden said.
Timeline of SCOTUS decisions
:
1976 — The court strikes down a Missouri law requiring a married woman to get her husband's consent for an abortion.
1986 — The court strikes down portions of a Pennsylvania law it said attempted to intimidate women into continuing pregnancies by, among other things, requiring them to be told the risks associated with abortion.
1989 — The court declines to overrule Roe but allows more state regulation of abortion.
2000 — The court strikes down a Nebraska law that barred an abortion procedure used during the second trimester of pregnancy. The law didn't have an exception to the ban for the health of the pregnant woman.
2007 — In a decision weakening Roe, the court upholds the 2003 Partial Birth Abortion Ban Act passed by Congress, which is similar to Nebraska's law.
2016 — In its strongest defense of abortion rights in 25 years, the court strikes down Texas rules forcing clinics to meet hospital-like standards and doctors to have admitting privileges at nearby hospitals.
2020 — A more conservative court strikes down a Louisiana law nearly identical to the Texas one it struck down in 2016.
History of Roe v. Wade
:
It's been nearly 50 years since the U.S. Supreme Court made its 1973 Roe v. Wade ruling that affirmed a woman's constitutional right to abortion.
Roe v. Wade was sparked by a woman in Texas named Norma L. McCorvey who sought an abortion but did not meet the state's requirement of only allowing the procedure in "cases of rape, incest, or to save the life of the mother."
"McCorvey was advised by her friends to falsely assert that she had been raped, but there was no police report to back up this claim. Instead, McCorvey attempted to have an illegal abortion, but she soon discovered that the authorities had shut down the facility," according to the National Constitution Center.
A lawsuit was brought on her behalf with the alias "Jane Roe," to protect her identity during the case, which claimed the law violated her constitutional rights.
Her case was eventually appealed to the U.S. Supreme Court in 1970 but arguments wouldn't be heard until 1971. The nation's highest court wanted to decide Younger v. Harris and United States v. Vuitch first.
Two years later, SCOTUS would hand down a decision that found the ban unconstitutional under the Fourteenth Amendment — but it's not as straightforward as that.
"Because the Court determined that abortions were within a woman's 'zone of privacy,' it was therefore ruling that a woman had a fundamental right to the procedure. Although this right was fundamental, that did not mean that it could not be limited," the National Constitution Center wrote.
In an effort to balance the fundamental privacy right to abortion with government interests, the Court – at that time – settled on what essentially amounted to a trimester framework of assessment.
"This solution determined when the right to abortion would be without limitations, and when the state's interests would be compelling enough to outweigh the woman's right to choose," the National Constitution Center wrote.
Here's how the breakdown basically worked in the years after Roe v. Wade:
During the first trimester: The decision on abortion was between a woman and her doctor.
From the first trimester until fetal viability: The state's interest in the mother's health reaches a "compelling level." That meant the state could regulate abortion if it "reasonably relates to the preservation and protection of maternal health."
Once fetal viability is reached: The state was able to protect its interest in "potential life" and, to that end, regulate abortion.
Essentially, it was a marker to decipher if a mother's right to abortion, prior to viability, was being "unduly interfered with" by the state. But it didn't stop the state from pursuing its interests as long as it didn't impose an undue burden.
"An undue burden arises if the purpose or effect of the state restriction on abortion has placed a substantial obstacle on a someone seeking an abortion of a non-viable fetus. If the person seeking an abortion of a non-viable fetus can prove that they would endure an undue burden as a result of a state restriction on abortion, then the statute imposing an undue burden will be struck down either entirely or partially. On the other hand, the government could pursue its interest in protecting the health of the pregnant person as long as the government's interest has a rational relation and does not impose an undue burden."
Differences in 2022 ruling vs. leaked draft
:
Key passages in Justice Samuel Alito's draft opinion and the final ruling released Friday are identical, including sharp denunciations of the Roe ruling as "egregiously wrong," with "exceptionally weak" reasoning and "damaging consequences."
The major additions to the final copy are pointed rebukes of the dissent from the court's three liberal justices as well as a concurring opinion from Chief Justice John Roberts, who said he would have upheld the Mississippi law at the heart of the case, but would have stopped short of ending the right to an abortion.
The draft opinion, labeled a "1st Draft" of the "Opinion of the Court" and published by Politico, was leaked in a nearly unprecedented breach of protocol that sent shockwaves through the country. The marshal of the Supreme Court is investigating what Roberts has described as "egregious breach of trust."
Here's a closer look at the similarities and differences between the draft and final opinions:
Key passages remain unchanged
The central arguments in the draft and final opinions are fundamentally the same. Alito writes that the 1973 Roe decision and Planned Parenthood v. Casey, the 1992 decision that reaffirmed the right to abortion, used flawed reasoning to conclude that the Constitution protects the right to an abortion.
Alito writes that the Constitution "makes no reference to abortion" and that the due process clause of the Fourteenth Amendment does not protect such a right. While that provision guarantees some rights that are not named in the Constitution, those rights have been "deeply rooted in this Nation's history and tradition," Alito wrote. Abortion has not been, he argues.
"It is time to heed the Constitution and return the issue of abortion to the people's elected representatives," he wrote.
The first major addition to the final opinion comes on page 35, when Alito launches into a critique of the liberal justices' dissent, which he would not have had access to when he wrote his draft.
Alito writes that the dissent's failure to acknowledge the nation's long tradition — before Roe — of outlawing abortion is "devastating to its position." The right to an abortion does not have any foundation, "let alone a 'deeply rooted one,'" in American history, Alito argues. He points, among other things, to the fact that at least 46 states by the late 1950s banned abortion "however and whenever preformed" unless necessary to save the life of the mother.
Alito writes that the most "striking feature" of the dissent is the lack of "any serious discussion of the legitimacy of the States' interest in protecting human life." The liberal justices, Alito argues, discuss issues like the burdens of motherhood, which he says are "important concerns." But they display "no similar regard for a State's interest in protecting prenatal life," he writes.
Later in the opinion, Alito rebukes the liberal justices' argument that in overturning Roe, the court has abandoned stare decisis: the legal principle that judges use to base decisions on earlier ones. Alito responds: "We have done no such thing."
"Precedents should be respected, but sometimes the Court errs, and occasionally the Court issues an important decision that is egregiously wrong," Alito wrote. "When that happens, stare decisis is not a straightjacket."
Continuing coverage:

CORRECTION: An earlier version of this story undercounted the number of abortions performed in the first trimester, as listed in the 2021 AHCA data set. This article has been revised to include the total, not just the "elective" abortions.