KATHLEEN, Fla. — The National Weather Service confirmed Saturday afternoon that an EF-2 tornado touched down in Kathleen late Friday night.
Emergency Management says at least 50 structures were damaged.
The following message was issued on behalf of Kathleen Middle School:
Kathleen Middle was damaged during last night's severe weather and, as a result, classes for Kathleen Middle will be canceled on Monday (Oct. 21) and Tuesday (Oct. 22).
Maintenance workers are currently surveying the damage, which included the historic building of Kathleen Middle.
Again, classes for Kathleen Middle have been canceled for Monday (Oct. 21) and Tuesday (Oct. 22).
All other Polk County Public Schools are expected to have classes next week as normal.
We appreciate your patience and understanding as we work to address any necessary repairs and renovations for Kathleen Middle.
We will provide updates on the reopening of Kathleen Middle using the automated telephone calling system for parents and guardians as well as the district's website and social media (Facebook and Twitter). Local media will also be notified. Thank you.
The National Weather Service believes a tornado touched down in Kathleen and will be out Saturday morning to make an official determination.
A post on the school's Facebook page said the main building sustained the most damage. Nobody was in the school, and more information is expected as the day goes on, the post continued.

Martha Finley, 74, has lived in Kathleen for more than 30 years. She said she's never experienced a weather event like this in her life.
Finley's home was spared, but her cars were crushed by downed trees.
All of this weather and damage stems from Tropical Storm Nestor, which continues its path toward the Florida Panhandle.
The Tampa Bay area remains under a tornado threat, and people should continue to be weather aware and near safe place.
Storm damage from EF-2 tornado in Kathleen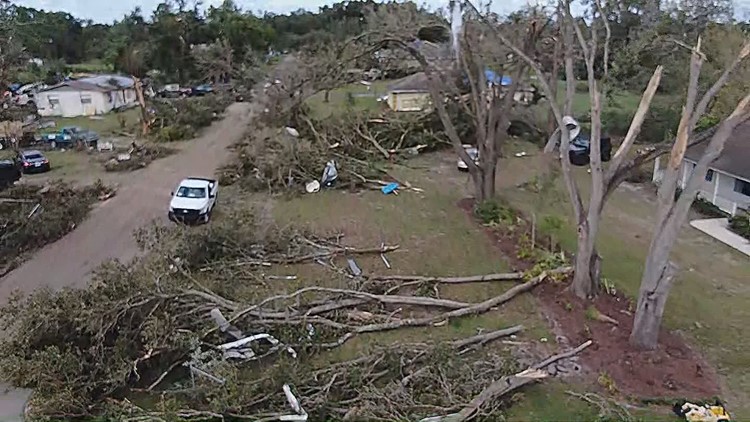 What other people are reading right now: