LAKE WALES, Fla. — Spook Hill has been a quirky tourist attraction in Lake Wales for more than 60 years. It's now on the National Register of Historic Places.
The site opened in 1950 along North Wales Drive between Burns Avenue and the northeast exit of Spook Hill Elementary. Spook Hill got its name through a combination of optical illusion and local legend.
Spook Hill has a "gravity hill optical illusion," which makes drivers feel as if they are rolling uphill when they put their vehicle in neutral, according to the site's nomination to the NRHP.
Facing north up the hill, you'll see a white line painted across the road where the incline begins. When you get to the white line, park your vehicle, put it in neutral and slowly roll backward downhill while feeling like you're being pulled uphill.
This illusion happens because the view of the horizon is being obscured by the high hill.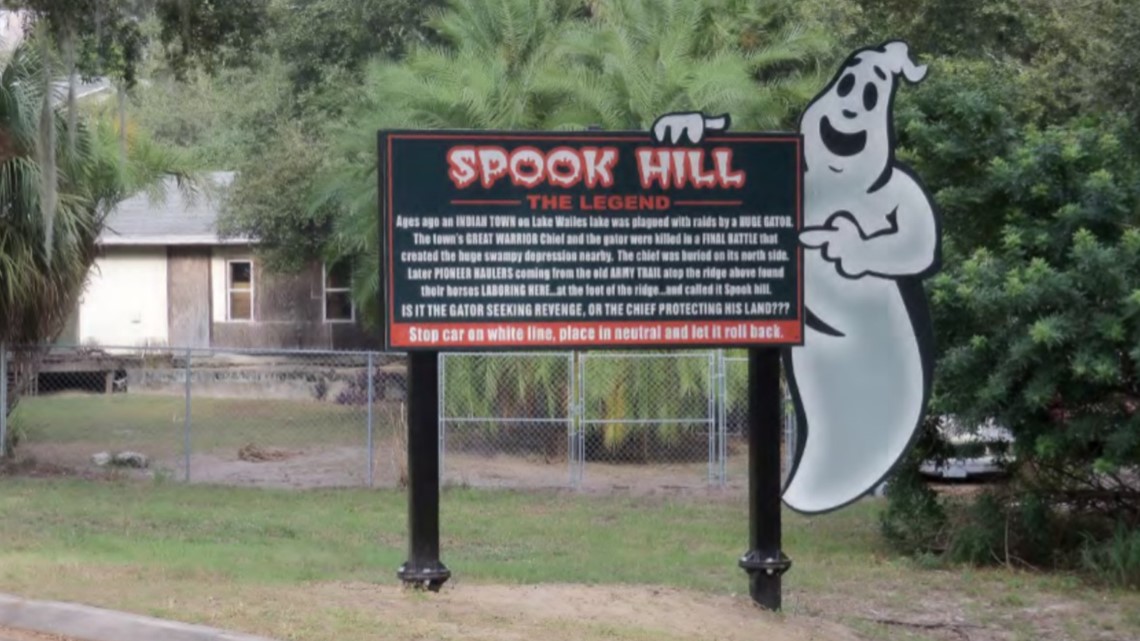 A large sign with a ghost on it sits near Spook Hill and tells this legend:
"Ages ago and INDIAN TOWN on Lake Wailes lake was plagued with raids by a HUGE GATOR. The town's GREAT WARRIOR Chief and the gator were killed in a FINAL BATTLE that created the huge swampy depression nearby. The chief was buried on its north side. Later PIONEER HAULERS coming from the old ARM TRAIL atop the ridge above found their horses LABORING HERE...at the foot of the ridge...and called it Spook hill.
IS IT THE GATOR SEEKING REVENGE, OR THE CHIEF PROTECTING HIS LAND???"
A reviewer and historian with the National Park Service said Spook Hill is a "good example of how a community created a tourist attraction from scratch" because the "legend of the hill evolved over time, becoming more 'legendary' and more fantastic."
Polk County Commissioner George Lindsey III wrote in a letter to Survey & Registration Supervisor Ruben Acosta that "a visit to Central Florida can almost be considered incomplete if it doesn't include a visit to this mind-boggling tourist attraction."
What other people are reading right now: