Mario Tama
HONOLULU — Two hundred miles separate Oahu from the Big Island, where lava flows and the threat of a massive volcanic explosion have drawn worldwide attention to rural subdivisions on the island's east side.
For some Oahu residents, following the coverage of Kilauea's latest eruptive episode is similar to monitoring severe weather across the continental U.S. — both spectacular and heartbreaking, but still far, far away. Yet for others, the explosions at Halemaumau Crater and multiple fissures and lava flows in Leilani Estates hit close to home — even if ocean and islands separate them.
The eruptions that began May 3 in Leilani Estates, a rural neighborhood about 35 miles from Hilo, have destroyed 36 structures and forced evacuations of nearly 2,000 people. The Hawaiian Volcano Observatory reported Thursday that an explosive eruption at Kilauea's summit in the early morning hours spewed ash 30,000 feet high in the air and covered the surrounding area. They advised residents to shelter in place and warned of dangerous driving conditions due to poor visibility.
"It's kind of wild," said Radji Tolentino, 48, of Ewa Beach in West Oahu. "It's almost like watching the wildfires in California … it's Hawaii, but it's still far away."
Tolentino monitors eruption updates through news alerts on his phone, TV and online. He's concerned ash could drift from the Big Island and affect his asthmatic relatives, including his father, or that earthquakes from the volcanic activity could trigger a tsunami.
News coverage of the Big Island events have been pretty balanced, Tolentino said, but noted that inaccuracies have not helped, especially when a national news outlet reported Oahu residents were forced to evacuate. Tolentino, an attorney, said the devastation on the state's southernmost island is "a spectacular event, but it doesn't affect my life on a daily basis."
Evacuees leave dangerous Hawaiian volcano area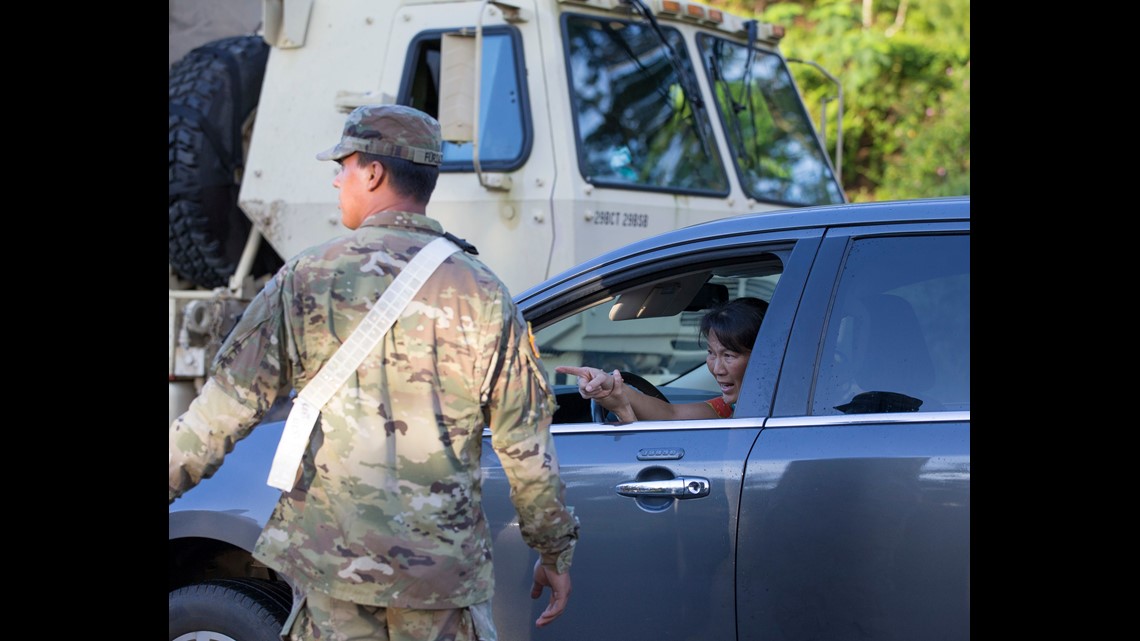 Robyn Jumawan, who runs the nonprofit Pearlside Boxing and Fitness with her husband in West Oahu, lived on the west side of Big Island from 1994 to 2005, far from the active volcano. She has been praying for her friends who still live there while letting her friends on the mainland know she's not in harm's way.
"A lot of my friends from the mainland, they have been inundating me with, 'Are you OK?' A lot of them think we're (just) one island," she said.
Pearlside is organizing three fundraisers – a run-a-thon, bake sale and car wash – and a portion of the proceeds will go to relief efforts on Hawaii Island.
Jumawan said the latest volcanic events have affected so many – "not just the people who have left their homes, but the people just living over there and the business owners."
As tourism slows on the Big Island, Jumawan empathizes with small business owners who are grappling with the economic slowdown. "It's a trickle-down effect that affects everybody," she said.
More: Hawaii volcano spews ash 6 miles into the sky
More: It will be months before lava from Hawaii volcano can be removed
Graphic: How volcanoes erupt
So far, however, the trickle-down has not had a major impact on Oahu, where the majority of the state's residents live.
"We checked with several industry partners on Oahu and were told the volcanic activity on the Island of Hawaii has had no discernible negative impact on bookings," George Szigeti, president and CEO of the Hawaii Tourism Authority, told USA TODAY. "In fact, one travel trade partner reported an increase in Oahu bookings this week."
Szigeti, in a news release, urged those with plans to visit the Big Island to keep their bookings, noting the area devastated by volcanic activity is a small section of the island's 4,000-plus square miles.
A few tourists with Oahu bookings have called with concerns. Michael O'Meally, 23, who lives in Aiea and works in sales in Waikiki, said a friend who works at a Ko Olina resort told him she has fielded several calls from concerned guests.
Among the tourists he has come into contact with in Waikiki, O'Meally said the volcanic eruption has come up, but mostly as small talk. He said he closely followed the eruption coverage the first few days, but has since tapered off.
"I did ask the other day (at work) if it's still erupting," O'Meally said. "It's not one of those things that's on the back of your mind unless you have family there. If I did, that would be a different story."