ST. PETERSBURG, Fla. -- Equal rights. Many people might assume it would be the one issue Americans agreed upon. But, it's not.
Congress passed the Equal Rights Amendment in 1972, but it was never ratified by enough states to be added to the Constitution. Only a handful of states are still holding out. They are Alabama, Arizona, Arkansas, Georgia, Louisiana, Mississippi, Missouri, North Carolina, Oklahoma, South Carolina, Utah, Virginia and Florida.
When Congress passed the ERA in 1972, lawmakers set a 10-year deadline for states to ratify it. That did not happen. But, supporters have kept trying to get enough states to sign on in the years after the deadline -- hoping Congress would follow their lead once they got there. Technically, they are just one state shy of hitting the "magic number" of 38. That would be three-fourths of the states, as required by the amendment process.
Related: The Equal Rights Amendment hasn't been fully ratified 46 years after it passed Congress
So, could Florida tip the scales on the Equal Rights Amendment?
"I think Florida is in play. I think a lot of places are in play now. There's more energy and interest in this than there has been in years," said Lucy Beard, executive director of the Alice Paul Institute.
Beard argues a country based on equality should have it written in its body of laws.
"Antonin Scalia said it himself: women are not an equally-protected class under our Constitution," Beard explained.
She's right. In a 2011 interview, Scalia said the constitution "doesn't" prohibit discrimination based on sex.
When the Supreme Court ruled in 1994 that lawyers couldn't skip over potential jurors solely because they were men or women, Scalia disagreed. And, when the court made its landmark decision in 1996 that state governments couldn't use taxpayer money for elite educational institutions that only admitted men, Scalia was the one vote against the ruling.
"I think in 1923 it was a much more acceptable idea that women and men were not equal, and we're not buying that anymore for the most part," Beard said. "Popular culture has now adopted that 'no, equality is a real thing', now we need to codify that into our laws."
Opposition to the Equal Rights Amendment
Even still, there are plenty of people who oppose the ERA.
"It would be a terrible idea for all Americans if the ERA were ever put in the Constitution," said Anne Schlafly Cori, Eagle Forum chairperson and daughter of Phyllis Schlafly, the conservative activist who led the fight against the ERA in the 1970s.
"We don't need any emotional, feel-good, 'we-want-to-be-in-the-Constitution', that's baloney. We are full American citizens and have full rights under the Constitution today," Schlafly Cori said. "...What is it that women can't do today? We have full opportunity to achieve the best we can in American society today."
She points to the missed deadline in 1982 as a non-starter.
"The idea of the proponents trying to shoehorn this into the Constitution shows they are ignorant of the law," explained Schlafly Cori. "And any state legislator that votes for this thinking that 'it's a non-issue, it's a nothing, it'll feel good' -- well that's just stupid because that's ignoring the primacy of our Constitution and how important it is to treat it with respect."
She says the ERA would damage women's lives. She worries the ERA could lead to taxpayer-funded abortions or raise all sorts of questions about the legality of sex-separated prisons or federally-financed women's shelters that protect abuse victims.
It's the potential unintended consequences that make Schlafly Cori fight so hard against adding the amendment to the Constitution.
"We are not well-served with a Constitutional amendment that doesn't recognize that there are differences," she explained. "Women today have equality of opportunity to do whatever we want to do. Nothing that we're missing in our lives; so why risk it with a poorly-worded amendment that would upend everything in our life today?"
A constitutional perspective
Brendan Beery, a constitutional law professor at Western Michigan University's Cooley Law School, says there is no question there would be unintended consequences if the amendment were actually adopted.
"Do women, right now, have equal protection of the law? More or less, as applied to states and governments they do, but certainly not in terms of equal pay, equality in the workplace and all that," said Beery. "Right now, they are considered a protected class under the Equal Protection Clause, so they are given equal protection of the law, but that only relates to states targeting women, not private corporations or employers and things like that."
That interpretation could change, Beery added, as the Supreme Court evolves with new additions like Justice Brett Kavanaugh.
"The originalist view of the Equal Protection Clause is that it only protected former slaves, African Americans or, at the most, ethnicity. So, they don't see a role for the Equal Protection Clause in protecting women or any group besides ethnicity," he said. "With the shift of the court, you're likely to see a real narrowing of what groups are protected under the Equal Protection Clause, and the more you see the Equal Protection Clause narrowing in on itself, you're going to see people saying, 'do we need more amendments to the Constitution?'"
Beery said if the Supreme Court maintains the opinion that women are protected under the Equal Protection Clause of the Fourteenth Amendment, then they are already covered to a certain degree. But, he added some serious caution.
"There's no question that if the new court majority starts going down this road of saying gender doesn't count and other groups don't count either, then there's going to be more agitating for new constitutional amendments, not just to protect women or gender, but to protect other groups as well," he said.
Editor's Note: The below photos are courtesy of the Florida Memory Program.
Equal Rights Amendment demonstrations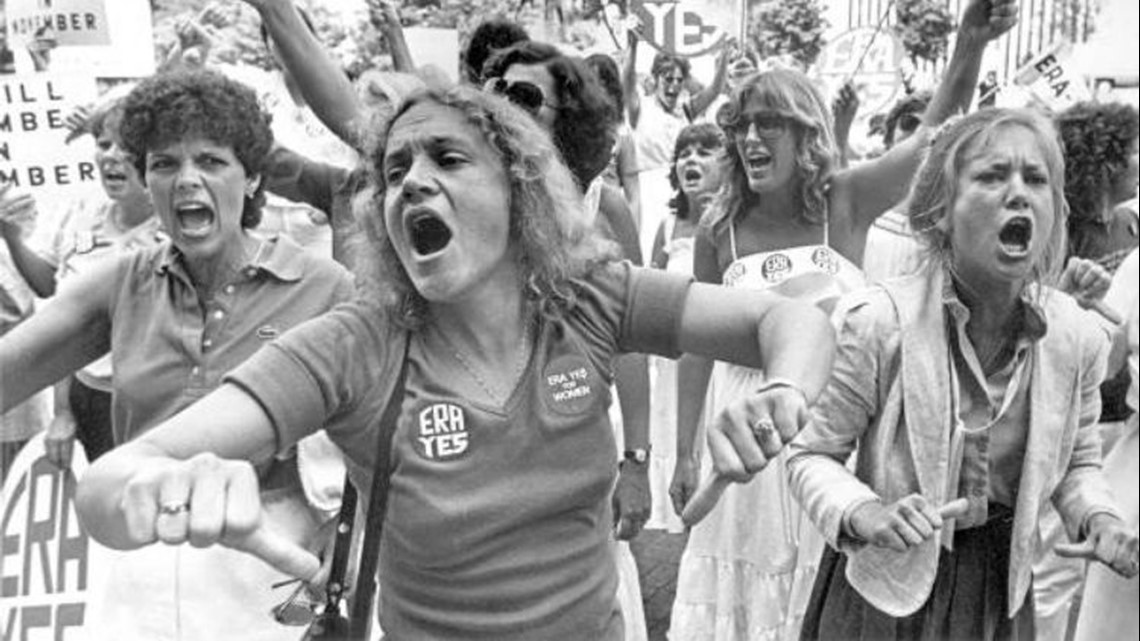 What about that deadline Congress set to expire in 1982?
"One of the interesting points is that there was a 1982 deadline, apparently, that Congress placed on this and so that places a real premium, which I think makes this more interesting, on how Congress is going to handle it if states ratify it past the deadline," said Beery. "Congress, then, if they want to -- they can block this. They can just say 'well, it's past the deadline, and we're not going to accept it'. On the other hand, they can extend the deadline or get rid of the deadline."
Although it didn't have a set deadline, the 27th amendment -- which deals with congressional pay -- was fully ratified more than 200 years after Congress approved it. So, ERA supporters point to that amendment as an example of how one could become enshrined in the Constitution years later.
States take matters into their own hands
Roughly half the states have their own state-level versions of the Equal Rights Amendment that offer at least partial promises of equal rights on the basis of a person's sex.
There are actually five states with such state-level guarantees that haven't ratified the federal version of the Equal Rights Amendment.
They include Louisiana, Virginia, Utah, Illinois and -- oh yes, Florida.
So, the Equal Rights Amendment might one day be ratified, or it might not be. Bottom line, our nation cannot even agree on how to handle equal rights. Welcome to 2018!
►Make it easy to keep up-to-date with more stories like this. Download the 10News app now.
Have a news tip? Email desk@wtsp.com, or visit our Facebook page or Twitter feed