ST. PETERSBURG, Fla. -- When an area sheriff's office threw its support behind Gov. Rick Scott's candidacy for U.S. Senate, some didn't think a partisan social media post was aboveboard for the taxpayer-funded agency.
The Sarasota County Sheriff's Office on Monday shared a live video of Scott accepting the endorsement of some 55 sheriffs across the state with the text, "Sheriff Tom Knight is proud to support Governor Rick Scott in his run for Senate."
It makes sense from a party standpoint: both are Republican politicians. Scott hopes to defeat current Democratic Sen. Bill Nelson.
Those at the campaign event, including Pinellas County Sheriff Bob Gualtieri, spoke highly of Scott and his leadership, especially after the shooting at Marjory Stoneman Douglas High School in Parkland.
"I can tell you the governor is hands-on, he leads from the front which is what we need, and that's what we need in our next United States senator from the state of Florida," Gualtieri said.
Knight also was in attendance; he and other uniformed sheriffs likely are permitted to participate in such campaign events because they are elected, constitutional officers. To support the point, Gualtieri cited an opinion by the Florida Commission on Ethics allowing similar activity.
But other law enforcement employees are not allowed to participate in campaign activities on the clock. And it's what the agency's public-facing Facebook page published and who published it that could be an issue.
Although the post sharing the video went live to the agency's page just after 11 a.m. Monday, it was deleted sometime Wednesday afternoon.
The Facebook page is an extension of the communication efforts of the office, run by someone whose salary is taxpayer-funded, much like the many others across the state.
"Isn't this the 'official' page of the SCSO? What is a political endorsement doing on this page? When did this become legal and/or ethical?" Bill Thompson wrote, in part.
And another: "Please don't use my tax money for highly partisan purposes!"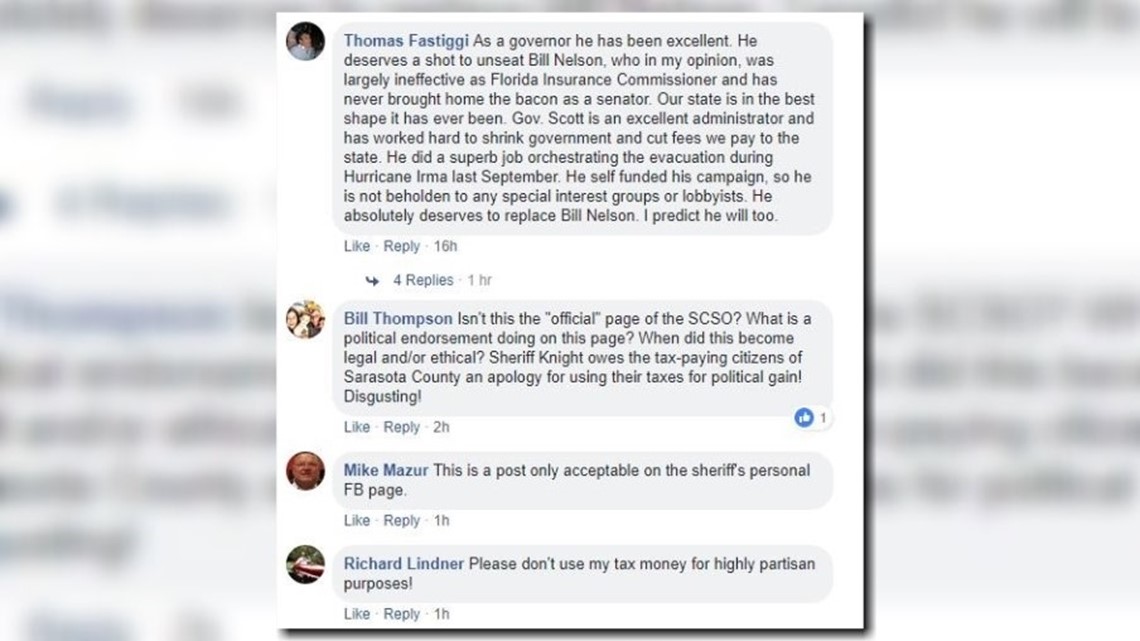 Western Michigan University Cooley Law School professor Brendan Beery said the statute isn't clear in exempting elected officials, and the ethics opinion mentioned by Gualtieri is about uniformed law enforcement campaigning for office, not endorsing.
It's "definitely a complicated issue," Beery said. "It does seem to me like somewhere along the line this is a problem. The purpose of the statute is to prevent civil servants from participating in partisan campaigns when it's their job to serve all constituents without any appearance of bias or prejudice.
"At least that would be the most obvious purpose behind the statute. Since constituents are complaining and feeling slighted, it would appear that that purpose has been undermined here."
When asked for a statement regarding the Sarasota sheriff's office post, spokeswoman Kaitlyn Perez replied, "The Sheriff supports Governor Rick Scott as he has supported and continues to support law enforcement and legislation related to law enforcement."
It did not address whether it is acceptable for a law enforcement agency to engage in political activity.