ORLANDO, Fla. — President Donald Trump is officially kicking off his 2020 re-election campaign with a rally at the Amway Center in Orlando today.
Refresh this page for the latest updates from the rally.
RELATED: Trump launches re-election bid Tuesday, still selling 'outsider' role
RELATED: Why is President Trump launching his re-election campaign in Florida?
9:33 p.m.
As usual, the Rolling Stones song "You Can't Always Get What You Want" comes on as the president concludes a rally.
8:59 p.m.
President Trump brings on outgoing press secretary Sarah Huckabee Sanders, again hinting she will run for governor of Alabama.
She thanks the president for giving her the job, calling it an "honor of a lifetime."
RELATED: White House press secretary Sarah Sanders leaving Trump administration
8:53 p.m.
"That's why I stand before you tonight to officially begin my re-election campaign for president of the United States."
8:49 p.m.
President Trump asks the crowd to decide between "Make America Great Again" or "Keep America Great" as the 2020 slogan.
The crowd votes with cheers for "Keep America Great."
8:41 p.m.
"The only thing these corrupt politicians understand is an earthquake at the polls."
The president has railed against corrupt politicians and "Crooked Hillary," repeatedly mentioning 30,000 emails he said were "acid washed."
Here's what FactCheck.org has to say about "acid washing" emails.
8:27 p.m.
The president says no one has been tougher on Russia and denounces the Russia investigation as "a witchhunt."
He revives accusations that his campaign was spied on.
8:15 p.m.
President Trump says he at first thought about not holding the rally in Orlando because if there were a few empty seats, the "fake news" would say he failed to fill the arena.
He calls Florida his "second home."
"Our future has never looked brighter or sharper. The American dream is back."
8:10 p.m.
President Donald Trump and first lady Melania Trump step out to Lee Greenwood's "God Bless the USA." As the song ends, a "USA, USA" chant starts.
Melania speaks, saying she was proud to be first lady for two years and is looking forward to being it for the next six years. Then she introduces her husband.
7:55 p.m.
Vice President Mike Pence and his wife Karen step onto the stage to the strains of Free's "All Right Now."
"It is great to be back in the Sunshine State," he tells the crowd.
He says America needs four more years of President Donald Trump.
"It's on, everybody."
Pence says President Trump promised to make America great again, "and that's exactly what we've done."
Pence says the president has made unprecedented investments in securing the U.S. border with Mexico. The crowd chanted, "Build that wall!" — one of Trump's catchphrases.
He is also crediting Trump with delivering 5.8 million jobs since the last election and says four more years means more jobs and judges. He says: "It's going to take at least four more years to drain that swamp."
He says, "As the campaign begins, I encourage you: Bring all your enthusiasm and have faith."
6:39 p.m.
(AP) Opponents of President Donald Trump's re-election announcement Tuesday in Florida are launching their protests at a nearby gay bar where a mariachi band and a drag queen will perform in what organizers say will be a public rebuttal to the president's policies.
Organizers of the "Win With Love Rally" said Trump's announcement in Orlando on Tuesday night is an affront to a city with a visible gay community and a large Puerto Rican population. Orlando is at the center of the Interstate 4 corridor, stretching from Tampa to Daytona Beach, which is considered the swingiest part of the nation's largest swing state.
Opponents blame the Republican president for holding up disaster aid to Puerto Rico over a feud with Democratic leaders on the island. The Trump administration also has moved to revoke newly won health care protections for transgender people, restrict their presence in the military, and withdraw federal guidance that trans students should be able to use bathrooms of their choice.
WATCH: People protest President Trump at Orlando rally
6:25 p.m.
(AP) President Donald Trump has arrived in Orlando, Florida, where he is set to kick off his re-election campaign with a rally.
Campaign advisers say Trump will seek to connect his first term to the goals he hopes to achieve with four more years as president.
They say his brash version of populism, combined with his mantra to "Drain the Swamp," still resonates, despite his administration's cozy ties with lobbyists and corporations and the Trump family's apparent efforts to profit off the presidency.
Trump supporters began arriving as early as Monday for the Tuesday night campaign rally, braving downpours and listening to a cover band playing Southern rock standards.
Democrats say Trump won't be credible running again as an outsider, and they claim that he's made life harder for people after two years in office.
6:10 p.m.
5:40 p.m.
5:15 p.m.
(AP) A boisterous crowd of thousands of supporters has gathered in front of the Amway Center arena in Orlando, Florida, hours before President Donald Trump will hold a rally to formally launch his re-election campaign.
A cover band on a stage played Southern rock standards such as Lynyrd Skynyrd's "Sweet Home, Alabama."
Vendors for blocks around sold water, as well as pins, hats and T-shirts with slogans including "Trump 2020" and "ICE ICE Baby." In the summer heat, some women wore "Make America Great Again" bathing suits.
Fifty-six-year-old Margaret McDeed says she came from Tampa and supports Trump because "his policies are for the American people." She adds that, as a tax accountant, she's seen savings from the Republican-backed tax cuts.
Thirty-three year old Alex Fuentes wore a shirt that said "Make Democrats cry again." The rally is set to begin at 8 p.m. local time.
4:56 p.m.
3:52 p.m.
The Associated Press contributed to this report.
PHOTOS: Trump re-election rally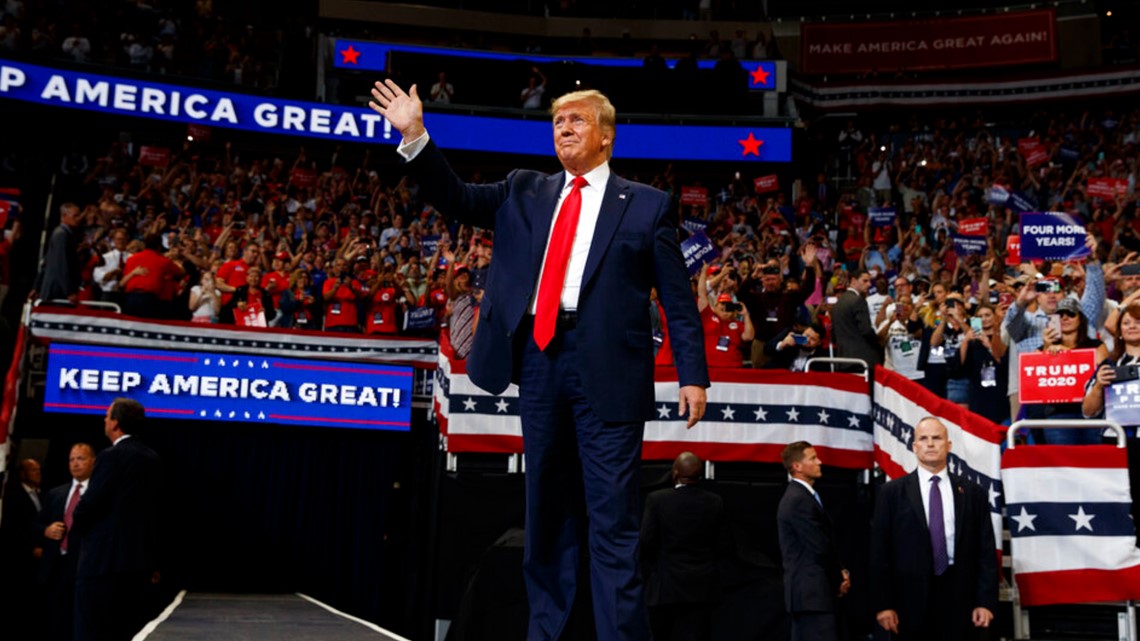 What other people are reading right now:
►Make it easy to keep up-to-date with more stories like this. Download the 10News app now.
Have a news tip? Email desk@wtsp.com, or visit our Facebook page or Twitter feed.