PANAMA CITY BEACH, Fla. — President Donald Trump is in the Panhandle, where he was expected to visit Tyndall Air Force Base, then tour the region hit hardest by Hurricane Michael.
The president was then heading to a campaign rally in Panama City Beach.
People living there hope Trump is bringing some good news with him in the form of money.
Michael struck the region almost seven months ago, and many areas in the Panhandle are still suffering as they wait for Trump and Congress to come to an agreement so they can free up hundreds of millions of dollars the region desperately needs.


Thousands of people had already gathered Wednesday for the president's visit.
This is considered his first big rally of his 2020 re-election campaign.
The amphitheater in the park where the rally was being held holds about 7,500 people. There were also several acres of empty space and jumbo screen TVs for the overflow crowd.
The Bay County area turned out huge for Trump in 2016. They are clearly still big supporters. But they hope that the politics that has kept those relief dollars from getting to the region can be put aside so they can finally get the assistance they need.

"America is a generous country. We want to help people. We want to help people and stuff like that," said Panama City resident Gary Beck, "But, like I say, when it comes down to the bickering and all of that stuff, somewhere it's got to stop. It's because it's the American people and it's the innocent that are suffering."
Beck says in his neighborhood there are still people without homes. People who need assistance to pay for basics. Schools are closed. Jobs are gone.
"There's still people in tents. There are people under bridges. There are people out there that had homes. That, one thing though, the grace of God they still have their lives," said Beck.
Trump rally in Panama City, Fla.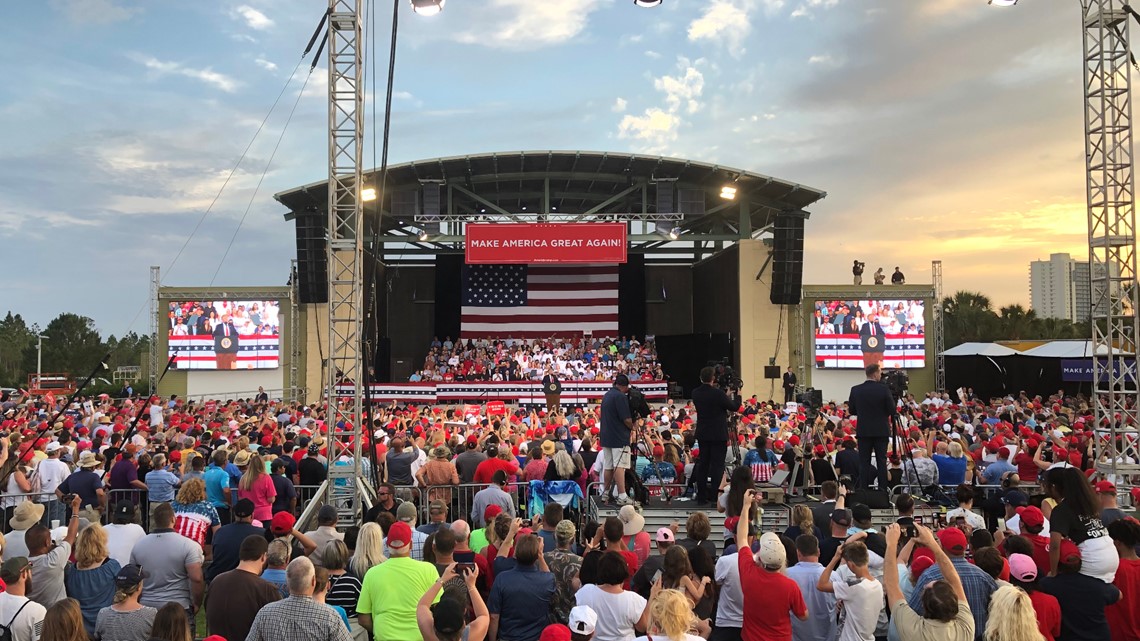 So why isn't the money flowing from Washington to Florida?

The president and Democrats in Congress are butting heads over whether a relief package should also include hundreds of millions of dollars for hurricane-ravaged Puerto Rico.
U.S. Sen. Rick Scott acknowledges the pressure on the president to deliver some good news.

"So, maybe his going there will be the impetus to finally get the Senate and House to come to an agreement and get something done," said Scott. "If I was the president and I was going there, I would say I can't - the president can't sign a bill that Congress doesn't pass."
Despite the inability to deliver a deal up until now, Trump is still very popular in the panhandle, politically speaking, where he carried more than 70 percent of the 2016 vote. And they still have an enormous amount of faith in him.
"If our president went up into on stage and said the moon will turn purple tomorrow, I believe it," said Steve Huber, who calls himself a super-fan. "No, seriously. That's how much love and trust and believe that we have in him. Because he's taught us that," said Huber.
The campaign rally starts at 8 p.m. ET Wednesday.
10News reporter Eric Glasser interviewed several people planning to attend Wednesday's rally.
Related: President Trump invokes 'privilege,' aims to block full report release
Previous: President Trump pardons former US soldier who killed suspected terrorist in Iraq
More: President Trump presents Medal of Freedom to Tiger Woods
What other people are reading right now:
►Make it easy to keep up-to-date with more stories like this. Download the 10News app now.
Have a news tip? Email desk@wtsp.com, or visit our Facebook page or Twitter feed.