The search for 9-year-old Diana Alvarez has come to an end.
Attorney Thomas R. Busatta, who is representing the missing San Carlos Park girl's family, made the statement outside his office in south Fort Myers Wednesday. He also said law enforcement told the family Jorge Guerrero-Torres made "admissions" that place him with Diana at around 3 a.m. the morning of May 29, when she went missing.
Guerrero-Torres, 28, was arrested on federal charges of child pornography on June 7. Documents show investigators found pornographic images on a cellphone they believe to be his. Authorities have not said whether the images are of Diana.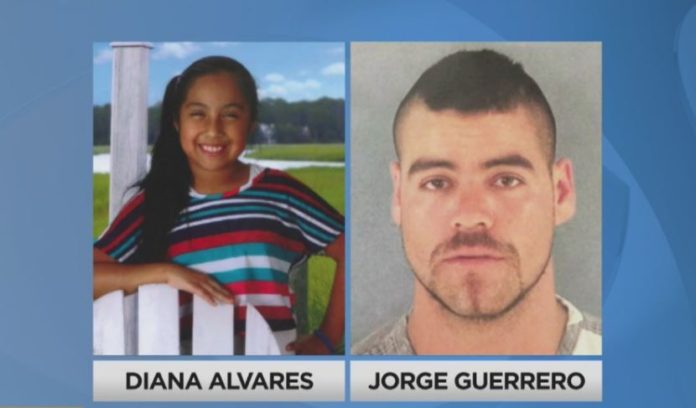 Though the physical search for Diana has been suspended, the investigation is ongoing, Busatta said.
The girl's mother, Rita Hernandez, and her live-in partner Uribe Jimenez, remain focused on finding Diana. Both were visibly upset Wednesday.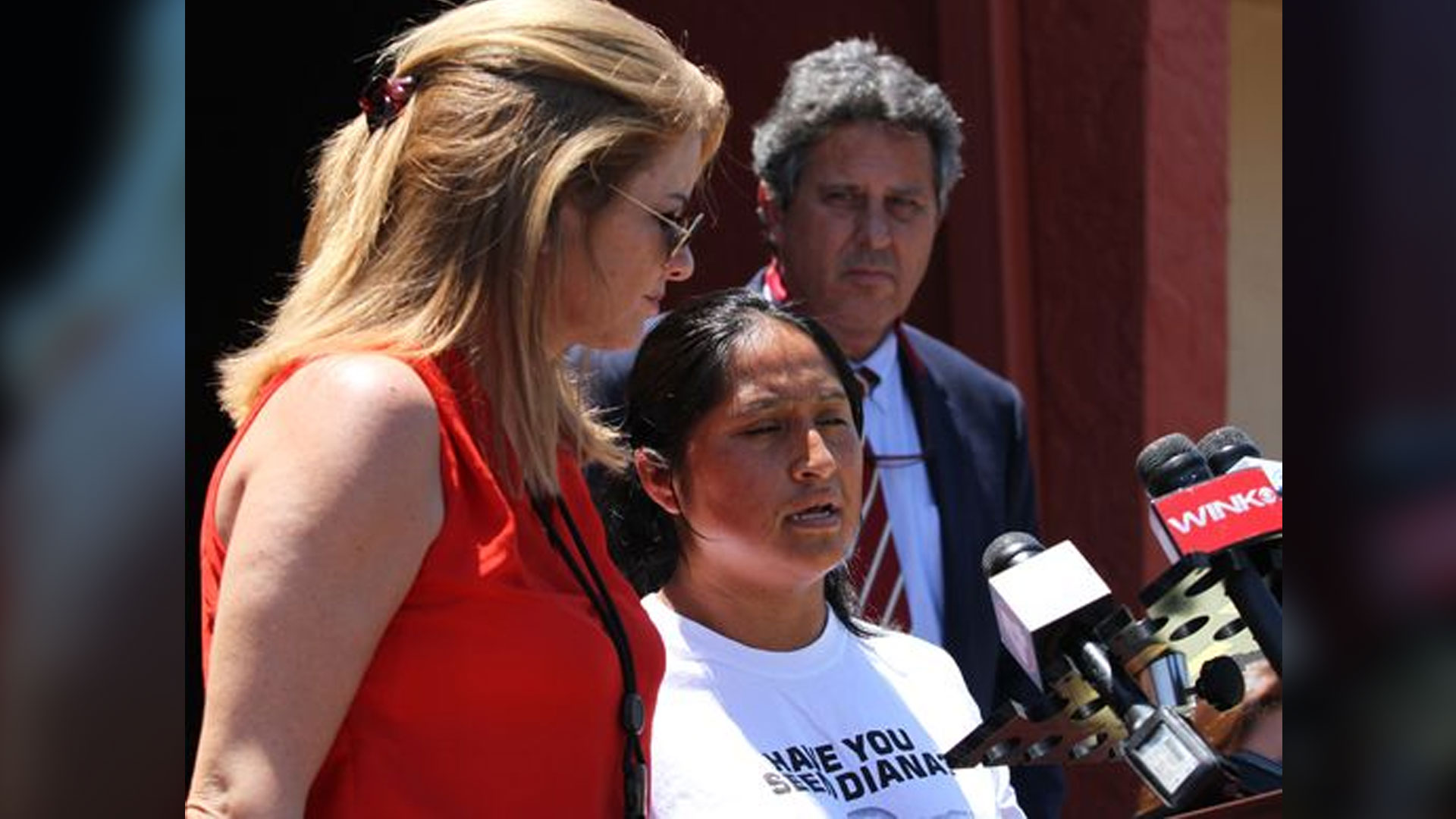 "Diana has now been missing 18 days," Busatta said.
"They have exhausted all avenues as far as a search in the woods," Busatta added.
In a statement, Lee County Sheriff Mike Scott said a wide variety of manpower and resources were used to find the missing girl.
"Weather was an obvious impediment of our efforts in the days following her disappearance, as were other factors I am not at liberty to discuss," he said. "We remain focused in this active investigation and in locating Diana. At this time there are no additional suspects being investigated in this case."
He said his agency, along with state and federal law enforcement, will continue to work the case in search of closure.
Numerous Florida agencies searched north of Lee County for weeks, including in an area near Yeehaw Junction in Osceola County, where Guerrero-Torres reportedly crashed his vehicle, but did not report it to law enforcement, Busatta said.
"That's possibly why law enforcement is searching that area," he said.
Busatta said Hernandez's 6-year-old daughter, in an interview with the child protection team the Sunday Diana was reported missing, said "Diana confided in her that she was running away."
Because of this information, the case may have been treated as a runaway early on, which did not rise to the criteria needed for an Amber Alert, Busatta said.
Diana was reported missing between 6 and 7 a.m. May 29.
The sheriff's office focused their search near the Sheltering Pines mobile home park on Unique Circle where the family lives.
At 7:42 a.m., Jimenez made a phone call to Guerroro-Torres after being instructed to do so by a uniformed deputy, Busatta said.
"The purpose was to get information on if he knew where Diana was," Busatta said.
Guerrero-Torres told Jimenez he was in Orlando and was on his way back to Okeechobee, Busatta said.
"According to Mr. Jimenez , the only thing the officer told him to ask was his date of birth," he said. "If you ask a question like that, where you are and what's your date of birth, it's not conducive to the location of the child."
Hernandez called Guerrero-Torres about two hours later, at which point Guerrero-Torres told her his car had broken down in Orlando.
Busatta said he believes the investigation was handled in a proficient manner. Questions and answers about the investigation could be revealed later on, he added.
A statewide missing child alert was issued for Diana when she went missing. It took three days to issue an Amber Alert. Busatta said he has been told by Lee County authorities that the Florida Department of Law Enforcement denied two requests to issue an Amber Alert.
But, that is not the case, according to FDLE spokesman Steve Arthur.
"The assertion that the Lee County Sheriff's Office tried to issue an amber alert twice but FDLE rejected it, is not accurate," Arthur wrote in an email.
According to Arthur, a missing child alert request was issued by LCSO 11:45 p.m. May 29, more than 12 hours after Diana was first reported missing.
Then on June 2, Lee County authorities requested an Amber Alert be issued which was accepted, according to Arthur.
"We've been in contact with the Sheriff's Office and they agree that FDLE did not reject an (Amber) request," he said in the email.
The sheriff's office did not respond to questions regarding the Amber Alert on Wednesday afternoon.
Initially, investigators focused on Hernandez and Jimenez and were both questioned for more than 10 hours, Busatta said.
Jimenez was asked to take a polygraph and passed, Busatta said.
"They were interviewed," Busatta said. "(Jimenez) was in custody or detained for approximately 13 hours and then was cleared."
When a child is missing, it's the family that you initially look at, he said.
"You have to eliminate suspects," Busatta said. "They did what they are supposed to do in an investigation as far as looking into the immediate family."
Busatta added Guerrero-Torres was questioned early on but released.
A visibly upset Hernandez spoke to the media Wednesday. She cradled her face in her hand after being overcome with emotion.
"I ask that everyone keep praying for Diana," she said in Spanish.
Guerrero-Torres was a onetime friend who became close to Diana after staying at the couple's home. He worked as a migrant worker with Hernandez prior to finding a construction job in Lee County. The couple asked him to leave their home when they noticed he was behaving inappropriately with the girl.
Hernandez sent a plea to Guerrero-Torres during her news conference, asking him that whether Diana's alive or dead, to tell the family her whereabouts. This was the first time Hernandez publicly mentioned her daughter could be dead.
Busatta, who is working the case pro bono, said the family asked him for help about a week and a half ago because law enforcement was not keeping them informed on the case. The latest information from authorities was the FBI had visited with Diana's biological father, Martin Alvarez Moreno, who lives in Mexico, Busatta added.
"We believe the child is not in Mexico," Busatta said.
Alvarez Moreno denied the FBI visited him in Puebla, a southeastern city in Mexico, but said investigators with the agency have been in contact by phone.
An early theory by Hernandez was that Alvarez Moreno had paid to have his daughter transported across the border. But, Alvarez Moreno denies that.
"I've given them my address," he said in Spanish when reached by phone Wednesday, "but until now, nothing."
A request for clarification to the FBI went unanswered Wednesday.
He was disappointed to learn the physical search for Diana was halted.
The father was deported from the United States last year and has had little contact with his children.
"We are here fighting for her," Alvarez Moreno said. "The little we can do, we are doing."
Jimenez and Hernandez said they were appreciative of the interest Diana's case has generated.
"Just don't forget Diana," Jimenez said. "This is not going to stop right now, right here."