Are Florida lawmakers using the negative sentiment generated against Planned Parenthood by those now-debunked videos to pass tougher laws restricting a woman's access to abortion?
Planned Parenthood says the answer is yes.
On Thursday, the organization pushed back against what it says are proposed laws that will actually hurt women's healthcare, not help.
"Floridians, and especially Florida women deserve better," said Anna Eskamani, a spokesperson with Planned Parenthood in Florida.
Supporters of Planned Parenthood in Polk County gathered in front of State Senator Kelly Stargle's office in Lakeland Thursday.
Stargel is a sponsor of a bill that would tighten rules and restrictions on Florida's abortion clinics.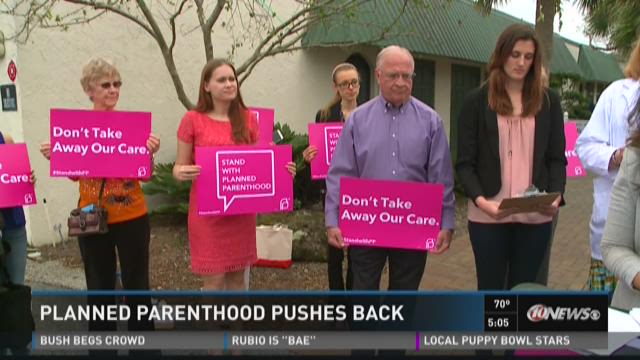 Among them, the proposed law would block state funding for any services to clinics which provide abortions. Exceptions would include rape, incest, or if the health of the patient is jeopardized.
It would also require physicians working at abortion clinics to have hospital privileges at a medical facility within a reasonable distance. Stargel says they have defined that as within 30 minutes.
Planned Parenthood says such regulations are unnecessary, and have even led abortion clinics in other parts of the country to close.
"They're doing is under the guise of protecting women's health, but we know what the truth is," said Eskamani, "And the reality is that abortion is an incredibly safe medical procedure."
Planned Parenthood operates 16 of Florida's 65 abortion clinics.
If you put them out of business, Planned Parenthood says thousands of women will actually be harmed, not helped by the legislation, by losing access to much more than reproductive services.
"Including birth control, life-saving cancer screening, STD testing, and treatment and well woman exams," said Kathryn Hall, a nurse with Planned Parenthood.
The same group was joined by Juan Lopez, a spokesman for U.S. Representative Alan Grayson, a democrat representing the ninth congressional district in Central Florida.
"Such care is particularly important for women," said Lopez, "like the 500,000 women in Florida excluded from Medicaid by the Republicans malicious refusal to expand Medicaid to them."
Ken White, pro-life advocate from Riverview came to the news conference quoting Bible verse in opposition.
But Senator Stargel insists her bill, which would also prevent Florida's abortion clinics from receiving Medicaid reimbursement or federal grants, is not about religion.
"Regulation of public facilities is not a religious discussion," said Stargel, "It's a public health and safety discussion."
Stargel says the bill still faces two committees in the Senate, and one in the state House or Representatives.
Whether the bill passes or not, its constitutionality is already up for discussion.
In Texas, where similar laws with similar restrictions were recently passed, they've already appealed all the way to the US Supreme Court - which is expected to rule on them in June.
To see the full text of the proposed bill in Florida, click here.