ST. PETERSBURG, Fla. — Captain Randy Lopez manned the steering wheel of his pontoon boat as a half-dozen kids cheerfully scanned the horizon for manatees and dolphins. A smile crept over his face.
"As my wife calls it, 'You're going to work,'" he said with a chuckle, making air quotes with his fingers as he said "work."
It doesn't feel like a job to Lopez, who spends most days on the water. Tuesday morning, he chauffeured kids all over Weedon Island Nature Preserve in his boat, accompanied by his son, Maks. The kids in his boat, ranging in age from 8 to 14, were all participants in the City of Tampa camp called Mangrove Marcus.
"It's a good life. I have to tell you that," said Lopez, who spent 33 years as a Tampa police officer, including 20 of those years on the marine dive team.
Retirement suits him. Seeing the happiness on kid's faces, like 12-year-old Mireilla, is worth the hours in the sun.
"It's very cool and I'm very thankful to have this experience," she said after seeing a manatee surface just a few yards from Lopez's boat. "You wouldn't think it, but they are really, really slow."
While working for TPD, Lopez and the Marine Patrol & Dive Team have supported the "learn how to snorkel program" for the Mangrove Marcus Summer Camp. Lopez has been supporting Mangrove Marcus since 2001.
He and his wife, Rachel, have started their own boating company, Blue Line Boating. Maks enjoys tagging along on camp days and dutifully hands out cold drinks to the other kids on the boat.
The goal is to experience nature in a new and real way.
"It's cool to see them out in the wild because that's where their natural habitat is and not, like, in an aquarium," pointed out 14-year-old Samantha after seeing her first manatee from Lopez's boat.
Mangrove Marcus is entering its second decade as a Tampa-area camp, which partners with the Loretta Lynn Rec Center and Sweetwater Kayaks. The purpose of the camp is to make boating, kayaking and paddleboarding possible for kids who may otherwise never be able to experience those activities.
'I like kayaking better than paddleboarding because kayaking is much easier but it wears out your muscles," said 8-year-old Edith as she bobbed in a kayak at the Weedon Island Nature Preserve.
Nearby kids gawked at a blue crab swimming to the safety of the mangrove shade.
"They are like, 'Wow, this is really cool seeing the animals dive in the water and stuff'," said Mangrove Marcus counselor Cailey Perkins. "It's really neat for them to get out and see wildlife around them and see what it's like around here."
Retired Tampa cop helps kids experience Florida waters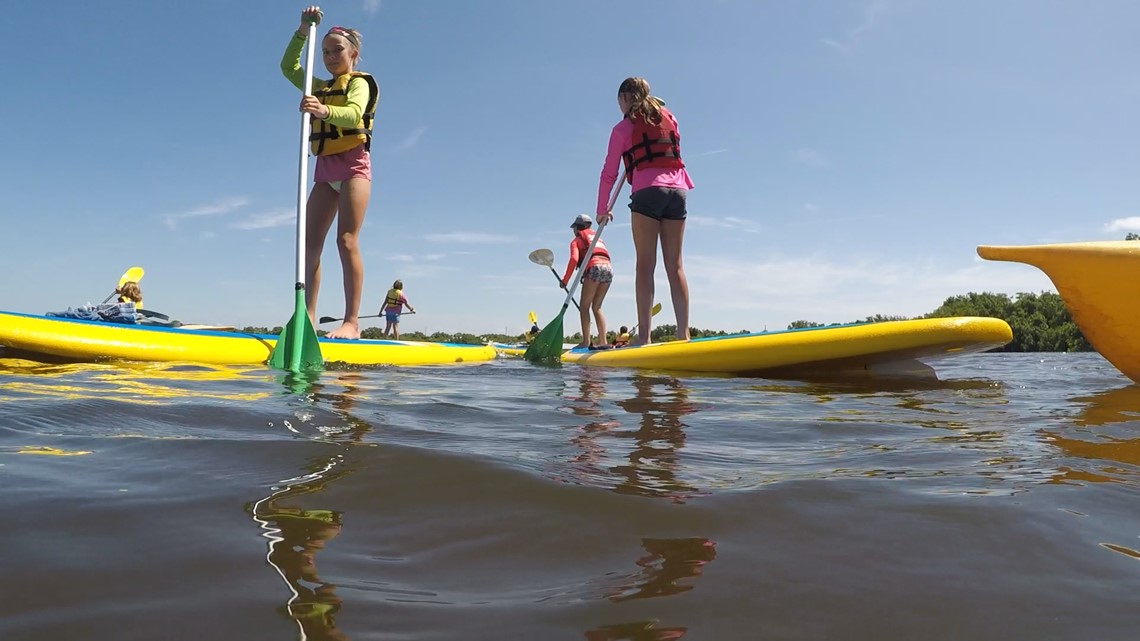 Mangrove Marcus was started 20 years ago by a biology teacher from Robinson High School named "Mangrove Marcus" and Peggy Lenny. Loretta "Lo" Pippin helped Mangrove Marcus transition from a science camp to an aquatic camp with an introduction to conservation awareness 15 years ago. Camps run weekly during summer months.
Children experience multiple water-related activities during the week-long camp:
Mondays: Swim test at Martin Luther King, Jr. Pool
Tuesdays: Weedon Island to meet Captain Randy Lopez of Blue Line Boating. We will spend the day boating, kayaking, paddling on SUP's and exploring the island. Sweetwater Kayaks provides the kayaks and paddleboards
Wednesdays: Swim and snorkel training at MLK Pool followed by an actual snorkel trip to Picnic Island
Thursdays: Visit the aqua playground at Sun West Park
Fridays: Tour Crystal Springs Foundation's habitats and learn about Florida's magnificent aquifer system. Explore the Hillsborough River and its spring runs. Perform a biodiversity survey by catching and identifying the invertebrates and vertebrates that live in the waters of the preserve.
What other people are reading right now:

►Make it easy to keep up-to-date with more stories like this. Download the 10News app now.
Have a news tip? Email desk@wtsp.com, or visit our Facebook page or Twitter feed.