Tampa's internal cemetery task force raises transparency concerns
The internal task force worked on city policy, but kept meetings among city staffers and invited guests. Experts say this violates the spirit of the Sunshine Law.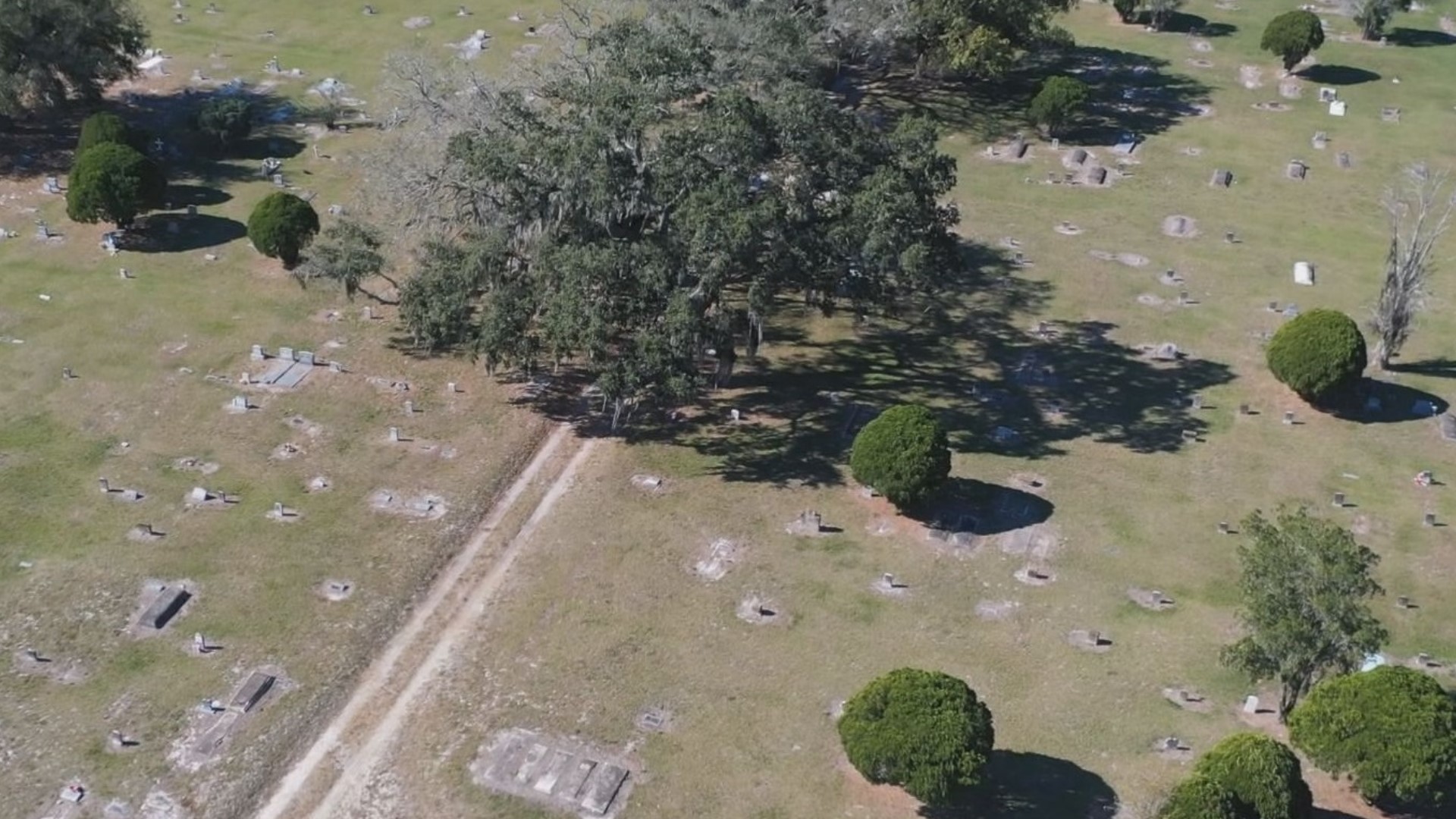 Hundreds of graves from destroyed Black cemeteries in Tampa lie disturbed under public housing apartments, private homes, a towing lot, a church lot and vacant business property.
Since archaeologists began making the discoveries in 2019, community leaders and lawmakers have called for action.

Both the city and the state formed task forces to address concerns.

Florida Gov. Ron DeSantis signed a bill that formed a task force to search for erased cemeteries and develop strategies for preservation, restoration and protection of these sacred places across Florida.
The group included lawmakers, archaeologists, historians and community leaders. Meetings were broadcast on The Florida Channel for anyone to watch.

Finding out what the city of Tampa's task force discusses has required more work.
Forming a Task Force
: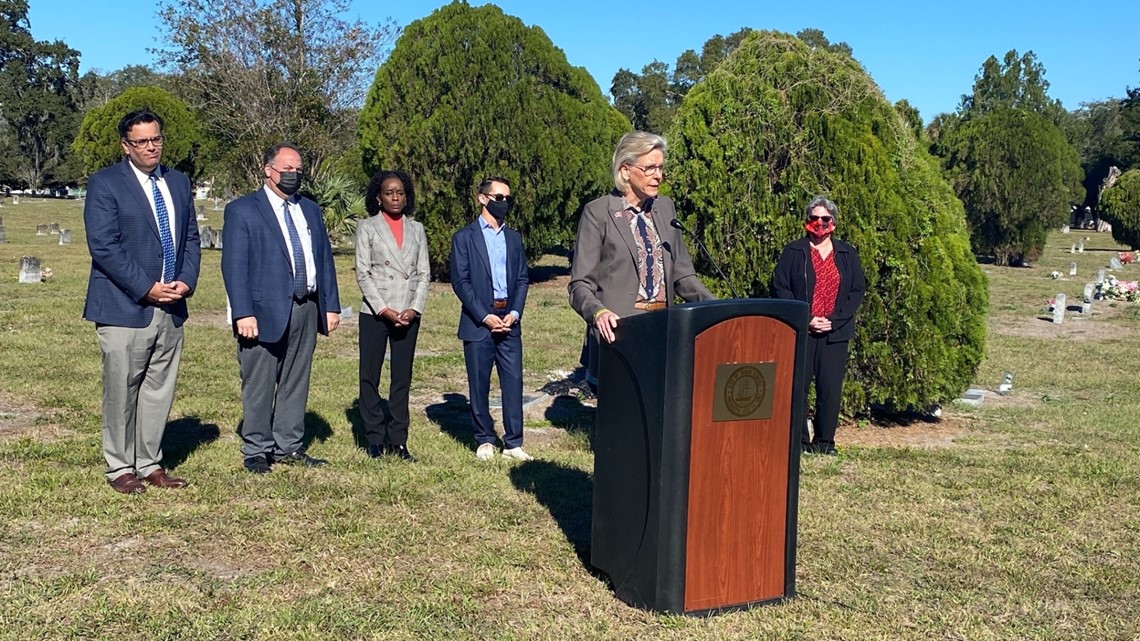 Standing beside the marked graves of those laid to rest at Memorial Park Cemetery in East Tampa last January, Mayor Jane Castor uttered powerful words.

"We can't right past wrongs, but certainly, we can acknowledge those and can apologize for the wrongs of our community in the past," she said.

The city was holding a press conference to announce it would be taking over maintenance for Memorial Park after its owner died in 2019. The move was one of several steps taken to prevent the cemetery from falling into disrepair — or even worse — becoming erased.

"This particular cemetery was abandoned, so the city took it over [and] ensured that it is kept in a manner that reflects that respect that we have for everyone who is buried here," Castor said.

Castor also announced the city was working to change its land-use policies for city-owned cemeteries. The push to change the land use policy came in part from the city of Tampa's Cemetery Task Force. The mayor announced at the January press conference this task force had been created formally in 2021.
RELATED: Tampa mayor, city leaders look to protect historical burial grounds previously forgotten, abandoned

"I think the very first important decision that we made is to work with our city council and change our land-use code -- cemeteries to park space, and open land," Ocea Wynn, task force leader and administrator for the city's Department of Neighborhood and Community Affairs said. "And that's important because that allows it to be a more challenging process to use the cemeteries for anything other than a cemetery."

This will protect city-owned land. It does not address pressing concerns around Zion, the cemetery that was a catalyst for the task force, or other cemeteries rediscovered afterward.

With Zion Cemetery, developers re-parceled the land and built public housing apartments and businesses over hundreds of graves in the mid-1900s. Construction crews found bones while working but continued anyway.
The land-use change would also not address concerns about what was once the St. Joseph Aid Cemetery in East Tampa. 10 Investigates found where the state took ownership of the cemetery land while burials were still active. It later sold the land, which was re-parceled and redeveloped. Today, there are four homes and a church lot over the property.
At Zion, archaeologists confirmed nearly 300 graves between three parcels of land that belong to the Tampa Housing Authority, Sunstate Wrecker Service and the Columbia Restaurant Group.

The newly-formed Zion Cemetery Preservation and Maintenance Society asked Mayor Castor in July for help in reuniting the land parcels through a land swap so affected businesses are compensated and the cemetery can be under one ownership.

"With each year that commercial activities continue to operate on top of what we know are intact burials, the desecration of this cemetery continues," Zion Cemetery Preservation and Maintenance Society president Fred Hearns wrote in a letter to Castor. "We feel a sense of urgency to find a solution to allow these business operations to relocate and we ask for your assistance in this respect. We feel only the City of Tampa possesses the financial, real estate and political resources necessary to expedite a solution to this concern," he wrote.

The city has not agreed to a land swap but offered legal services to help form the Zion nonprofit. It also announced it would donate $50,000 toward a memorial.

Community leaders have said the money is not enough to restore the cemetery.


Wanting More Accountability
:
Community leaders want city officials to be more involved in the process of search, restoration and preservation of cemeteries like Zion and St. Joseph Aid.

"It really hasn't been much of a conversation with the city as of now," Yvette Lewis, president of the Hillsborough County branch of the NAACP said.
She served on the state's task force for abandoned African American cemeteries but says she knows little about the one for the city.

"I've always expressed interest in wanting to be involved," she said.

The task force sent the NAACP a letter last October informing Lewis of the progress and purpose of the task force, but Yvette says there has been no invitation to be part of the group.

Wynn explained this is because the task force is for city staffers and departments to assess and vet cemetery concerns.

"The purpose of the internal task force is for us to really assess those interests in the community internally with the city departments who may have an interest," she said.

Wynn says this is an especially important issue to her. "It is important to me because being an African American, being Black, and knowing that a number of these cemeteries are like African American, or even of Native American heritage, that I feel that I have a vested interest to make sure that these cemeteries are protected."
Sunshine Law Questions
: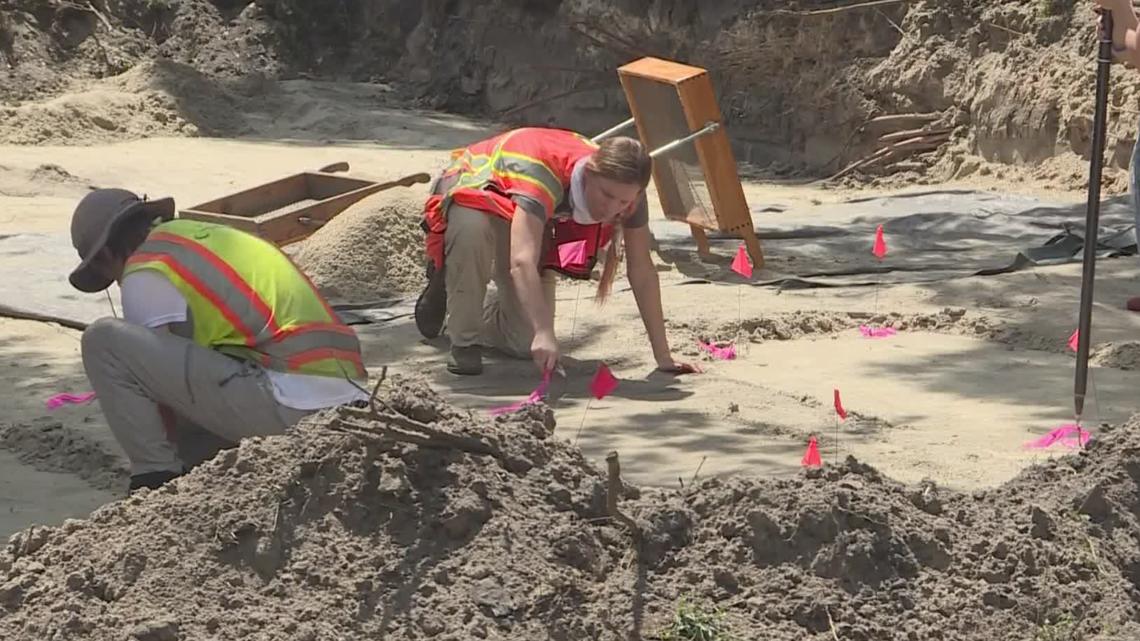 An internal task force is not automatically subject to Sunshine Law, but attorneys with the First Amendment Foundation say some of the group's proceedings raise questions.
Records show since 2021, the task force has met roughly twice a month to discuss issues on zoning, real estate, policy and other research related to cemeteries. The discussions primarily center around destroyed Black cemeteries in the city like Zion, but other cemeteries have been included in the conversations.

"In January, we told the public we have an internal task force...and this is what we've been able to accomplish as a result of the internal task force. So, it's not like we're hidden," Wynn said. "We announce it, we share that information with the public that this is what the city staff is doing."

Wynn said because the task force is internal, meeting notices are not publicly posted.

Pamela Marsh, president of the Tallahassee-based First Amendment Foundation says it is good the city has invested time and resources to address these issues, but there could be conflicts with the Sunshine Law.

"Staffers who work for public officials are not subject to the Sunshine Law," Marsh said. "But if this is an advisory board gathering information to make policy or even to make policy recommendations, they are making decisions for the public, and those meetings should be open under the Sunshine Law."

City officials say one of the task force's main accomplishments has been changes in zoning policy for city-owned cemeteries. Smith said according to the city's legal department, the task force has not broken any open meeting laws because members only share ideas and research.

"Zoning decisions are one of the premier kinds of meetings and decision-making that should be open to the public and have public participation," Marsh said.

Records show the task force is looking into issues related to zoning, real estate and how the cemetery issues should be handled. Other governments and community groups have presented to the task force and in some cases worked with members to advance local policy.

"If this task force is truly making decisions for the city of Tampa, in a way that will affect burial grounds and cemeteries where people should be honored, that seems like a critical point in which the public should be participating," Marsh said.

Virginia Hamrick, staff attorney for the First Amendment Foundation, also raised concerns.

"One thing is in the description of what the task force does--vetting proposals," she said. "When a committee is vetting and reviewing and going just beyond fact-finding and actually making recommendations to a commission...courts have said that needs to be done in the public."

Hamrick says that even if there is a final vote that takes place in public, that skirts the purpose of the Sunshine Law.
"It's not meant to give one final opportunity for the public to see what their government is deciding and how they're going to vote," she said. "It's meant to open up again a decision-making process and bring the discussion of public business to the public..."

Hamrick says when the public is not aware of government actions it can't be a part of the decision-making process.

"While it might not violate the letter of the law…the creation of a task force with limited input does frustrate the very purpose of the law. This is the Sunshine State. We're meant to have a government in the Sunshine State."

Emerald Morrow is a reporter with 10 Tampa Bay. Like her on Facebook and follow her on Twitter. You can also email her at emorrow@10TampaBay.com. To read more about the search for lost African American burial grounds in the Tampa Bay area, head to 10tampabay.com/erased.