COLUMBUS, Ohio – An investigative report released by Ohio State University on Wednesday night found head football coach Urban Meyer threatened to fire an assistant coach several times for domestic abuse allegations.
Investigators found Meyer had memory issues and sometimes takes medications that impair his memory.
On Wednesday night, Ohio State announced Meyer is suspended for the first three games of the 2018 season.
An independent investigative committee wrote the 23-page report to investigate how Meyer and Ohio State's athletic director handled allegations that former wide receivers coach Zach Smith was physically abusive to his former wife, Courtney.
"We also learned during the investigation that Coach Meyer has sometimes had significant memory issues in other situations where he had prior extensive knowledge of events," the report states. "He has also periodically taken medicine that can negatively impair his memory, concentration, and focus."
Related: Social media reacts to Ohio State giving Urban Meyer 3-game suspension
On July 24 at the Big Ten Media Days event in Chicago, Meyer claimed not to have known about 2015 domestic abuse accusations against Smith. At that time, Meyer claimed he knew only about similar allegations against Smith in 2009 when they both worked at the University of Florida.
Meyer later admitted to knowing about the 2015 allegations – but said he followed proper protocol and reported them. He did not say to whom he reported the information about Smith.
The Ohio State investigation concluded Meyer did not "deliberately lie" during Big Ten Media Days.
The report released Wednesday night also revealed Smith took high school coaches to a Miami strip club during a recruiting visit in May 2014. The report states another Ohio State football coach joined Smith at the strip club. However, the report does not identify the other coach.
An iPhone screen capture of a checking account statement dated May 8, 2014, found Smith spent about $600 of his own money at the strip club.
The report states Meyer was aware of the coaches' trip to the strip club. Meyer said he did not know how much money they spent.
Meyer "reprimanded Zach Smith, warning him that if it happened again, he would be fired," the report states.
The report found Meyer did not report the strip club visit to the compliance department.
Related: Click or tap here to view the full investigative report
Ohio State director of football operations Brian Voltolini was also aware of the strip club visit. Voltolini has held his current position since December 2011, which is right after Meyer was hired to coach the Buckeyes. He also worked with Meyer as director of operations at the University of Florida from May 2006 through January 2010.
The report states Meyer and Voltolini spoke on the Ohio State practice field on Aug. 1 about college football reporter Brett McMurphy's story, which alleged Meyer was aware of Smiths' domestic abuse allegations.
"The two discussed at that time whether the media could get access to Coach Meyer's phone, and specifically discussed how to adjust the settings on Meyer's phone so that text messages older than one year would be deleted," according to the report.
Meyer turned his phone over on Aug. 2. There was only the last year's worth of text messages on it.
"It is nonetheless concerning that his first reaction to a negative media piece exposing his knowledge of the 2015-2016 law enforcement investigation was to worry about the media getting access to information and discussing how to delete messages older than a year," the report states.
On Wednesday night, USA TODAY Sports reporter A.J. Perez said Smith's attorney Brad Koffel released the following statement on Meyer's suspension:
"Zach Smith married a woman he should not have married. Vengeance against her ex-husband regrettably resulted in collateral damage to Urban Meyer, Gene Smith & The Ohio State University."
Urban Meyer through the years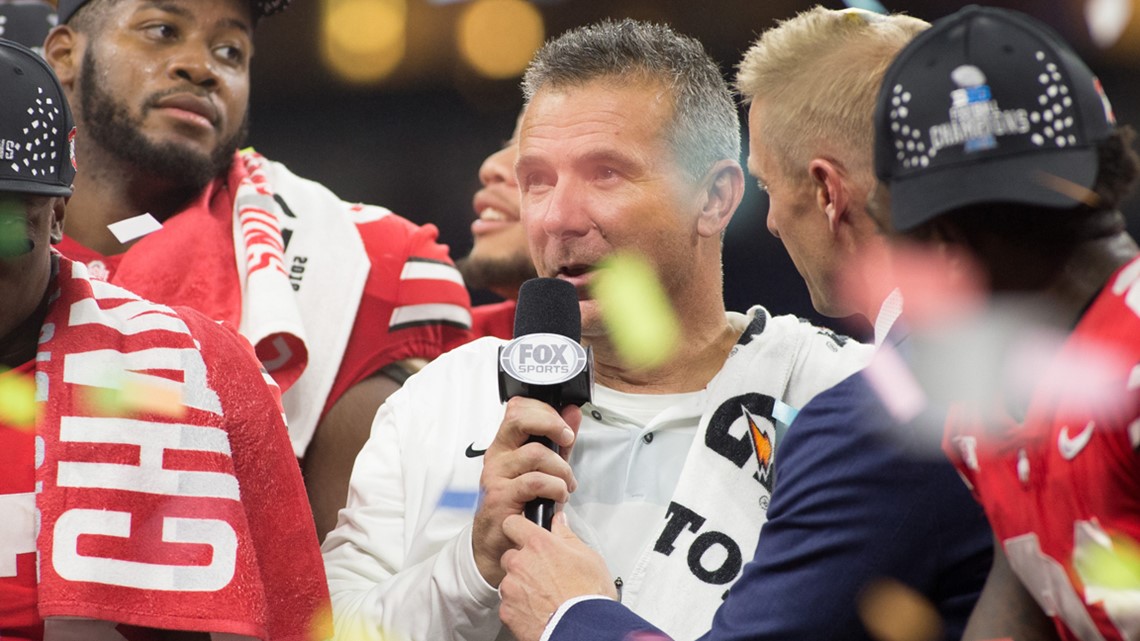 Photos: Urban Meyer through the years
This is a developing story. Refresh the page for the latest information.
USA TODAY contributed to this story.
►Make it easy to keep up-to-date with more stories like this. Download the 10News app now.
Have a news tip? Email desk@wtsp.com, or visit our Facebook page or Twitter feed.