YORK COUNTY, Pa. — It's something a lot of kids dream about; becoming a well-known athlete and seeing their face in sports ads around the country.
However, one York County runner made that dream come true before even finishing middle school. It came as a surprise to Sophia Rodriguez and her family that she was going to be a world record holder.
"She's in her element. She gets very competitive and very focused," said Sophia's dad, Gabriel.
That's one way to describe the young star. Sophia is currently an eighth grader at Dallastown Area School District and she's one of the top distance runners in the county.
"The grind and knowing the outcome of it all [is why I run]. That my hard work will showcase, I think just working on getting one percent better every day and focusing on the little things," said Sophia.
Before the Nike Indoor Nationals, Sophia was selected to be featured on a billboard in Times Square that said "Future Record Breaker."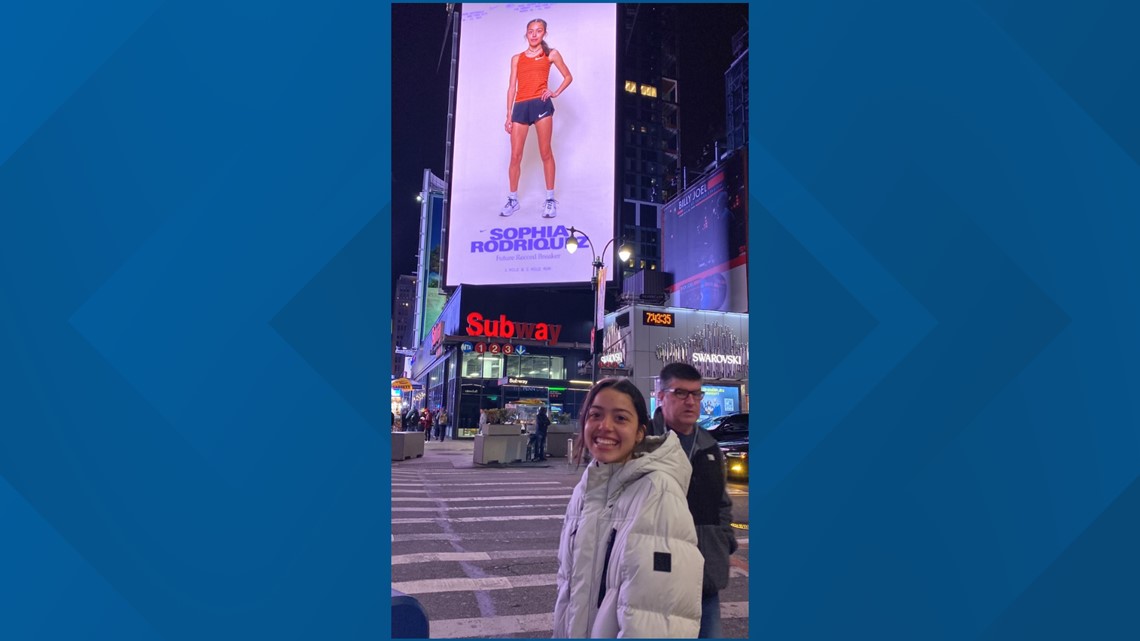 And would you believe it? Right after that, she set a new world record in the two-mile at The Armory in New York City.
"It definitely means a lot," Sophia told FOX43. "I don't think it's fully sunken in yet, but it's pretty cool."
Here's the kicker: Sophia didn't even find out she was a world record holder until her coach did some digging after they got back from the Big Apple.
"I just saw this international age group thing, so I clicked on it and I started running down through it. Click on two miles, U14 and I'm like, 'Oh.' I had to double-check the time because I knew it was so ultimately close," said Dallastown's track and field coach Mike Schuler.
Try one-hundredth of a second close, running 10:20.68 when the record was 10:20.69. That old record stood for 44 years.
Her parents say it's hard for them to hold back the excitement while Sophia is running.
"I don't just sit back, I cheer like crazy," said Sophia's mom, Gabriel. "We lead a very active lifestyle, we're diehard runners. Her soccer coach instilled this discipline and this desire to get better and she's carried that over."
But she isn't done there, last week Sophia ran the 5,000 meters at the Adidas Track and Field Indoor Nationals in Virginia Beach. She ran the fastest time indoors for middle schoolers and had the second fastest time with high school combined, throughout the entire country.
She is now turning her attention to outdoor track and although she set the world record in the two-mile indoors, she still has time to better it as she'll be 14 for a few more months.
According to her dad, Sophia has her sights set on running 20 seconds faster.