American Pharoah nears 100 pregnant mares with his foals since retirement
<p><span style="color: rgb(20, 24, 35); font-family: helvetica, arial, sans-serif; font-size: 14px; line-height: 18px;">Once the ruler of the racetrack, he's now king in the high-stakes breeding game.</span></p>
LOUISVILLE, Ky. (WHAS11) – Famously in the stretch run of the Arkansas Derby on April 11 2015, the race announcer made a bold statement that no one really knew at the time or how it would play out – "He has not been asked the question, but everyone knows the answer. He is indeed the ruler."
American Pharoah is not only horse racing's ruler, but he's king of the court at the Buckingham Palace of thoroughbred horse farms, Ashford Stud near Versailles, KY, just minutes from Keeneland, where Pharoah's career ended in October 2015 with the Breeder's Cup Victory.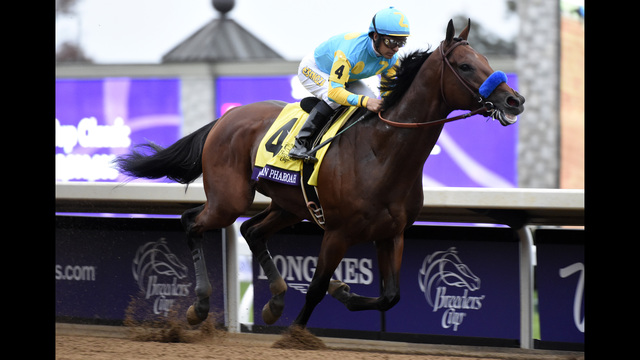 Sandra Stevens is a race fan from Hardy, Kentucky visiting Ashford Stud.
"How big is seeing American Pharoah? As good as meeting the President of the United States," she said.
He is a man of the people and at Ashford, Scott Calder sees it every day.
"He is pretty unique for a stallion. He's very laid back. Yeah, he's unflappable really, he's an easy horse to have around the place," he said.
That's right, the hard charging three-year-old on the track, according to stallion manager Richard Barry, is, well, "He's as quiet as a lamb, never done anything bad he's a pure gentlemen to be around. He's a very good boy. Compared to the rest of them, he's a saint!"
American Pharoah the Kentucky Derby winner is now 150 pounds heavier.
The runaway winner of the Preakness in the pouring rain is now a busy, money-making stallion with more than 90 mares pregnant with his foals.
The winner of the Belmont, the first horse to win the Triple Crown in 37 years, is now rolling in the mud in the mornings and still the hottest ticket in Kentucky.
"We get friends of friends calling here and we've had quite a bit of famous people interested in seeing him," Calder said.
Five days a week, the public is invited in behind the historic walls. Founded in 1912 at nearly 500 acres, Ashford Stud has grown to over 5,000 acres.
It was created by the king of bourbon at the time, Colonel Edmund Taylor of the Castle: Old Taylor Distillery. The home to famous race horses was actually a cattle farm until 1970.
Right on schedule for the daily tours, the cars start pouring in and so do the crowds at 20 bucks a pop.
They are ready with their cameras.
"I was really surprised we got up close and personal with him," Vaneeca Motley of Louisville said.
He does this once a day, five a days a week.
"The beauty, the love, he's got such a heart when you see him, I mean its love," Stevens of Hardy, Kentucky who was smitten.
He stands there, looking right back.
Watch his ears. It's all attention that he absorbs.
It's no accident that he's compared to the other king of racing with heart and personality and a Triple Crown – Secretariat, who died at Claiborne Farm outside Lexington in 1989.
Secretariart still holds the race records for each leg of the Triple Crown, and was a slightly bigger horse than Pharoah.

Calder says the legend of Secretariat has swelled the crowds.
"A lot of people are wondering whether they'd get a chance to visit another Triple Crown winner during their lifetime."
Stallion Manager Barry has a prediction.
"Hopefully he'll still be breeding when he's 20-plus. That's seventeen years. The average is 110 or 120 babies a year."
Meet one of the most important mares in America right now, She's Untouched Talent – the first mare to be pregnant by Pharoah.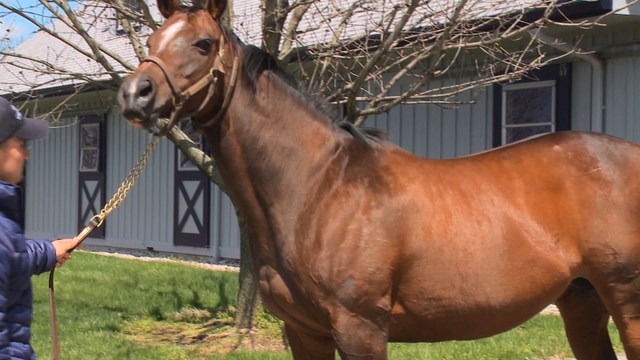 Unlike the calm and cool Pharoah, she is full of herself. She danced all around us while we were there.
When she became pregnant, Ashford Stud announced the news in March with fanfare and posted an ultrasound of the foal at 28 days. She will be pregnant 11 months.
So what do we make of Pharoah's future sons and daughter's?
"My gut feeling is that if he passes 10 percent himself on to these babies, we'll be quite successful," Barry said.
The cost for each breeding session is $200,000. Sometimes Pharoah breeds three times a day, and will do so on Oaks and Derby this year.
Payment is not due until the foal is born, stands and then nurses for the first time.
He's gone from the racetrack and the record crowds, but at Blood Horse Magazine in Lexington, Editor-in-Chief Eric Mitchell says he's still important.
He did something once thought impossible: he reversed a trend.
"I don't think the sport loses anything. If anything the sport gained fans who watched this horse," Mitchell said.
American Pharoah at Coolmore Farm
The policy at Ashford Stud is that these race horses will never have another saddle put on their back.
This is their life from here on out and the pressure remains.
Secretariat's offspring never lived up to his billing.
"His legacy now is everyone's looking forward again when his foals are born, how successful they are going to be, can he sire a Triple Crown winner himself. In the horse business you're always looking forward for the next big horse," Calder pointed out.
To book tours visit www.visithorsecountry.com