TAMPA, Fla. — After more than eight months, the Tampa Bay Buccaneers are finally back at Raymond James Stadium to play an NFL regular season game.
After a slow start, Baker Mayfield looked solid in and out of the pocket, head coach Todd Bowles and OC Dave Canales stuck to an aggressive game plan and the defense was clutch in the biggest moments of the game.
Now in front of their fans, Tampa Bay is looking to keep the good vibes going.
"[We need] more consistency in all three phases," Bowles said after Wednesday's practice. "We've got to play better in a lot of areas. Obviously, [in] the first game, you're getting the jitters out. As we get into the season early on, we should start getting better at a lot of things each week."
Bowles and the Bucs defense are set to have their hands full when quarterback Justin Fields and the Chicago Bears come roaring into town.
Although the Bears lost their first game of the season 38-20 against their rival the Green Bay Packers, the team still has ways to be successful against Tampa Bay.
Fields is a dual threat — he can burn you in a multitude of ways, though his speed is hard to replicate in practice.
Last year, he rushed for 1,143 yards (which was the seventh most in the league) and passed for 2,242 yards. On Sunday, he ran for 59 yards and threw for 216 yards.
Plus, the addition of wide receiver DJ Moore can eventually help Fields elevate his game, even though that wasn't on display in Week 1.
"Everyone has tried [to contain him]. He's probably faster than everybody we have in the front seven," Bowles said of Fields. "It's going to be a team effort – we're going to have to rally to him. They have other guys he can get the ball to."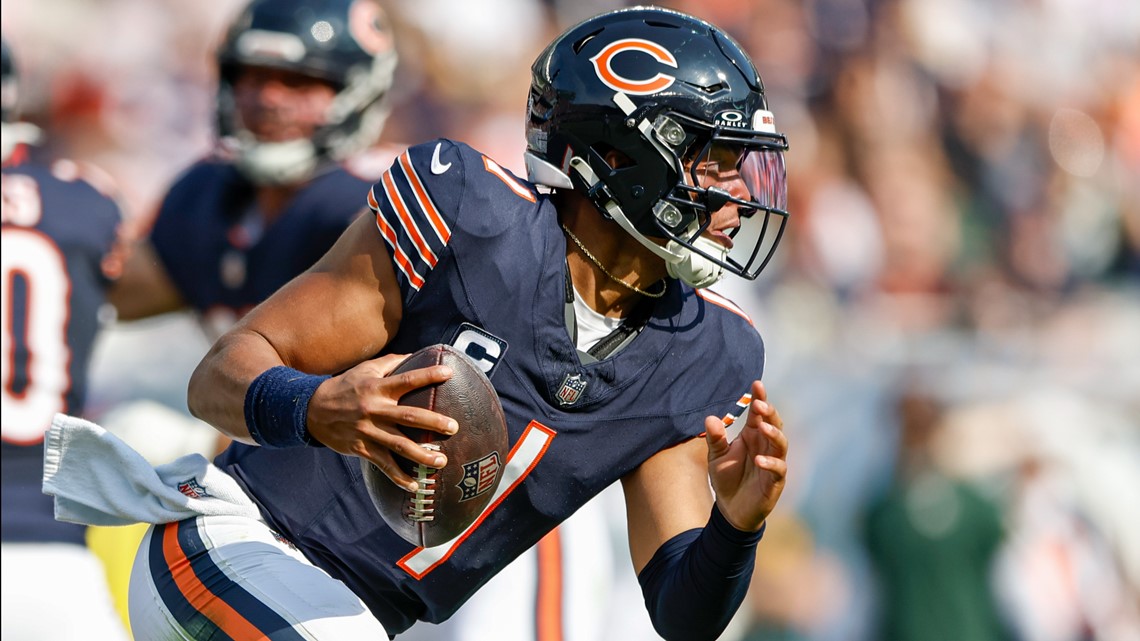 The last time the Bucs played the Bears was in 2021, which was also Fields' rookie season.
A lot has changed, but in that game, Bowles gave Fields a reality check on what it's like to play in the NFL.
Chicago barely did anything on offense losing 38-3. Fields threw three interceptions, fumbled the ball three times, was sacked on four occasions and only rushed for 38 yards on eight carries.
Ten of the 18 Bucs defenders who played in that game are still with the team, but that does not mean much if he is going to whiz right by you.
"You say you want to keep him in the pocket and contain him, but if your D-Line runs a 4.9 [40-yard dash] and he runs a 4.4, there's going to be a problem at some point," he said. "We've just got to make sure we have enough eyes on him that we can go get him."
One thing that may help Tampa Bay in limiting Fields is rotating their outside linebackers to cope with his speed.
If Bowles decides to go that route, fans can expect to see more of rookie Yaya Diaby and Anthony Nelson on the field.
A couple of Tampa Bay players whose status is still up in the air include rookies Calijah Kancey and Christian Izien, along with cornerback Carlton Davis III.
All three did not participate in practice on Wednesday due to injuries, according to the team's latest injury report. Davis is dealing with a toe injury, while Izien is in concussion protocol and Kancey is having issues with his calf.
"He's not any worse than he was – he's actually a little better. We'll take it day by day with him," Bowles said of Kancey.
On the other side of the ball, Mayfield and the rest of the offense should be licking their lips when they line up against Chicago's "new and improved" defense.
After bringing in linebackers T.J. Edwards and Tremaine Edwards and defensive tackle Andrew Billings in free agency, Chicago's defensive unit still failed to turn the ball over once against Green Bay. They also only recorded one sack throughout the game. The defense was able to force two fumbles but did not recover any of them.
I know it's only been one game into the season, but if we take last year's stats into effect, the defense was also not great. Chicago had the fourth-worst defense – allowing 218.6 passing yards per game and 157.3 rushing yards per game.
Still, Mayfield is opting to show respect to the Bears.
"Schematically, they're just disciplined. They brought in a lot of new pieces, as well, to try and help out with the run game and pass rush," he said. "They have some veteran guys. They present their own issues and then you've got some young guys in the secondary that are now going to get the chance to play [along with] Eddie Jackson, a veteran guy that's a true ballhawk.
"They're the type of team [where] they want to keep it in front of them, make you check it down, do the things consistently and then they'll take advantage if you make a mistake. For us, it's about staying on track – kind of a similar mindset to the one we had in training camp, just keep moving the chains, continue to take care of the ball and see where we go from there."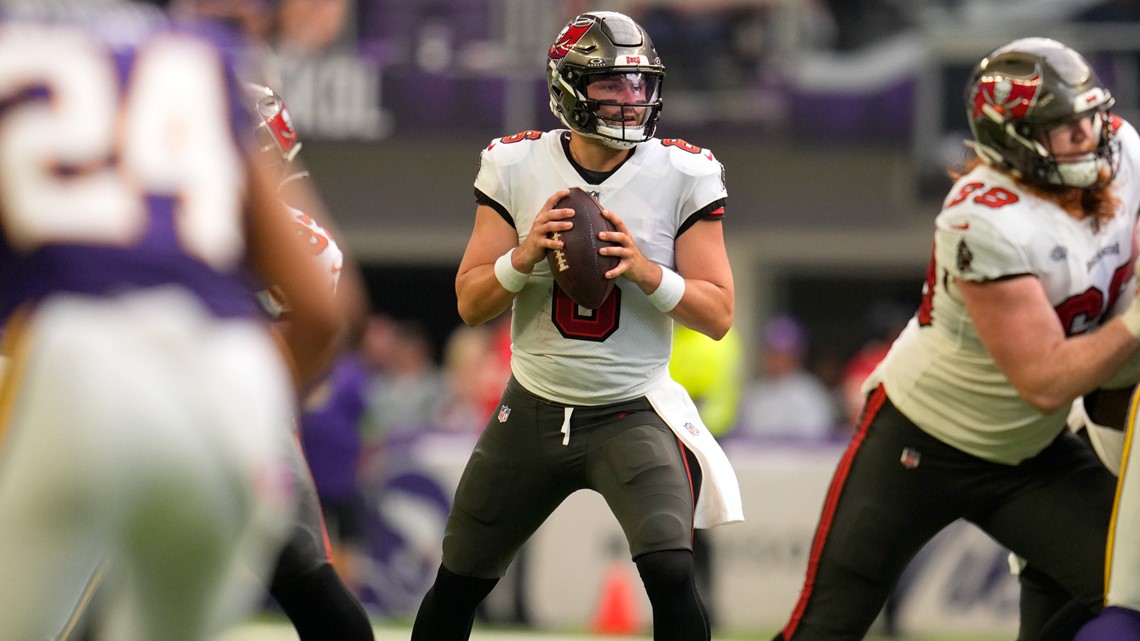 The run game was a bit disappointing against Minessota for Tampa Bay. The team only logged 73 rushing yards in total, and a combination of some overthrown passes from Mayfield led to the team's slow start.
However, getting the rushing game going early can help the team with play-action passes and really showcase the offenses' abilities to put lots of points on the board.
"I know he's [Rachaad White] not happy with last game when it comes to his own stats, but yeah, those are hard, physically-earned yards that when it came down to it at the end of the game, that's what we needed," Mayfield said. "It wasn't going to be a huge stats game for us, but that mentality and that mindset, like I keep mentioning, late in the game those are the important things.
"When you're really imposing your will, that's so vital. He will have opportunities as the season goes on and I know he will take advantage of them. I respect him, he's a great player, a really smart guy and he's got a very, very bright ceiling."
Mayfield also said he was able to pick up signals against the Vikings, though I feel like the Bears will not let him do that this time around.
All in all, Tampa Bay's offense has enough weapons to overpower Chicago's defense. And with Bowles having already proven that Fields is human, he'll do more of the same with different blitz packages to limit when and where he tries to run with the football.
Score: Bucs 33 – 17 Bears
Kickoff for Tampa Bay's home opener against Chicago is scheduled at 1 p.m. Sunday, Sept. 17.
Be sure to watch The Blitz at 8:30 a.m. every Sunday only on 10 Tampa Bay as Sports Director Evan Closky and Sports Anchor David Schiele give you full Bucs coverage leading up to each game.